Welcome from Roy A. Guizado, MS, PA-C

Chair, Department of Physician Assistant Education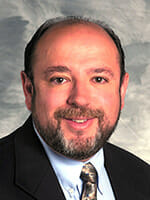 All of us in the Department of Physician Assistant Education are pleased with our students and alumni that are now found in all areas of medicine and professional leadership.
As the PA profession matures, so must the quality of training improve with it. PAs are assuming greater roles and responsibilities in the delivery of health care services. To keep pace with these advances, our master's program includes a strong emphasis on the analytical and problem-solving skills necessary to excel in your career. The earned degree allows you employment throughout the United States. The master's will open other avenues of opportunity to you – you can teach, conduct research and/or work in health care administration.
Yet one thing remains the same – our focus on healthcare. As a PA student at Western University, we urge you to consider pursuing your career serving the people who have need of it most. Whether in a rural area where patients must travel miles to receive adequate health care or in an inner-city environment where your patients may not have health insurance, your work as a physician assistant is crucial, needed, and wanted. The PA faculty and I encourage you to find your life's work serving all patient populations, especially those in need.
Over the years, our program graduates have excelled on their national licensing board scores, especially first-time test takers. We want to continue this standard of excellence with all the future PA graduates.
Please call upon us if you have any questions. You can contact WesternU's Admissions Support Team by phone at (909) 469-5335. Thank you for visiting our site and I look forward to seeing you in our PA program someday soon.
Sincerely,
Roy A. Guizado, MS, PA-C
Chair
Important Links
General Application Information
---
Contact Us
Department of Physician Assistant Education
E-Mail: Admissions@westernu.edu
Western University of Health Sciences
Department of Physician Assistant Education
450 E. Second St.
Pomona, CA 91766
909.469.5378 (office)
---
Stay Connected
Keep up-to-date with the latest news and announcements from WesternU!