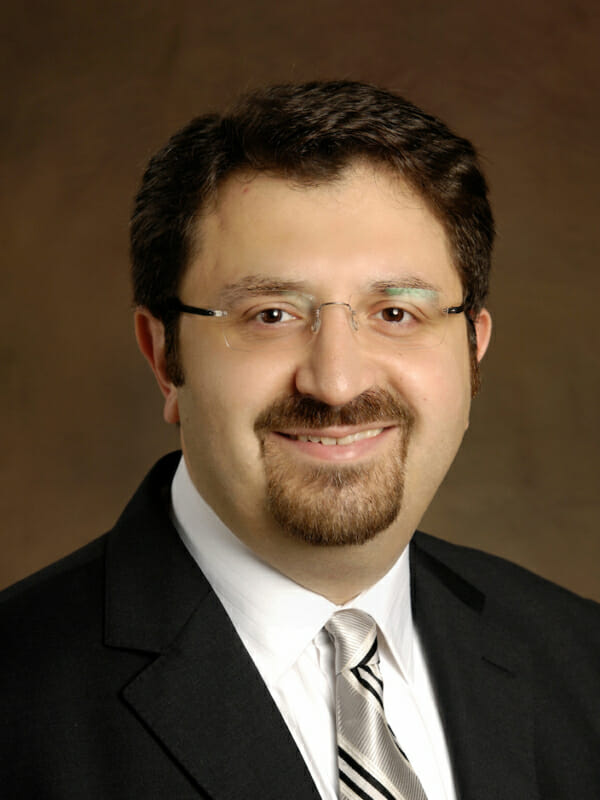 Arbi Nazarian, PhD
Associate Professor of Pharmaceutical Sciences
College of Pharmacy
E-Mail: anazarian@westernu.edu
Phone: 909-469-5424
Education
Ph.D. Biological Psychology, City University of New York, 2005

M.A. Experimental Psychology, California State University, San Bernardino, 2000

B.A. Psychology, California State University, San Bernardino, 1998

Postdoctoral Training
Department of Anesthesiology, University of California, San Diego
Department of Psychiatry, University of North Carolina, Chapel Hill
Courses
PHRM 5223: Pharmacological Basis of Therapeutics III
PHSC 5101: Advanced Pharmaceutical Sciences I: Statistics
PHSC 6301: Neuropharmacology
PHSC 6901: Reserach Techniques- Theory & Practice
Research Interest
I am interested in understanding the neurobiological underpinnings of drug addiction and pain. My drug addiction research program focuses on determining the mechanisms of rewarding and abuse potential of nicotine, opioids and psychostimulants. While my pain research program focuses on exploring the mechanisms of inflammatory and neuropathic pain in the spinal cord and the brain. We utilize various behavioral, cellular and molecular biological approaches in our research.

The present ongoing projects are as follows:

• Examining sex differences in the rewarding effects of nicotine and its underlying endocrinological and molecular interactions.
• Understanding the interplay of metabolic disorders with the rewarding effects of nicotine
• Examining rewarding effects of prescription opioid analgesics, with particular emphasis in those with combined formulations (e.g. acetaminophen and hydrocodone)
• Studying the role of gonadal hormones in inflammatory and neuropathic pain processing in the spinal cord and brain.
• Determining sex differences in the affective component of pain.

Publications
Nazarian, A., Tenayuca, J.M., Almasarweh, F., Armendariz, A., & Are, D. (2014). Sex differences in formalin-evoked primary afferent release of substance P. European Journal of Pain, 18, 39-46. PMID: 23754308

O'Dell, L.E., Natividad, L., Pipkin, J.A. Roman, F., Torres, I., Jurado, J., Torres, O.V., Friedman, T.C., Tenayuca, J.M. & Nazarian, A (2013). Enhanced nicotine self-administration and suppressed dopaminergic systems in a rat model of diabetes. Addiction Biology, in press. Published online July 8, 2013 PMID: 23834715

Tenayuca, J.M., & Nazarian, A. (2012). Hydrocodone and morphine possess similar rewarding effects and reduce ERK and CREB phosphorylation in the nucleus accumbens. Synapse, 66, 918-922. PMID: 22715022

Nazarian, A., Are, D., & Tenayuca, J.M. (2011). Acetaminophen modulation of hydrocodone reward in rats. Pharmacology Biochemistry and Behavior, 99, 307-310. PMID: 21600913