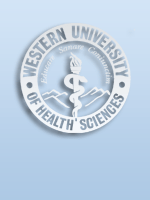 Craig Thom,
Fall 2010 NMM/OMM Pre Doctoral Teaching Fellow
College of Osteopathic Medicine of the Pacific
E-Mail: athom@westernu.edu
Phone:
Education
BA in English Literature, Reed College; Certificate in Social Therapy, Humanus-Haus, Beitenwil, Switzerland; Certificate in Spacial Dynamics; Post-Bac work in Biology, Portland State University.
Professional Experience
Waldorf Class Teacher, Teacher and Houseparent or Handicapped and Disturbed children and teenagers, Remedial Teacher, Exercise Therapist, Pianist.
Research Interest
Special needs children and osteopathic manipulation
Narrative
Hobbies/Interests:
Hiking, gardening, music, movies, psychosynthesis, Anthroposophy.
Family:
married for 23 years to Patricia Deiette Thom, 3 grown children: Emma, Olivia, and Tobias, all off on their own adventures.