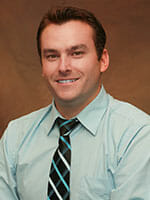 Brian Gould,
NMM/OMM Pre-Doctoral Teaching Fellow
College of Osteopathic Medicine of the Pacific - Northwest
E-Mail: bgould@westernu.edu
Phone:
Education
Colorado Mesa University, 2007
i. Kinesiology, Exercise Science
ii. Business Administration
Academic Interests
Physical Medicine and Rehabilitation
Maximizing the functionality of the musculoskeletal and neurological systems
Research Interest
Affects of OMT on athletic performance
Affects of OMT on the functionality in cognitively and physically disabled individuals
Organizations
American Osteopathic Association
Student American Academy of Osteopathy
Osteopathic Physicians and Surgeons of Oregon
American Medical Association
American Medical Student Association
American College of Sports Medicine
Narrative
I have always been excited and passionate about the human body and its healing properties. Before discovering the Osteopathic profession I was pre-Physical Therapy and about to start Chiropractic school. I feel Osteopathic Medicine and Physical Medicine & Rehabilitation will allow me to fulfill my lifelong goal of helping others maximize their functional abilities regardless of their cognitive or physical limits.
When not immersed in studies I love being active. I enjoy golf, basketball, mountain biking, hiking, and all types of water and snow sports. I am also interested in photography and wine making, followed by tasting, of course.