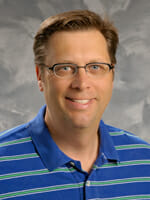 Douglas Ethell, PhD
Professor, Head of Molecular
Neurobiology Group, Graduate College of
Biomedical Sciences
College of Osteopathic Medicine of the Pacific
E-Mail: dethell@westernu.edu
Phone: 909-706-3491
Join year: 2010
Education
Ph.D., Neurobiology, University of British Columbia, Vancouver, BC, Canada, 1993
B.S., University of British Columbia, Vancouver, BC, Canada, 1987
Education Experience
Post-doc, Max Planck Institute for Psychiatry, 1993-1996
Post-doc, Scripps Research Institute, La Jolla, CA, 1997
Teaching Experience
Associate Professor and Head, Molecular Neurobiology Group, Graduate College of Biomedical Science & Department of Basic Medical Sciences, COMP, Western University of Health Sciences, 2010-present

Assistant Professor, Biomedical Sciences, University of California, Riverside, CA, 2002-2009

Visiting Scientist, La Jolla Institute for Allergy and Immunology, San Diego, CA, 2002-2003

Research Scientist, La Jolla Institute for Allergy and Immunology, San Diego, CA, 1999-2001

Research Associate, The Burnham Institute, La Jolla, CA, 1997-1999
Research Interest
My research interests are focused on neurodegenerative disorders, specifically Alzheimer's disease and Parkinson's desease. Experimental systems we use include transgenic mice, cell and molecular biology, as well as human tissue samples. Recently, I have established stem cell techniques in my lab that allow us to produce neurons and immune cells from induced-pluripotent stem cells. My research has been supported by grants from NIH and the National Multiple Sclerosis Society, with current funding from the California Institute for Regenerative Medicine (CIRM) and the FRAXA Foundation.
Research Grant
California Institute for Regenerative Medicine, (PI) ES-Derived Cells for the Treatment of Alzheimer's Disease, 04/01/2008 – 03/31/2013, $2,120,833.00
The FRAXA Foundation, (Co-PI) Targeting Matrix Metalloproteinases to Treat Dendritic Spine Malformation and Behavioral Defects in Fragile X Mice, 05/01/2007 - 04/30/2010, $220,000.00
Publications
Selected Publications:
Sidhu H, Dansie L, Hickmott PW, Ethell DW, Ethell IM. Genetic removal of matrix metalloproteinase 9 rescues the symptoms of fragile X syndrome in a mouse model. J Neurosci. 2014 Jul 23;34(30):9867-79. doi:10.1523/JNEUROSCI.1162-14.2014,
Ethell DW, Cameron DJ. Imaging and 3D reconstruction of cerebrovascular structures in embryonic zebrafish. J Vis Exp. 2014 Apr 22;(86). doi: 10.3791/50417.
Ethell DW. Disruption of cerebrospinal fluid flow through the olfactory system may contribute to Alzheimer's disease pathogenesis. J Alzheimers Dis. 2014;41(4):1021-30. doi:10.3233/JAD-130659.
Cunvong K, Huffmire D, Ethell DW, Cameron DJ. Amyloid-ß increases capillary bed density in the adult zebrafish retina. Investigative Ophthamology and Visual Science 2013 Feb 27;54(2):1516-1521.
Ethell DW.* An Amyloid-Notch Hypothesis for Alzheimer's Disease. Neuroscientist. 2010 Jun 30. [Epub ahead of print] *corresponding author.
Cao C, Arendash GW, Dickson A, Mamcarz MB, Lin X and Ethell DW. Abeta-specific Th2 cells provide cognitive and pathological benefits to Alzheimer's mice without infiltrating the CNS. Neurobiol Dis. 2009 Apr;34(1):63-70.
Buhler LA, Samara R, Guzman E, Wilson CL, Krizanac-Bengez L, Janigro D and Ethell DW. Matrix metalloproteinase-7 facilitates immune access to the CNS in experimental autoimmune ncephalomyelitis. BMC Neurosci. 2009 Mar 6;10:17
Bilousova TV, Dansie L, Ngo M, Aye J, Charles JR, Ethell DW and Ethell IM. Minocycline promotes dendritic spine maturation and improves behavioural performance in the fragile X mouse model. J Med Genet. 2009 Feb;46(2):94-102.
Ethell DW and Fei Q. Parkinson-linked genes and toxins that affect neuronal cell death through the Bcl-2 family. Antioxid Redox Signal. 2009 Mar;11(3):529-40.
Click link for additional articles: