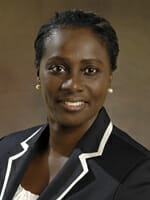 Organizations
Academy of Laser Dentistry
International Congress Of Implantologists
ADA Foundation Donor
ADA/CDA/Tri-Conty Dent. Assoc.

Narrative
Dr. Effuah Harris received her dental education ( DMD) at Ludwig-Maximillian University of Munich (LMU), Germany and received her Certification in Oral Surgery at the Free University of Berlin (Charite) , Germany in 1987. She served as Assistant Professor at the Medical University of Hanover, Germany and Free University of Berlin, Germany. She obtained her D.D.S. degree from the University of Southern California, Los Angeles in 1996 as Class President and Valedictorian for that year's International Advanced Graduate Program. As a practicing dentist in Orange County and the Inland Empire, she focused her Upland practice on aesthetic dentistry and implantology. She is an active member of her community involved in several associations promoting girls advanced education for the underpriviledged urban communities.