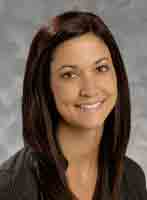 Elizabeth Nakae,
Fall 2010 NMM/OMM Pre Doctoral Teaching Fellow
College of Osteopathic Medicine of the Pacific
E-Mail: enakae@westernu.edu
Phone:
Education
University of California, San Diego 2006, BS-Human Biology
University of California, San Diego 2007, MS-Cancer Biology

Professional Experience
Before coming to medical school, I taught high school math and science for grades 9-12. Additionally, I worked in a pediatric oncology research lab and enjoyed teaching undergraduate courses while in graduate school.

My decision to become an NMM/OMM teaching fellow was due to my passion for teaching and my strong interest in OMM. I hope to provide future students with positive experiences with OMM, as well as further my own skills.


Narrative
Hobbies/Interests:
I enjoy running, particularly half-marathons, yoga, snowboarding, hiking, cooking and going to the beach when I have time. I have a passion for traveling and have had the opportunity to visit 17 countries, including places like Vietnam, Thailand, Tanzania, Peru and others.