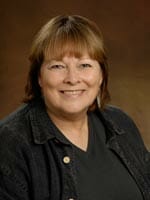 Gini Barrett, BS
Associate Professor, Biomedical Ethics and Public Policy
College of Veterinary Medicine
E-Mail: gbarrett@westernu.edu
Phone: 469-5524
Philosophy
Society functions best when citizens are well informed and can participate in thoughtful and civil discourse that considers every point of view on important issues of the day, and when they are engaged in their communities and in the public process. My goal is to create a framework within which students can comfortably and collaboratively and openly study and discuss the changing role of animals, and veterinarians, in our society and understand the impact these changes will have on their own personal and professional lives, and to help them acquire the tools to be engaged and effective medical professionals and citizens.

Narrative
Gini Barrett has an extensive background in public policy analysis and advocacy, having led strategic planning and implementation programs as both a corporate strategist and as a social activist. Over the last 20 years she has worked on topics as diverse as spay & neuter legislation, human rights, habitat preservation, toxic waste, water quality, business tax issues, building, fire and electrical code creation, worker safety, public leadership and freedom of speech She has represented organizations as divergent as agribusiness, real estate, motion pictures and television producers, and humane organizations. She has been analyzing the animal rights and animal welfare movements, as well as trends in animal issues, and advising both business interests and humane groups, since the late 1980's.
Gini has been interested in animal welfare since her childhood on a cattle ranch in western Kansas, and has examined animal issues from diverse perspectives. A lifelong animal rescuer and horsewoman, she worked closely with the California Condor Recovery Program and served on the Board of the Mountain Lion Foundation in the 1980's. In the early 1990's she became a leader on companion animal and animal sheltering issues during her six years on the Board of Commissioners for LA City's Animal Services Department, one of the largest, and most complex, animal care and control agencies in the world. She advised the major motion picture studios regarding their use of animals in film from 1989 to 1997, in addition to a myriad of other production matters.
Professor Barrett served as Director of American Humane Association's Western Regional Office from 1997 to 2001. Founded in 1877, AHA is the nation's oldest national humane organization. In addition to leading AHA's historic program to protect animals that work in filmed media, Barrett served as AHA's national spokesperson on many animal welfare issues, including animal hoarding, animal fighting, dangerous dogs, animal shelter management and funding issues, animals in entertainment, wild animals in captivity, and farm animal welfare, among others.
In 2000, Barrett was appointed by the Los Angeles County Superior Court as Special Master on a complex environmental case involving the nation's oldest and largest wild animal sanctuary, in which capacity she served until July 2003, when the case was resolved.
Professor Barrett continues to consult to film producers regarding animal related content and physical production matters, and has served as a regular consultant to Discovery Communications since 2001.
Barrett serves on the Board of Humane Farm Care, a national nonprofit organization that utilizes market forces to improve the welfare of farm animals. HFAC is supported and funded by a number of the major national humane organizations, including the American Society for the Prevention of Cruelty to Animals (ASPCA) and the Humane Society of the United States (HSUS). She is a member of the Los Angeles County Bar Association's Bioethics Committee, and a member of Women in Film, and was a founder of the Animal Actors Guild, a nonprofit that funds the humane retirement of animals from the entertainment industry.