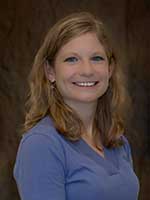 Katherine Markelz,
NMM/OMM Pre-Doctoral Teaching Fellow
College of Osteopathic Medicine of the Pacific - Northwest
E-Mail: kmarkelz@westernu.edu
Phone: 541-259-0286
Education
University of Pennsylvania, 2009 B.A. Biological Basis of Behavior
Professional Experience
After completing my undergraduate education, I worked as a Clinical Research Coordinator with Dr. Jason Christie with the Division of Pulmonary and Critical Care at the University of Pennsylvania. We studied risks, pathogenesis, treatments, and outcomes of Acute Lung Injury and Sepsis in the critical care inpatient population. Additionally, I worked as a research assistant with Dr. David Dinges with the Division of Sleep and Chronobiology at the University of Pennsylvania to study the effects of sleep deprivation on sleep dynamics and behavioral performance.
Academic Interests
I am interested in pursuing internal medicine, with a particular interest in Pulmonology and Critical Care.
Teaching Experience
Throughout my undergraduate and graduate studies, I have sought out teaching and mentoring opportunities. One of my favorite experiences was tutoring at the Center for Literacy in Philadelphia, PA. The center was dedicated to improving adult literacy throughout the community. Every week, I would meet with my tutee as we worked through everything from phonics to job applications. By the end of our time together, she achieved her goal of being able to read to her daughter. Other teaching experiences include a middle school and high school math tutor, Boys and Girls club smart moves program volunteer, and YouthBuild mentor and GED tutor.

As a teaching fellow, I will have the opportunity to lecture and assist with small group discussion and learning throughout the first and second year medical student curriculum at WesternU COMP-NW. I look forward to helping expand learning outside the classroom with COMP squared. Additionally, I will be involved helping teach the community about OMT and Osteopathy and its role in clinical practice and medicine.
Research Grant
University of Pennsylvania, Division of Pulmonary, Allergy, and Critical Care Medicine Dr. Jason D. Christie, Asst Professor of Medicine and Epidemiology Study of a mitogen-activated protein kinase in subjects at risk for development of acute lung injury or ARDS
University of Pennsylvania, Division of Pulmonary, Allergy, and Critical Care Medicine
Dr. Jason D. Christie, Asst Professor of Medicine and Epidemiology
Lung Transplant Outcomes Group; Cohort Study on ARDS/ALI in a trauma population
University of Pennsylvania, Division of Sleep and Chronobiology, Department of Psychiatry
Siobhan Banks, Research Asst Professor of Psychology in Psychiatry and Sleep Dynamics
The effects of sleep deprivation on sleep dynamics and behavioral performance
Awards
Translating Osteopathic Understanding into Community Health (TOUCH) Silver Recognition for 50+ hours of community service, 2013
Timberline Marathon, 3rd Place Overall Female, Mt. Hood, OR, 2012
Dean's List, University of Pennsylvania, Philadelphia, PA, 2008-09
2 Time Boston Marathon Qualifier and Finisher, Boston, MA, 2007-2008
2nd Team All-Ivy, University of Pennsylvania Varsity Gymnastics, Philadelphia, PA, 2006