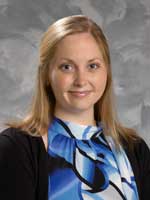 Mindy Chilman,
Spring 2011 NMM/OMM Pre Doctoral Teaching Fellow
College of Osteopathic Medicine of the Pacific
E-Mail: mchilman@westernu.edu
Phone:
Education
University of Michigan-Ann Arbor
BSE in Biomedical Engineering, German Studies Minor
Organizations
UAAO, NUFA, SOMA, The Cranial Academy

Narrative
Osteopathic medicine feels like the engineer's approach to the human body, so it's a perfect fit given my background. I have benefitted from osteopathic manipulation myself and understand what a powerful and unique tool it is for DOs. The fellowship is an opportunity to share my passion and enthusiasm for OMT with students while further developing my own skills and ability to approach patients osteopathically.

While I'm not yet sure what my future holds, I'm interested in integrating NMM/OMM into Family Practice.

Hobbies/Interests:
Watching sports, cycling, reading, yoga and traveling