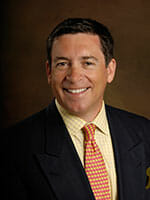 Michael Finley, DO
Associate Dean
College of Osteopathic Medicine of the Pacific
E-Mail: mfinley@westernu.edu
Phone: 909-469-5265
Join year: May, 2000
Education
1986 - D.O., Chicago College of Osteopathic Medicine, Chicago, IL
1982 - B.S., Microbiology, Michigan State University, East Lansing, MI
Publications
JM Finley, KK Colburn, GC Putnoky, JC Westengard, BS Bull. Effectiveness of clinical self-assessment (HAQ) compared with other clinical and laboratory tests used to monitor the activity of rheumatoid arthritis by consensus analysis. J Clin Rheumatol 1999; 5:201-205.
Boulet JR, Gimpel JR, Dowling DJ, Finley JM. Assessing the ability of medical students to perform osteopathic manipulative treatment techniques. J Amer Osteo Assoc 2004; 105(5):203-211.

Finley JM. Rheumatology. (Book Chapter) In Ward RC, et al, eds. Foundations for Osteopathic Medicine, 2nd ed. Philadelphia, PA:Lippincott, Williams & Wilkins; 2003:526-533.