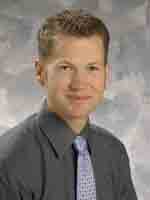 Michael Hopp,
Spring 2011 NMM/OMM Pre Doctoral Teaching Fellow
College of Osteopathic Medicine of the Pacific
E-Mail: mhopp@westernu.edu
Phone:
Education
University of Washington, Seattle, 2005
BA Philosophy
Narrative
The NMM/OMM fellowship is a chance to refine my own skills but also to inspire and teach others. I hope to demonstrate the effectiveness and usefulness of OMM to others while exploring Osteopathic Medicine in more depth. Currently, my interests within medicine are wide ranging - from Family Practice with NMM/OMM to Emergency Medicine to Internal Medicine. There are opportunities in each for the application of OMM.
Hobbies:
Rock climbing, running, cooking, backpacking