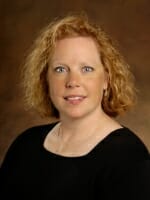 Peggy Schmidt, DVM, MS, DACVPM
Associate Professor, Population Medicine, Director Phase III
College of Veterinary Medicine
E-Mail: pschmidt@westernu.edu
Phone: 909-469-5674
Join year: May, 2004
Education
DACVPM 2006
MS, Veterinary Preventive Medicine & Defense, Iowa State University, Ames, IA 2004
DVM, University of Minnesota, St. Paul, MN 1997

Peggy Schmidt, DVM, MS, Diplomate ACVPM, joined the College of Veterinary Medicine as an Assistant Professor of Production Medicine and Epidemiology in May, 2004. Raised throughout the state of Wisconsin, Dr. Schmidt intended to be a small animal practitioner since kindergarten. During her undergraduate education at the University of Wisconsin - River Falls, she was first exposed to beef and swine production and quickly developed a passion for production medicine. After graduation, Dr. Schmidt attended the University of Minnesota, College of Veterinary Medicine and received her DVM in 1997.
After achieving her dream of becoming a veterinarian, Dr. Schmidt joined a 3-doctor, 2-clinic practice in rural western Minnesota. She enjoyed practicing medicine on any and all animals in need while continuing her passion to practice food animal production medicine. However, after 5 years in practice Dr. Schmidt decided to give up midnight farm calls in sub-zero temperatures and returned to school to pursue a Masters Degree in Veterinary Preventive Medicine at Iowa State University. In 2004, she completed her degree and left the Midwest for sunny Southern California.
Teaching Experience
Since joining the faculty in the spring of 2004, Dr. Schmidt has worked hard developing many of the 3rd year campus based courses, including Population Health & Production, USDA Accreditation, Foreign Animal Diseases, & International Veterinary Medicine, and Food & Feed Safety. Many will recognize her from numerous information sessions and other recruitment activities she has led to promote both the school and profession to potential future students. Her passion for Evidence-Based Veterinary Medicine has led her to presentations at international conferences, directorship in the Evidence Based Veterinary Medicine Association, and publication of a VCNA: Small Animal Clinics issue on EBVM.
Philosophy
Personal Teaching Philosophy

Although I have been teaching for a few years now, I feel I am still new to this end of the classroom. Some may see this as a weakness in developing a teaching philosophy; little experience to draw upon, little reflection. I like to think of my academic experience to this point as just getting my feet wet. This creates the opportunity to know no bounds, have no limits in what I envision for the future. Therefore, my teaching philosophy is both visionary and reflective and, as with everything in life, will grow and evolve with time and experience.
Contributing to my feeling of still being a novice in teaching and academia are my experiences with pedigogical changes from didactic lecture while an Instructor at Iowa State University to a learner-centered, problem-based curriculum while an Assistant Professor at Western University. These changes in pedagogy have had a tremendous influence on my teaching as it has opened my eyes to the wealth of educational resources and research which has stimulated me to change and evolve my own teaching and learning. Through exploring the plethora of pedagogical philosophies and curricular templates, I now understand that it is not the specific teaching method that matters so much as the philosophies we use to help our students achieve our expected outcomes. Three key teaching philosophies have helped me facilitate students achieving the outcomes they need to be productive and successful veterinarians and epidemiologists as well as valued members of society.
•1. Learning should be fun
My most vivid memories involve fun-filled activities with family and friends. I strongly believe that when learning is fun, the knowledge becomes "vivid" in your mind; easier to retain and access later. Leaning activities which are fun engage not only yourself in learning, but those around you which help build communication and teamwork skills. For me, epidemiology is fun so it's natural to bring my energy and positive attitude into my teaching and make student's experiences with epidemiology as fun as possible.
•2. Learning should be experiential
While I find the dynamics of disease within a population exciting, students tend to balk at the idea of odds ratios and risk assessment. Demonstrating the everyday applicability of epidemiologic principles in population medicine, such as disease outbreak investigations and selection of diagnostic tests, is an important tool in understanding both epidemiology and clinical medicine. Taking recent headlines or publications from veterinary and human medicine and using them as examples or problem sets shows students how epidemiologic principles are used daily by veterinarians. I also like making critical appraisal of current literature a game of "find the bias" for students. It brings the element of mystery or discovery to learning that really hooks them on epidemiology and gives them the confidence they need to use those principles to make the best clinical decisions for their patients in practice.
•3. Learning should be life-long
"The illiterate of the 21st century will not be those who cannot read and write, but those who cannot learn, unlearn, and relearn." This quote by author and futurist Alvin Toffler is at the heart of problem-based learning and evidence-based medicine. Students cannot leave a veterinary curriculum thinking that they now know everything there is to know about practicing veterinary medicine. I strive to help students gain the necessary epidemiologic tools to be able to analyze future research and critical thinking skills to appraise the validity and applicability of the information it provides. As the profession of veterinary medicine changes and evolves, the educational needs of students within the veterinary medicine curriculum will change as well. I see myself taking an active role in the evolving educational needs of students and strive to be versatile in both my approach and participation.


Research Interest
•Research interests include pre-harvest food safety, infectious diseases of food animals, and educational outcomes assessment.
Narrative
On the home front, Dr. Schmidt's husband, Gary, is a Territory Manager with Butler Animal Health Supply although he spent many years in the small animal and livestock nutrition industry.. Her daughter, Emma, is 8 years old and loves gymnastics, cheerleading, and off-roading in her dad's Jeep. Rounding out the family are two lab-cross dogs, Trooper (12 yrs) and Lucy (2 yrs), a hamster named Max, and a beta fish named Flower.