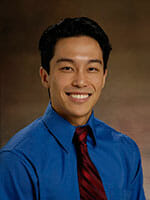 Matt Siri,
NMM/OMM Pre-Doctoral Teaching Fellow
College of Osteopathic Medicine of the Pacific
E-Mail: sirim@westernu.edu
Phone: 909-469-5285
Education
UC Davis, B.S. Microbiology
Awards
2007 Most Outstanding Graduating Senior: UC Davis
Narrative
Hello! My name is Matthew Siri, yes Siri like the iPhone: not as knowledgeable but definitely more personality! My interests lie in pediatrics. I believe children are the most vulnerable and the most influenced, so I hope to be a positive influence for my future patients. I have a strong interest in Osteopathic Manipulative Medicine and it's application to the pediatric population. I am currently working on OMM and it's efficacy in Asthma. I hope to continue contributing to pediatric OMM literature as I continue my education into residency. I love sharing experiences and bringing out the enthusiasm of my peers, even if it's not in pediatrics, so never hesitate to drop in and ask me question or talk before I graduate!