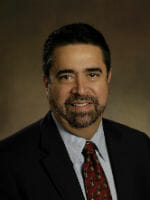 Timothy Martinez, DMD
Associate Dean for Community Partnerships and Access to Care / Assistant Professor
College of Dental Medicine
E-Mail: tsmartinez@westernu.edu
Phone:
Organizations
ADA/CDA/TCDS: Member
ADEA: Member
Hispanic Dental Association: Member
Medicaid/SCHIP Dental Association: Member
Center for Oral Health: Board Member

Narrative
Dr. Timothy Martinez graduated from the Harvard School of Dental Medicine in 1986 with a fifth year concentration in Health Care Administration. He has had extensive experience for over 25 years working in community health center settings treating a variety of underserved patient populations. Dr. Martinez first worked with a migrant farm population in Laredo, Texas through the Loan Repayment Program. He then relocated to Boston working in the inner city community clinics as the dental director for three community clinics: Geiger-Gibson Community Health Center, Boston HealthCare for the Homeless Program, and the South-End Community Health Center. Furthermore, Dr. Martinez was instrumental in setting up three dental centers in the rural part of Massachusetts on the Cape and Islands. Over the past five years, Dr. Martinez served as the Medicaid Dental Director for the Commonwealth of Massachusetts changing regulations crucial to increase dental access for vulnerable populations. In addition, he was hired by the Evaluation Center on HIV and Oral Health Care, from the Boston University School of Public Health as their dental director, to provide dental oversight for 15 oral health demonstration sites throughout the country. Dr. Martinez currently serves as the Associate Dean for Community Partnerships and Access to Care in the College of Dental Medicine at Western University of Health Sciences.