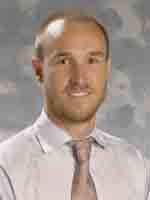 Walter Grenell,
Fall 2010 NMM/OMM Pre Doctoral Teaching Fellow
College of Osteopathic Medicine of the Pacific
E-Mail: wgrenell@westernu.edu
Phone:
Narrative

"Simplify, simplify, simplify" A quote that permeates every aspect of my life, including my view of medicine. Osteopathy addresses disease in a logical fashion working from least invasive to most invasive using the bare minimum of resources- relying on a physician, their hands and knowledge to facilitate healing. This streamlined pragmatic practice of medicine is what has lead me down this path.
I became interested in the Fellowship to further my OMM/NMM training, satiate my aspirations to teach and to work with the amazing people that are involved in the program!

Hobbies:
Anything outside; surfing, rock climbing, yoga, trail running, triathlon, traveling, minimalism and self-reliance.