Statement on Promotion and Tenure
WesternU as an institution is responsible for guaranteeing the quality of its educational and professional degree programs.  As the faculty are the core of any educational institution, it is the ultimate responsibility of the Provost as Chief Academic Officer to ensure that academic and professional excellence and institutional consistency are employed in the area of faculty appointments and promotion. Each of the individual colleges of WesternU determines the specific criteria and procedural guidelines for its faculty, which must conform to institutional core standards and shall be conducted in accordance with the policies of Western University of Health Sciences.
WesternU has institutional core standards, criteria and procedural guidelines governing the following areas: the appointment of new faculty to the tenure track or with tenure,  interim and final reviews toward the recommendation of faculty for promotion and/or tenure and post-tenure review of tenured faculty.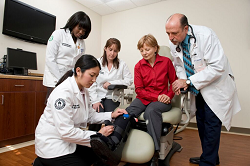 The University's policies on promotion and tenure are outlined in the Faculty Handbook  (378 KB pdf file) on pages 27 – 29 and seven supplemental documents
College of Health Sciences – supplement 3 (235 KB pdf file)
College of Osteopathic Medicine – supplement 4 (440 KB pdf file)
College of Pharmacy – supplement 5 (178 KB pdf file)
College of Veterinary Medicine – supplement 7 (87 KB pdf file), supplement 2 (244 KB pdf file)
College of Graduate Nursing – supplement 6 (100KB pdf file)
College of Dental Medicine – supplement 1 (800KB pdf file)
College of Optometry – supplement 8 (426KB pdf file)
College of Podiatric Medicine (under revision — please contact CPM P & T)
The preceding handbooks are provided in PDF format and must be read using Adobe's Acrobat ReaderTM. To download a free copy, visit our Plug-ins page.
For further information at the college level, contact the chair of the individual College P & T committees.  
For further information from the Provost's office, contact  P&T@westernu.edu.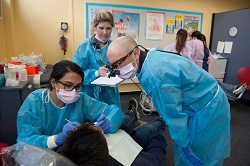 Frequently asked questions
What is tenure?
The attainment of a continuous appointment, or tenure can earned by full time faculty members of Western University of Health Sciences (WesternU) appointed to the tenure track professional development program.
Tenure with all its attendant privileges represents the most significant commitment the University can make to a faculty member.  Conversely, by accepting tenure, the faculty member prioritizes dedication to the university and its mission in matters of professional development.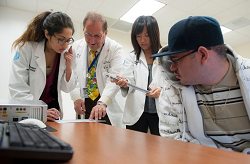 How does the tenure and promotion process at WesternU work?  
Ordinarily, early in the academic year of the expected receipt of tenure or before, an individual "going up" for tenure and/or promotion will submit a dossier prepared with strict attention to the required documentation as outlined in the University and College Faculty Handbooks 
The individual College Promotion and Tenure (P & T) Committee 
will solicit and review a candidate's complete dossier in late summer or early fall; 
may conduct interviews, solicit external and internal evaluations and conduct other meetings, as outlined in the primary college handbook of the candidate's appointment
will create and submit to the  Dean of the College a detailed signed  report/letter NO LATER THAN FEBRUARY 1st of the anticipated year of tenure regarding the suitability of the candidate for promotion and/or tenure.  
Individual colleges also have various specific responsibilities of Department Heads and other administrators in this review process. See college supplements for details. Individual Dean may require submission of these reports letters earlier than February 1st.
The individual College Dean, once in receipt of the P & T recommendation, makes a summary statement and recommendation to the Provost and Chief Academic Officer regarding the suitability of the candidate for promotion and/or tenure. his is ordinarily completed  January-March, with documents due in the Provost's office no later than March 1st of the anticipated tenure year. 
 As Chief Academic Officer of the University, the Provost has final responsibility to review the candidate's portfolio, the P & T Committee recommendations, the Dean's recommendations, and other material relevant to the faculty member's past performance and future potential productivity.  This decision is not merely an individual employment decision, but commitment of University resources.
As these decisions must be included in contracts, the Provost will ordinarily will render a decision on the granting of promotion and or tenure in May or June of the tenure year.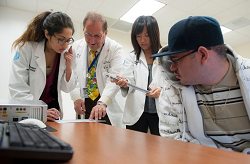 How is faculty performance evaluated?
The performance record of a faculty member being considered for promotion and/or tenure will be evaluated in terms of the following areas:
teaching
scholarship and research
university/college service
clinical/administrative service (when applicable)
professional service. 
The criteria for tenure consideration includes additional scholarly, teaching, clinical/administrative service, and professional service requirements that are measurable and beyond those criteria for non-tenure track faculty. Criteria and procedural guidelines for promotion of tenure track faculty are detailed in each individual college's handbook. The evaluation shall be weighted by the College P&T Committee according to the distribution of effort that has been negotiated between the faculty member and his/her Supervisor.
While each College as a whole must excel in all of the above areas, individual faculty members may contribute in some areas more than others.  Therefore, in evaluating the candidate's qualifications for promotion and/or tenure, reasonable flexibility shall be exercised at both the college and university levelsr.
Depending upon the circumstances, promotion and tenure are traditionally considered together but may be treated as separate issues. In cases where promotion alone is awarded early to a faculty member prior to completion of the tenure track probationary period, the promise of eventual tenure is not implied by the promotion.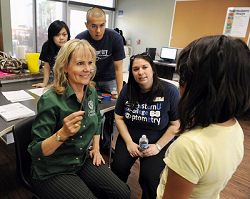 Do I have the right to view the P & T recommendation of my college and my Dean?
Yes.  Under the  guidelines contained in the 2015 University Faculty Handbook, I will receive copies of each recommendation.  
What if I don't agree with the recommendations.  Do I have the right to rebut ?
A faculty candidate has 5 working days to correct any errors of fact contained in either the P & T Committee or the Dean's recommendation.  This is not a rebuttal of the recommendation, but an opportunity for the Provost to receive additional information from the candidate which may be pertinent to the decision. 
How do I ensure that my file receives due process?
WesternU has a commitment to adhere to consistent and fair processes in determining promotion and tenure.  These processes are outlined in the Faculty Handbook and the individual college handbooks.  It is expected that standards be applied consistently, without arbitrary or capricious decision-making, and without regard to race, ethnicity, gender, creed, sexual orientation or gender identity.  
"Due process" in tenure and promotion applies only to state and federal institutions.  As a private,non-profit educational institution, promotion and tenure are governed exclusively by contract and employment law.  The faculty handbook and its supplements, a faculty member's letter of appointment and the annual employment agreements are all components of the faculty contract.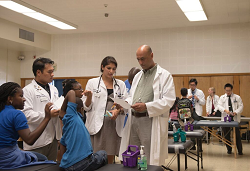 How were the University standards for Promotion and Tenure determined?
In 2014, a Task Force for Promotion and Tenure standards was convened by the Academic Senate to delineate appropriate university process guidelines. Recommendations from this intercollegiate task force were reviewed and approved by the Academic Affairs subcommittee of the Senate in 2015 after approval by the WesternU Board of Trusteeswere incorporated into the University Faculty Handbook.
How long do I have to wait from being hired to apply for promotion or tenure?
| | |
| --- | --- |
| INITIAL APPOINTMENT | TIME UNTIL CONSIDERATION OF PROMOTION TO NEXT RANK |
| Assistant Professor | Within 6 year probationary period. |
| Associate Professor | Promotion to full Professor based on criteria, no time frame. |
| Professor | Not applicable |
| | |
| --- | --- |
| INITIAL APPOINTMENT | TIME UNTIL CONSIDERATION OF TENURE FOR TENURE TRACK FACULTY |
| Assistant Professor | Within 6 year probationary period. |
| Associate Professor | Tenure within 6 year probationary period. If promotion alone is awarded, an extension for attaining tenure may be provided for up to two years beyond the 6 year clock. |
| Professor | Tenure within 6 year probationary period, an extension for attaining tenure may be provided for up to two years beyond the 6 year clock. |