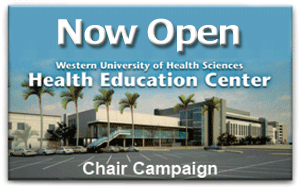 Our Name a Chair Campaign, which began in April of 2008, is intended to give alumni, family, faculty and staff, and friends of the university an affordable and meaningful way to contribute to the WesternU Capital Campaign.
We invite you to take your place as part of Western University s history, and its future, by naming a seat in one of the classrooms or auditoriums in the new Health Education Center (HEC) currently being constructed on the East side of campus. Your gift will benefit the University Growth Fund.
When you name a seat in one of the new Health Education Center s classrooms or auditoriums, an elegant brass nameplate bearing the inscription of your choice will be affixed to the desk. You can reserve a seat now for $1000 VIP seating, $500 General Seating. Naming a seat does not include reserving that particular seat for events. Each plaque is 3.5″ wide x 1.5″ high and has space for 3 lines with a maximum 35 characters per line.
All contributions are tax deductible. To participate and have your name inscribed on a gold plaque, please visit our Secure Online Giving site or call Susan Terrazas, Manager, Annual Giving and Donor Relations, at 909-706-3476 for a payroll deduction form.
Western University of Health Sciences, a California Non-Profit Corporation

309 East Second Street

Pomona, CA 91766-1854

Tax Identification Number 95-3127273