The Story of Dr. and Mrs. Osman Beller
A few minutes and a chance encounter can determine the course of a life. Just ask Osman and Naomi Beller. In their case the few minutes and the chance encounter occurred over 55 years ago, when a dashing young surgical resident at East Tennessee Baptist Hospital asked a pretty X-ray technician for a patient's film. Naomi, the X-ray technician, looked up at Osman, the handsome young healer clad in hospital whites, and she melted. It was love at first sight for both, and the feelings continue to this day.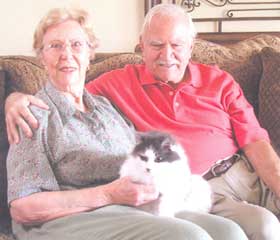 Naomi, Osman and Domino
Although they've been married for 55 years, the pair still lovingly clasp hands whenever they're together. "We had absolutely nothing in common when we met," says Osman. Naomi, born in Ohio and raised in the mountains of North Carolina, knew little about mysterious foreign lands, other religions, or other customs. And Osman, who was born in Turkey and immigrated to the US in 1949, was still adapting to the radically different American culture. When asked how the two managed to maintain the lifelong bond in spite of their differences, he explained, "Naomi is calm, patient and caring."
Their early years together were spent in Tennessee and Ohio. Following a brief courtship, they wed in 1950 in Knoxville, Tennessee. That was followed by a four-year stay in Ohio when Osman was awarded a prestigious surgical scholarship residency at the Cleveland Clinic. He laughs that his busy schedule left little time for his passion of swimming. It was in Tennessee and Ohio that their three "greatest gifts" arrived, their children – Kaplan, Suzan and Sami.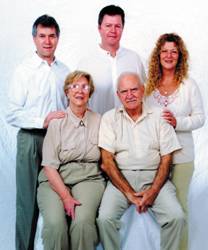 Naomi, Osman, Kaplan, Sami and Suzan
After his residency, Dr. Beller served as a captain in the US Army Medical Corp for two years, which took the family to Boston, Atlanta, Fort Worth, and finally, in 1957, to a state hospital in Pomona. Osman's childhood dream in Turkey – to live in America and to see the delightful California portrayed in movies – became a reality.
He launched his private practice in general surgery in 1958, with Naomi initially managing the office. His reputation as a guru of cosmetic and vascular surgery quickly soared, and before long young physicians were competing for opportunities to observe him in the OR. And he enjoyed mentoring. His love and dedication for education and teaching was part of his life-philosophy even then.
The coupled lived in Claremont for most of their years in the Inland Valley, and Naomi thrived on running the busy household. Osman practiced brilliantly for 37 years, then retired to enjoy his passions of traveling and his extraordinary collection of hand-carved ivory and jade sculptures. Naomi, less captivated with traveling the globe, now enjoys their home with a breathtaking view of a golf course.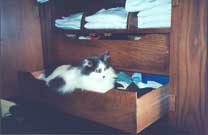 Domino
Now blessed with eight grandchildren, they cherish their role as grandparents, valuing time with family and "Domino," the beloved black and white cat. They also speak lovingly of past furry family members—Pamuk (Turkish for "white cotton or snow"), a Samoyed dog who lived to be 18, and several other adored felines. Although the grandchildren are still deciding on career paths, Osman hopes that at least one will continue the family legacy by going into healthcare.
The Beller family:
First row: Adrianne, Gabriella, Rabia, Isabella
Second row: Grey, Naomi, Osman.
Third row: Ellison, Denise, Gayle, Suzan
Fourth row: Brent, Kaplan, Sami, Phillippe, Adam.
Both Dr. and Mrs. Beller believe in practicing what you believe. They believe strongly in tolerance, and that it's better to give than to receive. Having made giving a high priority throughout their lives, in their estate planning they will contribute to several educational causes. They are committed to "sharing their good fortune with others," and have created a charitable remainder unitrust naming WesternU and other organizations as the ultimate beneficiaries. Osman says, "People should never make demands or hurt others, and instead, should seek compromise." He'd like to see wars eliminated as an outcome of investing in teaching and learning. "Education is very important. If people become educated, they will be less menacing to each other. Ignorance is terrible." They both agree that education is vital in enabling people to understand and accept the many cultures, races and religions in the world, and that only by understanding will we have peaceful co-existence.
When asked what values they've instilled in the children, both have strong opinions. Osman hopes his offspring will forever be honest. His grandfather used to say, "Someone can be a thief and get caught and change, but a liar will always be a liar." He also hopes they will follow his practice of respect for others in the world—"to make others happy." And he wants them to "always put family first." Naomi dreams that all of their family members will, "just be themselves and never try to be someone else."
WesternU is grateful for their sage wisdom, loving values and their passion for education. Their gift will be used for scholarships for future healers to continue Osman's legacy in perpetuity.