The Dr. Billy Hooper Story – A Most Remarkable Gentleman
Billy Hooper was born in 1931 and raised on his family's farm in Pawnee City, Nebraska, along with 1 sister and 2 brothers, both older. He shares that he was a Marasmus baby and should have died in infancy. However, he survived that first year and he says, "I was raised as a slightly favored child in my family and was not expected to live beyond my mid-teens." To see Billy today it is hard to imagine such a frail baby or youngster as he is a strapping gentleman well above 6 feet tall. One also wonders where the practice of veterinary medicine would be today without his influence over the years. But, more about that later.
One quickly perceives that Billy is a person of high moral standards and integrity which he states he learned from his parents. His personal philosophy is simply, "to live by the Golden Rule." He shares that his character was formed by being a child in a poor family during the great depression of the 1930s and experiencing the rationing and scarcity of goods during and after World War II. He fondly remembers a major quotation of his mother's during his early years, "Use it up, wear it out, make do, or do without." He further states that he was fortunate to have been raised in an extended family and community with similar values. When asked if his parents lived to see his many accomplishments, he humorously recalls his father always introducing him as, "My son with a BS, MS and PhD. You know what BS is. Well MS means 'more of the same' and PhD means 'piled higher and deeper."
As a young person, Billy's aspiration was to be a farmer in the Midwest. With this in mind and since, at that time, children in Nebraska were only required to complete schooling through the 8th grade, Billy quit high school when he was 15 years old. Another mitigating factor to his leaving school was his living 10 miles from a town with a high school and there being no public transportation other than his own two legs! This probably seems strange to today's generation, but was not unusual to those growing up in rural America during the 1930s and 1940s.
When Billy was 18 years old, he enlisted in the Marine Corps, an experience that would have a profound affect on him for the remainder of his life. Even though he participated in testing for Officer Candidate School which indicated his intelligence quotient was high enough that he should pursue further schooling, he chose not to do so. Instead he chose to be trained as an infantryman and expected to see military action. But, the Corps sent him to supply school where he says he learned a great deal about office procedures and administration. After completing this schooling, he became responsible for ordering all of the food for the Camp Lejeune military base in North Carolina. He was then sent to Kobe, Japan, for approximately six months and worked in an area responsible for re-supplying the Marine troops in Korea. Next he was assigned to Korea and stationed in what had been a Japanese military base outside of Seoul, Korea. He was responsible for retrieving and returning the personal affects of those soldiers who were wounded or killed in action to the appropriate persons(s). This included preparing letters for signature by a Warrant Officer and sent to the next of kin for those killed in action. These letters explained the circumstances of death in a most delicate and compassionate manner and the efforts expended to locate personal affects. Mind you these letters were being written by someone who had not finished high school so, at this early age, we have a glimpse of his character and abilities. He said it was an enormous growth and learning experience that entailed great sensitivity when writing such letters and one that brought him face-to-face with the more atrocious aspects of war. Billy shared that during the year he did this they handled approximately 8,500 such cases.
While at this base in Korea, he observed human suffering and deprivation that, when talking about it, still affects him today. He said there were a great number of Koreans in this area that we would classify as homeless. He saw children, as well as adults, living in virtual holes in the ground that they had covered with scrapes of tin or wood. There was an old railroad running through the camp, and children could be seen digging next to the tracks through the snow searching for pieces of coal to use for heating or perhaps to barter for other necessities of life. He remembers seeing a level of poverty and wartime deprivation that had a profound affect on him. When he was shipped home at age 22 and docked in San Francisco, he was overwhelmed by the realization of how fortunate he was to be born and living in the United States. Even now he says there is not a day that goes by that he doesn't remember those images of deprivation.
When Billy was discharged from the Marine Corps, he returned to the family farm. With the money he had saved in the service, he purchased needed equipment, fertilizer and other necessities for growing crops. Unfortunately, he essentially lost everything because of severe drought conditions that brought farming to a stand still. This unfortunate experience caused him to re-examine his future aspirations and goals and to remember the Marine Corps' evaluation that he should pursue further education. Since his secondary career choice had always been to become a veterinarian, he decided to use the GI Bill and pursue that goal. But, first he returned to high school at age 22 and completed his junior and senior years in one year and received his diploma. He then entered the University of Missouri where, in 1961, he earned his Bachelor of Science degree in Agriculture and his Doctor of Veterinary Medicine (DVM).
By the time Billy entered college at age 25, his immediate goal was to be a veterinarian and his long-term goal was to return to an agricultural community and be a large-animal practitioner. When asked what his feelings were on that first day of school, he says he was aware of being somewhat older and feeling very inadequate. These feelings were shortly followed by feeling terribly unwelcome due to an article in the student newspaper and subsequent letters to the editor about "these veterans that were coming to campus who didn't dress properly, didn't fit into the student culture, and were changing the college environment." But, during his first semester these feelings soon disappeared as he became accepted and completely fell in love with learning. Billy humorously remembers that he thought he knew everything there was to know about farming and dirt since he had "walked in more mud, shucked more corn, and plowed more fields" than most anyone and thought his very first college course, a required agricultural class, was a waste of his time. Well, he walked into that classroom and the professor was writing soil chemical formulas on the board and lecturing about acidity and such. He now laughingly says, "I realized I knew absolutely nothing!" So began his life-long love of and fascination with education. Billy states, "From that point on there was never any question of my getting through the pre-veterinary program and getting my DVM degree." He went on to receive his Masters of Science and PhD degrees in Veterinary Pathology from Purdue University and then became certified in the American College of Veterinary Pathologist in 1965.
Billy states that he believes it was his love of learning that kept him in the academic arena as opposed to pursuing his earlier goal of being a practicing veterinarian. His fascination with the philosophy of education was above and beyond veterinary pathology, his chosen specialty. He almost immediately became involved in curriculum, instruction, and evaluation/assessment committees; much of this while he was both a graduate student and a faculty member at Purdue University. During his distinguished career, he was also on faculty at University of Missouri, University of Georgia, and Oklahoma State University. While teaching at these universities, he was the chairman of various university committees and found himself moving more and more into educational administration in the areas of curriculum, admissions, and student affairs. His sense was that veterinary higher education could be improved upon; so throughout his professional career he sought out and worked with colleagues that had similar ideas and philosophies to affect needed changes. In fact, he was one of the first veterinary educators to promote off-campus training or externships which is an accepted practice today.
From the mid 1970s through the 1980s, Billy either chaired or sat on various committees that were instrumental in making changes to the National Board Examination as well as the restructuring of the National Board of Veterinary Medical Examiners (NBVME). In 1976 one of these committees, the NBVME Steering Committee, discovered that the NBVME had been operating for over 20 years with questionable legal status. Consequently, after a lengthy and in-depth review of this organization, it was the recommendation of this committee that the organization be incorporated and become an independent entity and not a committee under the purview of the American Veterinary Medical Association. This recommendation was accepted and in 1995 the NBVME became fully independent.
As a member of the NBVME Examination Procedures Committee during the 70s, Billy also played a vital role in creating an examination that truly measured competency in veterinary practice. He developed a blueprint that became accepted and shared by others whereby the testing of knowledge would be divided into three categories – discipline, animal species, and body systems instead of just discipline. The result of this work was approved by NBVME's Executive Committee in 1979. This represented a major step toward ensuring that National Board Examinations and examinations that followed were relevant to entry-level private clinical practice rather than being designed to test on the veterinary medical curriculum. In 2002 in recognition of Billy's contribution in this area, he received the fourth NBVME Award.
In 1986 Billy took a six year hiatus from teaching and went to Washington, DC, as the Executive Director of the Association of American Veterinary Medical Colleges (AAVMC) which represented all such colleges in North America and Canada. He represented veterinary medicine at the congressional level as well as interacting with federal regulatory agencies such as the Department of Agriculture and the National Institute of Health. In talking with Billy about those years, it is very apparent that they were an enormously enriching personal experience and one that enhanced his understanding and appreciation of our government and its dedicated employees.
Because of Billy's total involvement in veterinary education, it is no surprise that he participated in organizing national workshops on this subject. He, along with other colleagues, obtained approximately a $5,000,000 grant from the Pew Charitable Trust. These funds were used to promote strategic planning and the implementation of new programs in veterinary colleges to affect needed changes in curriculum and the licensing examination process.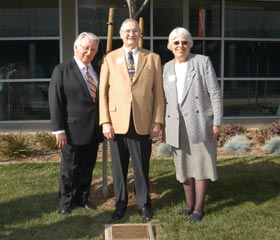 President, Dr. Philip Pumerantz,
Dr. Billy Hooper and Dean, Dr. Shirley Johnston,
at the College of Veterinary Medicine
March 9, 2007, tree dedication ceremony.
Billy believes that the practice of any health profession is far more than knowledge based and the skill to practice medicine on a patient in a clinical setting. He believes it involves communication, cooperation, and problem solving skills as well as continuing education and, collectively, these components help make a person a more complete professional and citizen of the community in which he or she lives and a contributor to the progress of medicine and society. Billy states that Western University's College of Veterinary Medicine (CVM) is a culmination of all of these and is far ahead of the veterinary medical education community in developing and applying such skills. Billy notes that it is interesting that in November 2006 the AAVMC published a study called Envisioning the Future of Veterinary Medical Education. Its description of learning methodology and teaching instruction are those that Western's CVM incorporated from the beginning. The creation of this philosophy at CVM should come as no surprise since Billy was initially retained by Western University in 1997 to develop the vision for its veterinary college. A committee composed of veterinarians, business leaders, animal industry leaders, and Billy was formed and the college's founding principles of commitment to self-directed learning, reverence for life and clinical education through strategic partnerships evolved. Billy also states that because of the current humanistic approach to medical education at the university and the entrepreneurial leadership of its founding president, Dr. Philip Pumerantz, it was a perfect fit for such a new and innovative approach to veterinary medical education. At a March 9, 2007, ceremony in recognition of Billy's enormous contribution to CVM's creation and his ongoing leadership as the Founding Chairman of the CVM Advisory Council, founding dean, Dr. Shirley Johnston, dedicated a flowering pear tree to him that is located at the entrance to the college. "It is very appropriate as we graduate our first class, to create a permanent memorial of Dr. Hooper's vision of the College," said Dean Johnston at the dedication.
Billy has been married to his wife, Janice whom he met in high school, for 53 wonderful years. As Billy talks about his wife, his commitment and love of her and his family is evident as is his enormous appreciation of the role she has played in his being able to accomplish so much in his chosen field. She has accompanied him every step of the way with encouragement and loyalty to their values and has enhanced his stature in the veterinary medical community. They have two children, a son, Roger, and a daughter, Robin, and 2 grandsons and 2 granddaughters, all of which he is very proud. When asked about family pets, Billy said that as the children were growing up they had the usual menagerie of animals – cats, dogs, gerbils, hamsters, mice, rabbits. He fondly remembers one of the pets he had as a young man. It was a cocker spaniel that he had gotten from the local humane society that was truly a one man dog. Every night the dog would go to the main road and wait for Billy to return from work and school. He also laughingly remembers a family cat named Fritter. Billy had a nephew whose cat had a litter. When the family visited the nephew's farm there was one cat left that his nephew said was going to be "kitty fritter" if it didn't find a home by the weekend. Well, needless to say, Fritter got a name and found a home with the Hooper family and lived to a ripe old age. A friend of Billy's, Dr. Susan Donohue, a veterinarian in Pennsylvania, published a book of cat names. After hearing the story of how Fritter got his name, that name found its way into her book! Billy and Janice currently have a 12 pound Rat Terrier named DeeDee. If you ever bump into Billy, be sure and ask him for the story behind that name! They also have about 60 goldfish that reside in a pond that was dug by hand in 2001 by Billy and Janice with the grandchildren collecting all the necessary rocks. This pond has roughly a 50 ft. streambed running into it, 120 sq. ft. surface area, and 3 waterfalls. What lucky goldfish! Billy says that initially each fish was selected at the store by the grandchildren and appropriately named. Billy shares that as goldfish age they all normally assume the same coloration so now there are only two fish they can identify. One is his wife's fish named Snowball because of its white nose that it never lost. The other is his granddaughter's fish, Rainbow, so named because of its multi-coloring that it has maintained. I think it is evident from these stories that Jan and Billy's children and grandchildren have inherited his love of animals.
When asked what events in his career he is most proud, he immediately answers, "Being selected to receive the Distinguished Alumnus Award from the University of Missouri's College of Veterinary Medicine in 1988." He then follows that with being selected in 1999 to be included in Purdue University's Book of Great Teachers, a list of 225 of the greatest teacher's in Purdue's history. Another award which he says he was privileged to receive was the first Iverson Bell Award for Improvement of Opportunities for Minorities in Veterinary Medicine in 1988. Billy goes on to say that Iverson Bell was a black veterinarian who graduated at a time before WWII when there were almost no minority veterinarians. Dr. Bell went on to become Vice President of AVMA and practiced in Terre Haute, Indiana. When Billy went to Washington, DC, as Executive Director of the AAVMC he, along with other colleagues, worked toward converting what had been an annual program on diversity at Purdue to a national program. At that time Dr. Bell was deceased and so it seemed very appropriate to honor his memory by naming the national program the Iverson Bell Symposium. To this day the symposium is still held and the Bell Award is still given.
Western University of Health Sciences is privileged to be able to include the life story of Dr. Billy Hooper in its Legacy Showcase.