The Story of the Kramer Legacy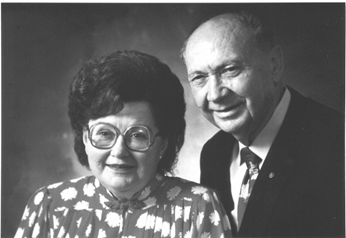 Marion and Roy Kramer
Roy's father, Rudolph and ancestors, came from Germany where his ancestry can be traced back to 1778. His mother, Dora Emalene and ancestors, came from Ireland. Marion laughingly recounts that in Dora's genealogy the family name, Reddell (Dora's maiden name), is spelled 27 different ways. It seems that every time there was a disagreement in the extended family the spelling of the name would change. At least by those who wanted to distance themselves from other branches of the family!
Roy was born in 1922 in Croft, Kansas. He had four brothers and one sister. Unfortunately, his sister died of pneumonia at the age of 2 plus. They were raised on a large wheat farm in Croft until the effects of the Depression and the death of their mother following pneumonia and complications caused their father to move them to Sasakwa, Oklahoma, where the family built a log cabin and the boys attended a one-room school house.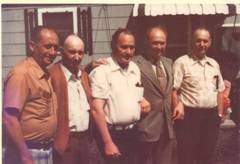 Roy Kramer (2nd from right) and his four brothers.

At the age of 16, Roy left home. He first worked in the orange and lemon groves, and then was employed by US Propellers until WWII began, and he enlisted in the Army Air Force where he became a pilot and flew B25s. He was later brought back to Thunderbird Field in Arizona where he was a flight instructor for Chinese cadets who were being trained to fly fighter planes for Chiang Kai-sheck. His time in the Air Force really was the beginning of his life-long love of flying and airplanes. Once he was discharged from the service, he continued to fly until 1949. In 1979 he again began flying when an engineer working for General Dynamics suggested he take up sky diving for relaxation. Roy responded that he wouldn't sky dive, but he would fly the plane that took him aloft. By this time Marion and Roy had been married for 29 years. Roy called Marion from Brackett Field in Pomona and shared that he wanted his own plane. After he re-activated his license, that of a commercial pilot which was the same as the one he had when discharged from the service, they purchased a 4-passenger Piper Dakota.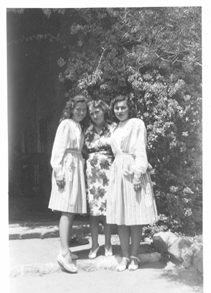 Grace, Vivian and Marion
Marion's memories of her mother, Vivian, are that of a very marvelous and generous person. She spoke Polish and German fluently and understood some Spanish. Marion states, "Mother played the piano and was a magnificent dancer." Marion's father, Alton Wilson, was born in Wisconsin and raised on a farm in Plainfield, Wisconsin, where his parents were one of nineteen families who founded that town. He graduated from the University of Wisconsin-Madison and moved to Chicago where he married Vivian Martha Felski. They had four daughters, Dorothy May in 1927 who died 4 days after birth, Marion Louise in 1928, Vivian Grace in 1931, and Joanne Geraldine in 1933 who was a "blue baby" and died when she was 2½ years old. She remembers that their family home in Glendora was about three blocks from where the Mexican agricultural workers arrived from Mexico. As the workers would walk past their home, Marion's mother would go out and give them her children's outgrown shoes and clothes that were freshly laundered, ironed, and folded neatly in boxes. Her family would occasionally hire them to perform chores around their home.
Marion, Alton, Grace
Marion and Roy met when she was 17 years old. Roy usually had breakfast and dinner at a café in Glendora where Marion's sister, Grace, happened to be a waitress. He knew that Marion usually picked up her sister after work. So, one Friday night he and his friend, Ted, waited so they could be introduced. When Roy asked where the sisters were going, Marion responded that they were going to meet their parents at a softball game in Glendora. Needless to say, Roy offered to accompany them, and once they arrived his friend, Ted, took off for parts unknown as meeting parents was not his cup of tea. But, not Roy! He stayed for the game, and they all went on to the Citrus Bowl restaurant. After a short time, Marion's parents and sister left and Marion excused herself to say hello to some girlfriends from school. They immediately said, "Marion, this guy was a pilot in the Air Force. He's much older than you and he's very fast. We know you haven't been dating much and he doesn't take girls out for nothing! Please be careful." Well, Roy proceeded to walk Marion home, and all the while she was thinking that he certainly didn't act as those girls had portrayed him. When he attempted a goodnight kiss, Marion darted behind the screen door and told him if he was really interested he'd be back and a kiss wouldn't be wasted. He laughed and smilingly said, "So, I'm interested. Can I pick you up at 2 o'clock tomorrow and we'll go horseback riding?" And, so the courtship between this feisty young lady and this "older" man began. Much later Marion learned that Roy had seen her and her mother coming out of the local market and he had looked at Marion and thought, "That's the girl I'm going to marry." So, for Roy, it truly was love at first sight. By the way, Roy was introduced as Cotton and Marion immediately said she did not like nicknames and wanted to know his real name. He said it was Roy and that he had acquired the nickname Cotton because of his red curly hair. It was only after they were married that she learned Roy had yet another name, that of Glenn which was used by his family.
There were many humorous events during this courtship. For instance, on the horseback riding first date Marion told Roy she had never ridden. Consequently, the riding stable gave Marion an old nag who stopped in the middle of a dirt road and wouldn't move. Roy instructed her on how to kick the horse to get it going, and Marion promptly said she couldn't kick the poor old horse so he had to do it for her. Consequently, she ended up tagging along behind Roy and the couple with whom they were double dating. And, then there is the story of Marion meeting and talking with Roy's secretary, Charlotte, at a Christmas party when he worked at U.S. Propellers. Marion thought she was the most beautiful, petite, blond and wondered, "How in the world could Roy even care for me with such an attractive secretary." Charlotte didn't realize she was talking to Marion and proceeded to tell her that Roy and she used to occasionally go out to dinner after work and how wonderful it was until he met that student nurse from St. Joe's which, of course, was Marion. She went on to say she was instructed that when Marion called Roy at work, she should find Roy no matter where he was or what he was doing because Marion only had a certain amount of time between classes when she could call. Charlotte also said she didn't know what that nurse said in 5 minutes to get Roy whistling back to the shop. Throughout all this Marion didn't have an opportunity to divulge who she was, but eventually one of the other ladies told Roy that Charlotte was really telling all kinds of tales about him. Marion relates these stories with her eyes twinkling.
During their courtship Marion attended nurses training at St. Joseph's Hospital in Orange having received her pre-requisite training at Citrus Junior College. Because it was a Catholic hospital, it was not easy for students to date as there were many restrictions – one being that it was mandatory students stay in the dormitory. But, they did manage to fit in some dating time, and Marion found Roy to be a very thoughtful and quiet person. Marion recounts that years later he told her he had married her so he wouldn't have to talk. This is just one example of Roy's "quiet" humor!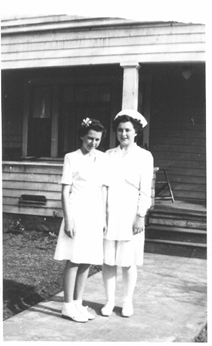 Grace and Marion
In February 1948, after being at St. Joseph's for 1½ years, the students were informed the nursing school was being closed. Sister Carmelita, Director of Nurses, told them they could transfer to one of four schools – Queen of the Angels College of Nursing, Sacramento University Hospital, St. Vincent's Hospital in Los Angeles, or University of Arizona. Her class of four students decided they wanted to attend school in Sacramento which they thought would be a grand adventure having not been that far away from home before. However, Sister Carmelita had other ideas. She wanted them to attend a Catholic hospital closer to home and continue with their education at Immaculate Heart College. Sister Carmelita had already sent their transcripts to Queen of the Angels so they would now have to study to pass the entrance exam in addition to their regular studies. It should come as no surprise that they all passed the test with ease! It is also interesting to note that Marion's interest in nursing actually began in early childhood (her mother had been a Red Cross nurse in WWI) and while she was in high school and junior college during which time she was a nurse's aide at Covina Hospital.
In June 1947 Marion came home from school on a Saturday and found her mother laying propped up on the couch and having difficulty breathing. This was a result of her mother's life-long battle with asthma. Because of Marion's nurses training, she immediately knew this attack was serious. She told her father that they needed to get her mother to Pomona Valley Hospital right away, which they did, and where she stayed while receiving the necessary treatment. Marion's father returned her to school on Sunday, and she went on with her classes and nursing duties on Monday and Tuesday. Ironically, due to a shortage of nurses, on Wednesday Marion was asked by Sister Carmelita to act as a special duty nurse to her mother from 3:00 p.m. to 11:00 p.m. Sister Carmelita said she had the utmost confidence in Marion and her ability to handle this assignment. Because it was her mother, Marion agreed to this assignment with great trepidation. It was that evening as she fulfilled her nursing role that her mother passed on at 6:03 p.m., July 2, 1947. She did everything possible to ease the pain for her father and sister when she told them. This was probably the first real glimmer of the outstanding care giver and humanitarian she was and the strength of character that would sustain her during difficult times throughout her entire life. Marion spent the remainder of that week making funeral arrangements and dealing with whatever was needed at home. She recalls that her mother's Rosary and funeral were attended by not only her many, many friends but by those agricultural workers she so often befriended and helped.
It was at this same time that Marion found out from friends that Roy had suddenly gone back East. She wondered how God could so quickly take both her mother and Roy away since she cared about them so much. The loss of her mother at such an early age was extremely difficult, but Roy did come back into her life within a short period of time. In fact, he called her from San Francisco expressing great remorse because he hadn't been with her when her mother passed away. She remembers him further saying that he was leaving for Guam since she wouldn't marry him. Now the only thing wrong with that statement was that he had not yet asked for her hand in marriage! He proceeded to ask her if she would write to him, and she said only if he wrote to her first. In her mind she was thinking, "You go ahead and go to Guam. I know you Roy Kramer. You already have your ticket so just go ahead and go." It was only 2 or 3 days later that Marion received her first letter from Roy immediately followed by a radiogram. And, so their correspondence began. She eventually learned why he had gone back East and to Guam and left his job at U.S. Propellers. He and a friend had started a business that, unfortunately, failed and incurred debt. In order to relieve this debt he went to Guam for very good wages to do government construction work on an airfield. Once he fulfilled this obligation, he came back to California and went to work for Jumbo Steel and Nigg Engineering. In 1952 he went to work at General Dynamics in Pomona where he remained for 15 years. He was a tooling engineer in their Research & Experimental Department when he left General Dynamics in 1966.
In August and September 1948 Roy briefly returned from Guam and asked Marion to become his wife. She, of course, accepted! After purchasing her engagement ring, they went on to celebrate this momentous occasion at the Derby in Arcadia. Marion announced her engagement at school in a unique manner. She obtained clear capsules which she filled with folded notes that told of her engagement. This was accompanied with the traditional box of chocolates.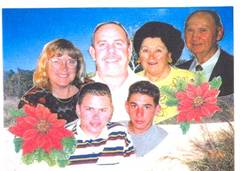 Picture collage used for their 1995 Christmas Card
Daughter, Darlene, & husband, Bob, Marion & Roy
grandchildren Adam & Eric
Marion completed her studies at Queen of the Angels and graduated from there in 1949. She received the Alumnae Association award as the most outstanding student of that graduating class. She went on to become a highly competent and caring nurse working in surgery at Park Avenue Hospital in Pomona and then at Covina Hospital. In the late 1950s she worked at Pomona Valley Community Hospital and later did office nursing.
Roy and Marion were married on February 11, 1950, and bought their first home in Covina and then moved to Pomona in 1952. They have one daughter, Darlene Marie, born Thanksgiving Day, November 23, 1950. She attended Pomona schools and excelled in ice skating and swimming. In 1972 she graduated from Chapman College and then Cal Poly Pomona where she earned her life-time teaching credential. Darlene went on to enjoy a career in teaching until her retirement in July 2007. She married Robert Rich on July 4, 1972, upon his return from Vietnam. Darlene and Bob have two sons, Adam Joseph, born August 27, 1975, and Eric Michael, born April 5, 1979. Adam graduated from Redlands University in 1997 and married Kari Solo of Chino on June 21, 2002. They have one daughter, Sydnee Hope, born March 31, 2006. Sydnee Hope weighed only 2 lbs. 2 oz. and was 14 inches long when born prematurely. She was actually due to be born on June 21, 2006, but great grandmother Marion states, "She is quite a little fighter and will have quite a time catching up." Eric completed his apprentice glaziers program, then earned his journeyman glaziers card, and is working very hard in the glass industry, his chosen field. He has one son, Caleb Dylan, born January 24, 2006, who resides in Grand Junction, Colorado, with his mother. Great grandmother Marion looks forward to his visits.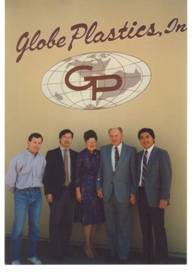 Marion & Roy with new owners of Globe Plastics, Inc.
Roy never lost his desire to have his own business. Consequently, in 1958 Marion and he founded Globe Plastics producing the Winlock that he had designed and patented and which was an inexpensive disposable ventlock used in shipping casement windows. This was just the beginning of Roy's genius in designing and manufacturing injection and transfer molded parts by the millions for companies in the industrial, electonics and service fields throughout the United States and even Canada. In addition, Globe Plastics tested molds for Mattel and ran parts for the tone arm of the first Talking Barbie doll and parts on the Robbie Robot toy. Throughout these many endeavors, Marion played a tremendous part in the success of this business by taking care of the office management and accounting. The business continued to grow and succeed and in May 1966 it became a corporation. Their philosophy of caring for others and sharing their success was fully evident in the way they treated their employees some of whom had a long tenure with the company. Marion states, "We had one employee for 28 years, one for 26 years, one for 22 years, and after that they ranged from 2 years to 9½ and 10 years. They sold their business in March 1988 after 29½ years of operation.
Marion and Roy on a cruise from Vancourver
During their retirement Roy and Marion took several cruises – twice to Alaska, the Caribbean, and Mexico as well as once to Central America and the Panama Canal (an engineering marvel and their favorite cruise). They toured Eastern and Western Canada and the United States and traveled extensively in California. Roy and Marion enjoyed flying in their private plane to Santa Barbara, Palm Springs, Phoenix, Arizona, and Big Bear where they had a cabin for 10 years plus. They often flew to Catalina for the afternoon to have buffalo burgers and ice tea. They enjoyed visiting Roy's youngest brother and family in Nacogdoches, Texas, a university town, and his oldest brother in Placerville, California. Also, during their retirement they took a tour to Washington, D.C., in 1994 that included the White House, Arlington Cemetery, the Kennedy Center, Ford Theater where Lincoln was assassinated, the Smithsonian Institute where they had a great deal of fun, the Lincoln Memorial, the Vietnam Memorial Wall, and went up the Washington Monument. This tour also included two days in Williamsburg, Virginia. While in DC they had lunch at the Capitol building with then California Senator Alan Cranston and afterward were able to watch Congress in action. Roy had always wanted to visit Nashville, Tennessee so, in 1994, off Marion and he went to the Regal Holiday Inn Plaza in Nashville. Once they arrived they found the tour they had booked had been canceled. But, being the enterprising lady she is, Marion called the concierge and, together, planned an almost identical tour. They visited the Grand Ole Opry, the Johnny Cash Museum, took a moonlight cruise on a paddle boat on the Mississippi River, and then toured Andrew Jackson's home. Marion remembers it being "a really fun trip." They also spent a week in Branson, Missouri, where they attended all of the available shows. In 1993 they stayed at New York's Waldorf=Astoria for a week in Clark Gable and Carol Lombard's Honeymoon Suite. Marion relates, "Historically it was wonderful but it was an old hotel."
The Alta Loma Newcomer's Association was founded in 1980. Marion was their last President for the years 1992 and 1993 when it was disbanded because the group was unable to find another president. Marion is currently a member of the Dazzling Divas' of the Red Hat and Marion says, "That is one fun group."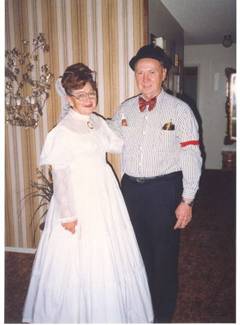 Marion & Roy dressed as Mr. & Mrs Cratchit
for a Pomona Christmas Parade
Throughout their lives Marion and Roy were active volunteers with the Pomona Chamber of Commerce, Casa Colina Centers for Rehabilitation, Pomona Valley Hospital Medical Center, and the Beverly and Robert Lewis Cancer Center. Roy was also active in the Rotary Club of Pomona. Marion and Roy also appreciated their association with Western University of Health Sciences where Roy served on the Board of Trustees for several years and Marion participated in its Founders' Committee. Marion continues to support Western University along with the Cardiac Care Club at San Antonio Community Hospital and outpatient care at Casa Colina Centers for Rehabilitation. She also recently joined the Pastoral Council of the St. Peter and St. Paul Church in Alta Loma.
Currently Marion resides in a mobile estate in Southern California where she is secretary of the Residents' Committee and works with the Recreation Committee.
Unfortunately, there was a history of cancer in Roy's family. His father and two of his brothers died of various forms of this disease. Roy had prostate cancer, but was cured with radiation and seed implants in 1982 and then had a melanoma removed from his nose in 1989. Unfortunately, the cancer reared its ugly head again in January 1999. While he was reviving up his airplane engine to take off to Big Bear to meet some friends, he realized he didn't feel right. Since he had promised Marion he would never fly if he felt he wasn't 100% healthy, he returned the plane to its hanger and went directly home. Because of her medical background, Marion thought it might be a mild stroke. She asked Roy to please not be angry, because she wanted to immediately call the doctor for an evaluation, and Roy agreed. The doctor promptly ordered an MRI which did not reflect a stroke but rather revealed three lesions on Roy's brain. The doctor knew it was imperative to determine if there had been an earlier primary lesion and exactly what it had been. Roy had never told the doctor of his earlier melanoma because, in his usual positive manner, he didn't think it was necessary since "they got it all." Ultimately, the record of its removal and biopsy were located at Pomona Valley Hospital and confirmed it being a melanoma. Marion states, "When a melanoma is removed and even a particle might remain, it is not uncommon for it to reappear in 8 to 10 years in the brain which is exactly what happened to Roy." Needless to say, Marion knew this was a death sentence. So, once again she exhibited her remarkable strength of character as she nursed Roy during his last months and, on the outside, was a tower of strength for his sake while crying on the inside. Throughout this difficult time she was the embodiment of what an outstanding and caring nurse should be. She say's of Roy's death, "He traded his pilot's wings for Angel wings." I think Marion especially wanted Roy's struggle with melanoma included in this story in the hope it might help others secure a better outcome when fighting this disease by increasing awareness of the importance of frequent follow-ups. Roy lost his battle with cancer in June 1999.
Marion states, "After Roy passed away, I really had to admit how pampered I had been. I had never filled the car with gas and still haven't and never opened the garage door. Almost every week after Roy's death, my grandson, Adam, spent one day of the weekend helping me with "honey do" jobs, and he also taught me how to drive a new Avalon that Roy and Adam had purchased for me five weeks before Roy passed away."
Marion says, "During our marriage Roy and I had always supported the Candlelight Pavilion in Claremont. I had decided that was one of our traditions with which I was going to continue. Consequently, I have season tickets for two to all of the stage shows at the Candlelight Pavilion. It is a wonderful means of remembering the birthdays of my many friends or having them celebrate other special occasions with me."
When Marion went in for a physical in January 2007, she asked her doctor if she should take the new life-line screening tests about which she had received numerous communications. Her doctor was in favor of her doing so, but, being her usual practical self, she laughs when she recalls thinking, "It would be about $3,000 worth of tests which my health insurance wouldn't okay until I had the symptoms, and if I had the symptoms, I would be ready to die." Marion's decision to proceed with the life-screening tests proved to be a correct one. She had been told she would receive a registered letter within two weeks if any health issues were discovered. Well, within one week Marion received a registered letter and she states, "I was terrified it was something with my heart." As it turned out everything was fine except it had been discovered she had serious osteoporosis in her hips, back, and around the neck area. She immediately took this information to her doctor requesting a full-body scan, bone marrow testing, and several other tests. In the interim, she was put on Actonel; one of the medications prescribed to increase bone mass and slow the effects of osteoporosis. Again, I think Marion hopes everyone reading her story will learn from her experiences and take appropriate preventive health measures.
Marion, in relating her experiences with corneal transplants, again hopes people will learn from her medical saga and not give up hope when dealing with their own eyesight problems. Marion had her first corneal transplant on her left eye in May 1975 which was done by Dr. Max Fine who was, at that time says Marion, the world renowned authority on such procedures. That transplant lasted until May 2001 at which time she received another transplant in that eye. Marion followed this same course of treatment on her right eye by having a corneal transplant in May 1979 and another in May 2002. In January 2008 she was put on a list for yet another corneal transplant for her left eye as the one done in 2001 was rejected. To most people this ongoing saga might sound daunting, but not to Marion because she believes in the miracle of these transplants and the life enhancing benefits they provide. Again, she hopes the chronicling of her corneal transplant story will encourage other people to have a similar course of treatment to restore the wonderful pleasure of being able to see.
On the occasion of the 10th Anniversary Open House of the College of Graduate Nursing in November 2007, Marion's contribution to the profession of nursing and to the community were recognized and honored. It is interesting to note that the other honoree at this Open House was Bobbie Stahl who once interviewed and hired Marion for a nursing position at Park Avenue Hospital.
Western University of Health Sciences is proud to include Roy and Marion Kramer among its long-time friends and supporters. This philanthropic minded couple has supported Western University with two planned gifts along with establishing a revolving student loan fund and a scholarship fund both of which Marion supports with yearly donations. On August 11, 1989, The Kramer Research Lab was so named in honor of this special couple. Western University of Health Sciences is most appreciative of their commitment to its mission and values.