The Story of the Mann Legacy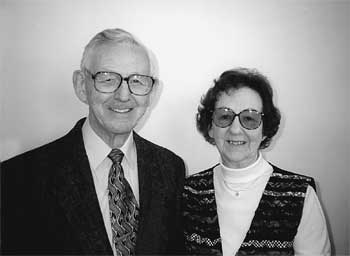 Ginny & Les Mann, Jr.
Les and Ginny were an integral part of the Pomona-Claremont communities for 47 years before Les's retirement and their move to Arizona where they are enjoying a more relaxed lifestyle. Les served in multiple community organization, including the Pomona Rotary and the Pomona Chamber, and Ginny was active with the Assistance League and the Republican Central Committee, along with other groups. They also raised a son, Les Mann III, who lives in Houston, Texas with a wife and son. The couple, who have been married for 60 years, are perfect representatives of what has been described as "The Greatest Generation."
Les was born in Chicago, where his father was playing professional baseball for the Cubs. During his early life his family moved frequently as Les Sr. plied his profession with other clubs, including the Boston Braves and the St. Louis Cardinals. This was "back before the 'big money' baseball days," according to Les, Jr. His father culminated his career by playing an instrumental role in the effort to have baseball included as an Olympic sport. Besides organizing an international federation to conduct play between the teams of various nations, he took two teams to conduct a demonstration game at the 1936 Olympics in Berlin. Hitler and over 100,000 people, the largest crowd to witness a baseball game up to that time, came to witness the demonstration. Unfortunately, due to World War II the next two Olympics were cancelled and the attempt was doomed to failure, until taken up by others many years later.
Like most young men of his generation, Les chose to serve his country by enlisting in the military. He joined the Navy and served two years as a Supply Corp Officer aboard ship in the Pacific. Fate intervened when he was assigned to an office in Cleveland, Ohio, which was where a charming young civilian named Ginny Wolfe was also working.
The two fell in love and were married, and following the war Les left the Navy to pursue a law degree. He and Ginny, who coincidentally is the daughter of an attorney, moved to Palo Alto, California, where Les obtained his law degree from the Stanford University School of Law. He then practiced in Los Angeles before moving to Pomona in 1952 to join the law firm of Stead & Boileau. His new office location was in the First National Bank building on Second Street. It would have been difficult for him to imagine that the same Second Street in downtown Pomona would someday house a university just a few blocks away.
Their involvement with WesternU came as a result of Les's long-term relationship with Dr. Richard Eby, a founding board member of the College of Osteopathic Medicine of the Pacific (which was the original of the five colleges now comprising WesternU). Because of this friendship and Les's specialized knowledge of trust and estate planning, Ginny and he ultimately utilized a charitable remainder unitrust benefiting Western University of Health Sciences as part of their estate planning. The couple takes pleasure in knowing that they are supporting future generations of health care providers. The University is fortunate and proud to claim them as part of the WesternU family.