The Story of the Maurer Legacy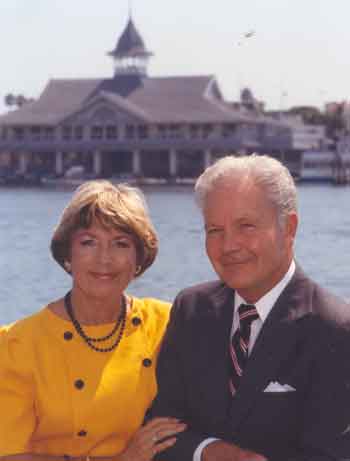 Pat & Phil Maurer
When Pat and Phil first became acquainted, they found they shared similar backgrounds. Phil was born in 1917, orphaned at an early age, adopted by an aunt at age nine, and came to live with her in a Victorian home on a10-acre ranch in Pico Rivera, California. Back then the area was sparsely populated and devoted to ranching and orange and avocado groves. Phil grew up working on this ranch while reading dime western novels about the exploits of rugged cowboys.
Pat also lost both of her parents at an early age. She then went to live with an aunt in Los Angeles where she attended school. Her high school years were spent on an orange grove located on a hilltop near Whittier. Her love of open space, landscaping, and gardening were nurtured there. She says, "The fragrance of orange blossoms was very special."
Pat remembers that Phil and she both attended Whittier High School and Whittier College, but she was so much younger than Phil that their paths never crossed – at least not at that time! Before the war, Phil attended the University of California-Berkeley for a short time, but ultimately graduated from the University of Southern California and the USC Law School.
Phil enlisted in the Navy the day after the attack on Pearl Harbor. His 4-year's of service included being at sea during the war and later being stationed in San Diego, California, where he met Pat who was also in the Navy and stationed on Coronado Island. During Pat's 2½ years in the Navy she recounts that she was one of the first WAVES to graduate from boot camp at Hunter College, New York, and to receive additional training at the University of Indiana. Pat remembers that even though those years were tumultuous for the world, Phil and she found time to enjoy their courtship and to explore the wonderful beaches of La Jolla in his Ford coupe.
Pat and Phil were married in November 1945 in the Wilshire Methodist Church. Shortly after they were married, Phil's mother became ill and Pat moved back to Whittier to care for her. Phil completed his Navy duty and then also moved back to the ranch. At that time, he realized he didn't want to pursue a legal career. Instead, he decided his future lay in education. After the war, teachers were in great demand so he went back to Whittier College for a teacher's credential and then on to Pepperdine University for his Master's degree.
Teaching children proved to be his true calling. He taught English, math, speech, drama, and coached football and volleyball in the Newport-Mesa School District for 30 years until his retirement. While there, he thoroughly enjoyed producing musicals and old time dramatic plays. He was beloved by his students and was named the district's "Teacher of the Year" several times. Over the years, many of Phil's former students kept in touch with him and, to this day, Pat will occasionally have one of them contact her. Pat states, "Phil left such an imprint on their lives." Phil passed away in 2002.
Pat and Phil have two sons, Craig and Matthew. Craig, married to Jay who attended Chapman College, has three children – Garrett, who attends Arizona State Business School and is on the Dean's List – Brynn, who is now a sophomore, has received a full volleyball scholarship to University of San Francisco – and Philip James or "P. J.," named after both of his grandfathers, is a sophomore at Mater Dei High School and is interested in volleyball. Matthew has one son, Micah, who is in the first grade and loves dinosaurs and insects. Craig and Matt both spent time in the United States Coast Guard and tours of duty took them to the Artic, the Antarctic, and basically around the world. Craig also received a commendation for his navigational ability when on a rescue mission out of San Francisco in dense fog. Craig has a boat sales and marine service business in Newport Beach. Matthew owns a distributing business, International Electronic Products.
During summer vacations the Maurer family traveled the United States "in one of the first Volkswagen Vans " says Pat. These were wonderful family times that only got better when they purchased land and built a small home overlooking the water on Shaw Island, part of the San Juan Islands, Washington. This was more than 40 years ago when it was less populated with people and boats. The boys enjoyed exploring the island where Craig found Indian arrowheads and an old abandoned settler's log cabin in the woods. These summer trips between Balboa Island and Shaw were special times with camping and beach combing including "show and tell" around the camp fire.
Pat and Phil enjoyed a busy and rewarding 40 years on Balboa Island, City of Newport Beach, California. Pat recalls that there were only three homes on their block that were occupied year-round when they first moved there. Phil served on the City Council and was a two-term mayor. He was also active in the Balboa Island Association and was its president for one year. Pat was the association's secretary for 10 years and published a monthly association newsletter that included recruiting a cadre of volunteers to act as delivery people. Being a consummate gardener, Pat found great satisfaction in the beauty of planting flowers in her own garden as well as in public areas around the island. She also remembers being instrumental in acquiring an antique clock for the quaint post office that remains there to this day. In addition to all of these activities and while raising their two sons, Pat found time to work as a part-time secretary in the Newport-Mesa School District and be involved in Cub Scouts and the Junior Ebell Club!
In 1973 the Maurer family purchased the hilltop property in Oceanside which overlooks the ocean and valley with Camp Pendleton a few hills away. Since Pat and Phil were avid tennis players, they named the property Lob Hill. They first built a tennis court followed by a simple cottage. On weekends, friends and family would gather at Lob Hill for tennis, food, and work. Pat and Phil also planted 300 avocado trees, citrus and other fruit trees, vegetables, and flowers and created their own Camelot. "Our dream was to retire at Lob Hill," said Pat. So they proceeded to refine the house, and moved there full-time in 1989. Phil was a skilled builder, and he continued to develop the property, with the help of Craig and Matthew, by adding a guest house and garage.
When Pat and Phil decided to sell their Balboa Island property and move to Lob Hill, they found that by transferring the Island property into a Charitable Remainder Unitrust they were able to avoid a sizable capital gain tax and give future monetary support to Western University of Health Sciences (WesternU). The Maurer family has always believed in and maintained a healthy life style and was impressed with the osteopathic philosophy. This was a significant factor in their decision to choose WesternU as the beneficiary of their charitable trust. "We are firm believers that it is important to give back what you have earned," said Pat and Phil. WesternU is lucky indeed to include them in the university family and are most appreciative of their legacy.