The McCulloch Legacy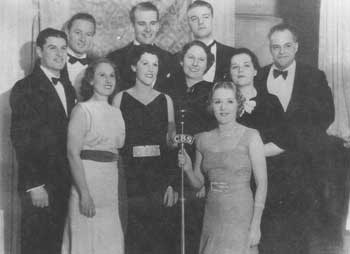 Arthur (last row center) performing with
The Paul Taylor Chorale and Mary Pickford (holding the microphone)
during the CBS radio show,
Parties at Pickfair.
Arthur G. McCulloch was born in New York but moved to Calgary, Alberta, Canada, with his Scottish family when he was just a baby. While he was still in knee pants, they moved again – this time to Southern California. Music became a major part of his life. He was professionally trained as a baritone and began performing while attending the John Muir High School in Pasadena. During his time at John Muir he was given the first C. O. Arnold Award for Musical Achievement in 1929 that has continued to be awarded to a worthy student each year. His professional career spanned 52 years during which he sang with the Song Brokers and toured much of the United States with the Sportsmen quartet. The quartet also found time to sing in many movies and radio programs with stars such as Jack Benny, Bing Crosby, Nelson Eddy, Errol Flynn, Preston Foster, Judy Garland, Mary Pickford (Parties at Pickfair), Shirley Temple, and Danny Thomas. They even depicted the musical voices of Walt Disney cartoon characters such as the dwarfs in Snow White and the Seven Little Dwarfs.
For 11 years the Sportsmen sang the Star Spangled Banner at the Western Washington State Fair where they became friends with America 's best-known clown, Emmett Kelly, Sr. Arthur also sang in musicals, the Los Angeles Master Chorale, church choirs, performed operas at the Greek Theater, the Pasadena Green Auditorium, the Shrine Auditorium, and with the original Los Angeles Opera Company and was part of the program at the opening of the Dorothy Chandler Pavilion in 1964.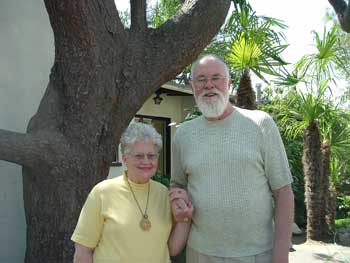 Judy and WesternU Trustee, John Forbing,
at her home in Duarte
Two of many momentous occasions during his career were when he sang at an event at the California Institute of Technology in Pasadena, California, at which Albert Einstein was in attendance and his performance of God Bless America at the Hollywood Bowl. He was the first person given permission to sing this song as it had been especially written for Kate Smith and was to be sung only by her. His musical talent also included playing the piano while giving voice lessons. He played many other musical instruments, but the most special of them was a violin sent to him when he was 12 years old from his grandfather in Scotland.
Arthur always enjoyed telling the story about his enlistment in the Army during World War II and how he ended up being a radio operator. He would laughingly recount that when he was asked for his profession, he stated he was a singer on the radio. The response was, "okay, then you can be a radio operator." Ultimately, an officer realized Arthur was a professional singer and had him re-assigned to an entertainment group that performed for the soldiers at Ft. Sill, Oklahoma.
Arthur met his wife, Judy, at a church choir rehearsal in 1962 and "our hearts became one, " says Judy. When she asked to borrow a quarter from another choir member for bus fare home, Arthur offered to drive her, "in his 1954 Buick Roadmaster that included a tour of Hollywood, and that ride lasted 43 years," states Judy. From that time on they were inseparable and were married in 1970. After their marriage, Arthur continued to give solo concerts and sang opera as well as singing in church musicals and choirs with Judy joining him in the musicals and choirs. In many of these churches Arthur fulfilled the roles of Youth Choir Director and Adult Choir Director as well as being the baritone soloist. In 1978 Arthur formally retired from professionally singing and choir directing.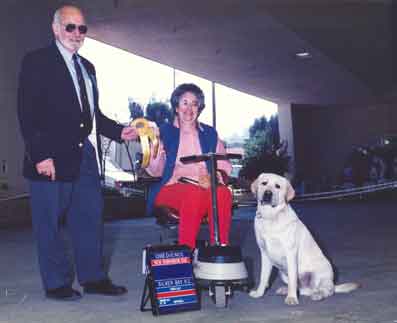 Show Judge, Judy and Banner
after winning 3rd place
in the AKC Obedience Trial.
Arthur and Judy lived in Los Angeles and Arthur worked in the Promotion Department at the Herald-Express that later became the Herald-Examiner. While at the Examiner, Arthur was in charge of a program that collected and delivered toys at Christmas time to under-privileged children. The post office helped by delivering to Arthur the letters that were mailed to Santa Claus. He even made arrangements with the Yellow Cab Company to deliver the toys! Judy says this was something Arthur truly enjoyed doing as he was a kind and gentle man who always wanted to help and give to others.
Arthur was instrumental in securing a job for Judy at the Herald-Examiner in the Classified Telephone Sales Department. She also worked in the same department at the Los Angeles Times. Judy won many awards at both newspapers for her natural sales talent. She continued working in this capacity until she was diagnosed with Multiple Sclerosis in 1982.
In addition to his musical career, Arthur took up farming on land Judy and he had purchased and were living on in Duarte, California. Judy laughs when she says, "We had every animal except pigs. " They even had a pet lamb named Rambee who rode in the car and walked around town with them on a leash! Arthur enjoyed farming and gardening on this large property, growing vegetables and fruit they canned for their own consumption.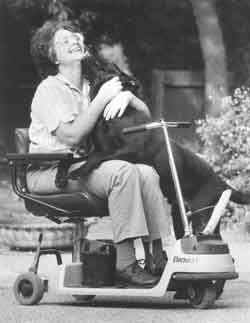 Judy getting hugs and kisses from Ledger.
This picture was published in the Pasadena Star News
in November 1989 as part of an article
written about Judy's training of Canine Companions
for Independence.
In learning to deal with her Multiple Sclerosis, Arthur and Judy visited the Abilities Expo at the Anaheim Convention Center where they became acquainted with Canine Companions for Independence and what were called Puppy Raisers who trained service dogs. They immediately knew this was something they wanted to do and would be a means of " giving back. " They received a training manual and a Labrador Retriever puppy named Ledger to train. When it came time for Ledger to assume the roll for which he had been trained – being a service dog for people with disabilities – he was returned to Judy to be her canine companion. He fulfilled this role for 15 years until his death in 2003. Judy also trained an AKC registered yellow Labrador Retriever named Banner whom she entered in three AKC sanctioned Obedience Trials and won a yellow 3rd place ribbon out of a field of 34 other dogs. Banner also qualified to receive a CD Degree (Companion Dog). Judy recalls how excited and proud Banner and she were of this accomplishment.
She is currently working with two black Labrador Retriever puppies named Garside (her husband 's middle name) and Kahlua to be her canine companions for independence and for her own pleasure.
After a prolonged illness, Arthur passed away in 2004 at age 93. Judy continues to live on the farm that is still a haven for dogs, cats, birds, and squirrels, to name a few. Inside the home are wonderful mementoes of Arthur 's musical career and their life together.
Through Judy 's cousin, John Forbing, a trustee of Western University of Health Sciences (WesternU), she became acquainted with the university's College of Veterinary Medicine and its Center for Disability Issues and the Health Professions. In keeping with Arthur 's and her philosophy of "giving back, " their love of animals, and her battle with MS, Judy recently decided to remember these two programs in her estate plan along with other charities near and dear to her heart. WesternU is most appreciative of her generosity and honored to welcome her into the university family. It is truly a legacy that will keep on "giving back " and is a wonderful memorial to both Arthur and Judy.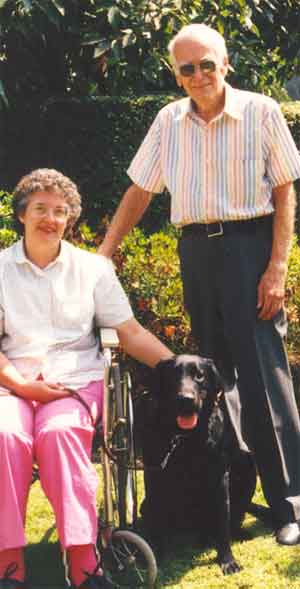 Judy, Arthur and Ledger in 1989