The Story of Dr. and Mrs. Robert E. Norcross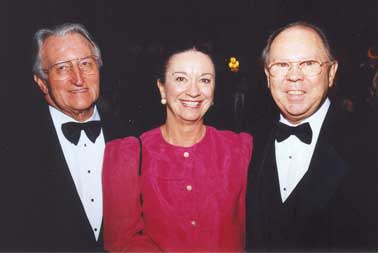 President Philip Pumerantz,
JoAnn Norcross, and Robert Norcross, MD,
at WesternU's "A Tribute to Caring" gala
at the Ritz Carlton in Pasadena, November 1999.
Dr. and Mrs. Robert E. Norcross have been making annual gifts to the College of Osteopathic Medicine (COMP) since it opened its doors in 1977. A few years ago, the couple established a charitable remainder trust funded with rental real estate they owned. This transaction gave them income and will provide for their future gift to WesternU/College of Osteopathic Medicine of the Pacific.
What inspired such committed generosity? The answer is a deep appreciation and long family connection with osteopathic medicine.
The Norcross' history with osteopathic medicine began when Robert's father, Lee Norcross, a chiropractor, encouraged his brother, Howard, to consider pursuing a career in osteopathic medicine. "My father did a lot of good for his patients," Robert remembers. "But he thought it would be even more fulfilling to work without limitations in medicine."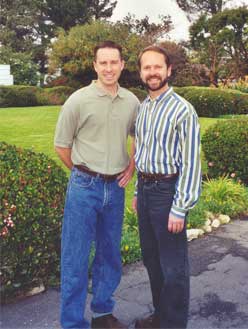 Sons, Tim Norcross, DO. '04, and Jim Norcross, DO, '82
Robert's uncle, Howard B. Norcross, DO, became a 1936 graduate of the College of Osteopathic Physicians and Surgeons of Los Angeles and went on to become a nationally known osteopathic surgeon and educator. With encouragement from his father and his uncle, Robert graduated from the same school in 1951 and received his MD credential from the California College of Medicine in 1962. He practiced general surgery until his retirement in 2001.
The family tradition continued when Jim Norcross, Robert and JoAnn's eldest son, entered the first class at the newly opened COMP, graduating in 1982. He practices in the Belmont Shore section of Long Beach. A younger son, Tim Norcross, followed in his footsteps, graduating in 2004. He married classmate, Gwenne Kyle, and both DOs are now completing residencies in Phoenix and hope to return to Southern California in the future.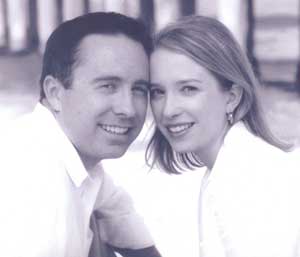 Tim Norcross, DO. '04, and Gwenne Kyle, DO, '83
"I grew up feeling strongly about the value of osteopathic medical treatment," Robert Norcross said. "I have had a wonderful career, and we are pleased that our sons have carried on a profession of healing and caring." The Norcross' also have a married daughter, Cathy, who is a stay-at-home mother.
Since retiring, Robert and his wife spend time with their three cats at their elegant home on a spectacular view lot. They enjoy babysitting their six grandchildren, the latest born to Tim and Gwen in December 2005.
The Norcross' feel good knowing that the gifts they have made over the years to COMP are helping others to pursue careers in osteopathic medicine. Both came from families of modest means but were instilled with values of helping others. "We've seen COMP grow since its inception," Robert said. "We are proud to be supporters of an osteopathic school that teaches excellent medical skills and instills the value of treating the whole patient."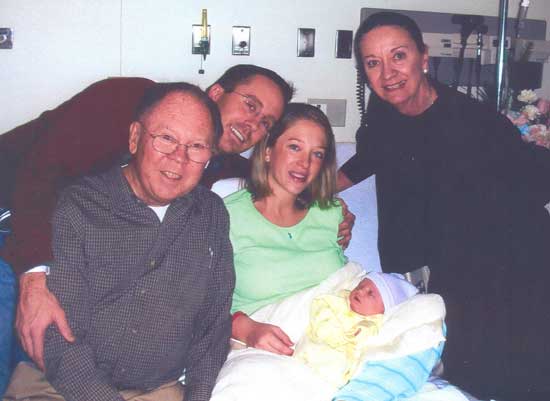 Parents, Gwenne and Tim, and daughter, Taylor Noelle Norcross, and grandparents, JoAnn and Bob Norcross,