Bobbie Stahl – A Most Delightful and Unusual Lady
Bobbie's parents, John and Audrey Connelly, were born in the United States and lived in Austin, Texas, where Bobbie was born. Her father was of Irish decent and her mother was of English decent. Her father died when she was quite young, and her mother supported them by developing a successful career in modeling. Bobbie fondly remembers her mother as "being very tall and slim."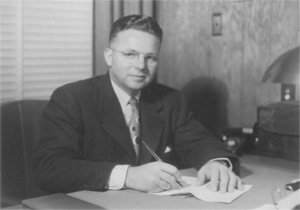 Dr. William G. Stahl
Bobbie's husband, Dr. William (Bill) G. Stahl, was born and grew up in Los Angeles, California. His parents, Dr. Fred and Mrs. Emma Stahl, were of German decent. Bobbie recalls that Bill's father received his medical education at McGill University in Montreal, Quebec. Bill had one brother, Fred, Jr., who followed in his father's footsteps and became an MD. Much to his father's dismay and strong opposition, Bill chose to become an osteopathic physician. Bobbie recalls, "He loved the idea of being a DO." Consequently, Bill attended UCLA and then went on to graduate from the College of Physicians & Surgeons of Los Angeles. It was a decision he never regretted.
Because Bobbie's mother traveled a great deal in her profession, she only lived with her for short periods of time one of which was in New York where most of Audrey's modeling career took place. The remainder of her young years were spent living with one or the other of her two beloved "aunties," Letha and Lola, first in San Antonio, Texas, with Letha, and then with Lola in Hollywood where she moved to work as a costume designer for MGM. It wasn't long before Letha also moved to Hollywood. Bobbie recalls living two blocks off Hollywood Blvd. which was then in the midst of early moviedom. In fact, Bobbie recalls meeting with MGM and doing a small amount of movie work.
Bobbie fondly remembers much of her beautiful clothing being designed and sewn by Lola and being corrected in her wardrobe selection "if something didn't look right." She also said that "coming from San Antonio, Texas, manners were very important." It is obvious the guidance given to Bobbie by her aunts stayed with her as she is always impeccably dressed and is the epitome of a lady.
Because Bobbie moved frequently – Austin to New York to San Antonio to Hollywood – this meant attending many different schools. She does not recall ever having a birthday party or developing any lasting friendships with other children, but remembers being treated "wonderfully well" by her "aunties" who had no children of their own. She does not remember ever being lonely or having a bad experience except, of course, that of losing her beloved mother at age fifteen. She recalls, "I was a good little girl."
At approximately 14 years of age, Bobbie decided she wanted to play the saxophone and be in a band. Her mother and aunts were very supportive of this. Fortunately, Bobbie's mother happened to be in Hollywood at the time and began searching for a saxophone teacher. Luckily she found Mr. Parmagani, a well-known saxophone teacher. Bobbie describes him as being a "wonderful" instructor. Under his tutelage, Bobbie soon excelled at playing this instrument. Of course, the 3 to 4 hours a day she practiced helped too! To quote Bobbie, "I was very, very good." She also had her own beautiful saxophone that was given to her by her uncle who had been married to her Aunt Lola and who continued to dote on Bobbie. To this day, she still has this lovely saxophone and plays it whenever she has someone to accompany her on the piano.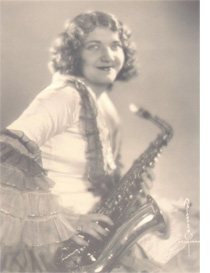 Bobbie Stahl and her beautiful sax
"In those days," Bobbie recalls, "if anyone needed a saxophonist for any reason, they went to Parmagani." Consequently, it wasn't long before she was conducting solo performances at the Pantages Theater in Hollywood. She remembers being scared when she thought of being on stage by herself in front of a large audience. But, Parmagani encouraged her and insisted she try out for various entertainment productions. It's not surprising then that she auditioned for Franchon and Marco, a stage production company that was in the process of putting together the cast for Saxophobia. This was a musical production whose lead star was "Rudy" Cornelius Wiedoeft, "the greatest saxophone player of that time," says Bobbie. Needless to say, Bobbie "being very expert" on the sax got a spot in the production. She recalls she was one of approximately 15 people auditioning that day. She was soon on tour going as far as the State of Washington and Chicago, Illinois, with a group of very young girls who were part of the cast of Saxophobia. She, as well as several of these girls, also danced in the production. When asked if this group was well chaperoned, she said not really, but doesn't recall that any of them smoked, drank or got into trouble. Bobbie also recalls playing and touring with the Ina Ray Hutton Band, which was composed of all women. Bobbie said it was amazing the "purity" they expected and got from young girls at that time. It was also extremely unusual for young girls to play in a band and to be on tour was almost unthinkable. One can see that even at this young age she exhibited great strength of character and determination that helped her succeed in her future endeavors. During all of this Bobbie managed to graduate from Hollywood High School and the Hollywood Conservatory where she had continued to hone her saxophone skills. It is interesting to note that while at Hollywood High School Bobbie also found time to be a member of the women's water polo team.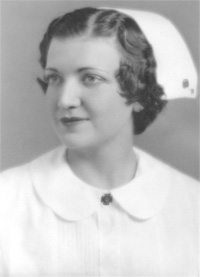 Bobbie Stahl at the time of her graduating
as a registered nurse
During her teen years Bobbie attended the Hollywood Presbyterian Church. It was here that she finally began to have a social life and where she met her husband, Bill, who was in medical school at the time. Bill's father was very opposed to his courting Bobbie because she had been a "showgirl" and that was not thought a proper occupation in those days. But, in his usual determined way, Bill overrode his father's objections and continued to court Bobbie. She recalls a woman that was visiting in Bill's home and who was a registered nurse suggesting she consider going back to school to pursue a nursing career. Bobbie liked the idea of the nurse/doctor combination since Bill and she had been contemplating doing medical missionary work together. Their desire to pursue such work was motivated by each having a "life changing experience" says Bobbie. So, while Bill continued his medical education at the College of Physicians & Surgeons of Los Angeles, Bobbie entered the nursing program at the Methodist Hospital of Los Angeles specializing in surgery and graduating as a registered nurse.
After graduating from medical school, Bill enrolled in an internship program at the Los Angeles County Hospital where Bobbie worked in the wards for a short while. About the time Bill was to enter his second year of internship the polio epidemic struck. Bobbie watched several of their colleagues become crippled by this disease and became terrified Bill too would become infected since he was working in close contact with polio patients. It was a frightening time in medicine because there was no known cure for polio until several years later. Fortuitously, a gentleman in Pomona who owned a small hospital had heard of Bill and offered him a position on his staff. So, instead of finishing his internship and their becoming medical missionaries, Bobbie and he were married and settled in Pomona where Bill began his practice of medicine. Later Bill did take time to complete post graduate training in surgery in Budapest, Hungary and, in keeping with their strong faith, they both always found time to conduct weekly bible study classes. To this day Bobbie continues to do so in her home.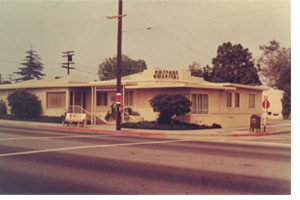 Garfield-Cottage Hospital
In 1942 when this small hospital closed, Bill and Bobbie decided to build their own hospital, the Garfield-Cottage Hospital which was located on the corner of Garey and Garfield Avenues in Pomona. Bobbie functioned as the hospital's administrator and Bill headed up the medical staff. Bobbie ran a very highly efficient operation ensuring the hospital received JCAH and CMA accreditations as well as functioning as the head of the nursing staff. It is interesting to note that Marion Kramer, whose Donor Story is also part of this website, was hired by Bobbie to work as a nurse at this hospital. They still see each other occasionally at WesternU events.
Because of Bill's failing health, they sold Garfield-Cottage Hospital and devoted themselves to enjoying retirement. Since Bobbie loved to cook and entertain, this was a continuation of their active social life. They also enjoyed traveling and spending time at a lakeside cabin in Montana they had purchased a few years earlier.
Bill and Bobbie had four wonderful children, Jacquilyn, Tammera, Diana, and Kenneth, of which she is very proud. Even while functioning as the administrator of their hospital and managing a home and children, she still found time to enjoy a talent she inherited from Lola, that of sewing clothing for her children. She has wonderful memories of family vacations, many of which were spent in Montana at their lakeside cabin. Today, this is still a gathering place for family and friends.
After Bobbie's children were grown, she enrolled at the University of La Verne where she graduated with a Bachelor of Science Degree and her teaching credential. She went on to teach surgical nursing at Mt. San Antonio Junior College, Chaffey College, and San Bernardino Valley College.
During Bobbie's lifetime she has channeled her boundless energy and many talents into serving various meaningful organizations and causes. To list just a few:
She was an early president of the United Hospital Association and its board of trustees.
She founded the Visiting Nurses Association in Pomona and served on its board for several years.
She was active in the California Osteopathic Auxiliary and has served as its president.
She has been a member of the Board of Trustees for Azusa Pacific University.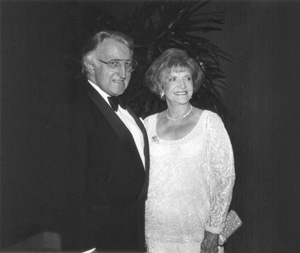 Dr. Pumerantz and Bobbie Stahl
Bobbie remembers Bill being the person who met President Pumerantz at the airport when he first arrived in California in the 1970s to begin his new post as head of a yet to be established osteopathic medical school to be located on Second Street in Pomona. This was the beginning of a long friendship with the president and his wife, Harriet, and with WesternU. Bobbie, and Bill during his lifetime, believed strongly in osteopathic medicine and quality education for health care professionals and were early supporters of the College of Osteopathic Medicine of the Pacific. This support has been unwavering as this first college became one of the eight colleges that comprise WesternU today. In 1995 Bobbie was presented with WesternU's Humanitarian of the Year Award in honor of her service to this university and to the community at-large, an honor of which she is inordinately proud. Bobbie is also very proud of the fact she has only missed one Tribute to Caring dinner since the inception of this event and has always been a staunch supporter of this yearly gala. For many years she served on the Founders Committee, one of whose functions was to provide auxiliary support for this event.
After the death of her husband in April 1980, Bobbie sold her home in Pomona and moved to Newport Beach where she still lives today with her Yorkshire Terrier, Winston. Her beautiful home is filled with pictures of her family and her musical career along with mementos and honors given to her. You will also see several of Lola's original and elegant costume drawings created for MGM. Bobbie has remained active in her church, in the Orange County Performing Arts Center, as well as other organizations. When asked what was most important in her life and of what she is most proud, without hesitation she responds, "My husband and my children." She is also very proud of her grandchildren and great grandchildren and their many accomplishments.
Western University of Health Sciences is fortunate to count Bobbie Stahl among its friends and is most appreciative of the constant support and dedication she has generously given since the inception of this university.