Dr. Seymour Ulansey – An Osteopathic Renegade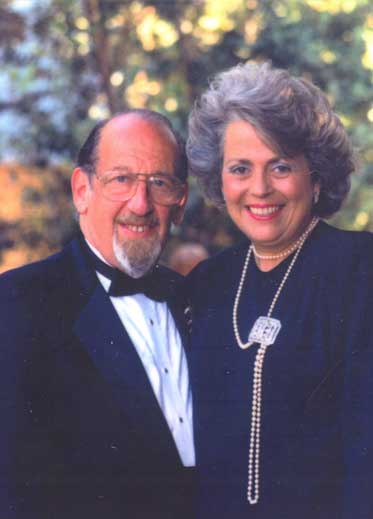 Dr. Seymour Ulansey, and wife, Vicki
Dr. Seymour Ulansey describes himself as an osteopathic renegade. If this description of "renegade" is accurate, it is in the best sense of the word! The merger among D.O.s and M.D.s in 1962 and the acceptance of D.O.s in the then dominant allopathic community was brought about because of dedicated osteopathic doctors such as Seymour, or Sey as he prefers to be called, but more about this later.
Sey's grandparents on his father's side immigrated to the United States from Russia and his grandparents on his mother's side were born here. He and his two brothers, Glenn and Judson, were raised in Philadelphia, Pennsylvania, where his father was an allopathic physician (M.D.), a pioneer and board certified physical medicine practitioner, and his mother was a homemaker.
Sey received his early education in Philadelphia along with his undergraduate degree from LaSalle College. It was his brother, Glenn, a D.O., who then sparked his interest in following in his foot steps and enrolling in the Philadelphia College of Osteopathic Medicine (PCO). Based upon Sey's pre-medical study at LaSalle, he was accepted at PCO in 1941 and went on to complete three years of graduate medical study at this institution.
In 1944 Sey moved to Los Angeles, California, and established himself as a resident so he might enter the College of Physicians and Surgeons (COP&S) in Los Angeles where he had wanted to intern ever since he had learned of the school. This decision was based on his belief that while he felt academically PCO was very good, he would be afforded much greater clinical learning opportunities at COP&S. This decision turned out to be extremely wise. He interned as an extern senior student and says, "I remember being awed by the opportunities given students at COP&S versus PCO." He further explained that at PCO interns worked in private institutions with private patients and were treated somewhat as guests. But, because COP&S was affiliated with Los Angeles County General Hospital, Unit II, they were able to work with patients as though they were their own and gain much broader medical knowledge and experience. Unit II actually opened in 1928 with a total bed capacity of 196. Sey remembers that in 1929 or 1930 when a new general hospital was built and through a plebiscite of the State of California, D.O.s were given exclusive use of this unit along with adequate space for an outpatient clinic. As he recalls, patients came to this unit either by choice or through an assignment system of something like every 20th patient admitted who stated no preference.
1930 when a new general hospital was built and through a plebiscite of the State of California, D.O.s were given exclusive use of this unit along with adequate space for an outpatient clinic. As he recalls, patients came to this unit either by choice or through an assignment system of something like every 20th patient admitted who stated no preference.
Sey graduated from COP&S in 1945 and was appointed to a one-year general rotating internship at Los Angeles County General Hospital followed by a one-year rotating residency. He remembers that during this time there was a shortage of interns and residents due to World War II so they were required to do "double duty – one being that of a regular rotation as well as a second service simultaneously." Sey states, "The duties were rather arduous because of the shortage of physician personnel as well as the fact that this was the training method of that period. We would be on call 24 hours the first day, theoretically off duty in the evening of the second day when we had finished our work for that day, and on the 3rd day we worked from 8:00 a.m. until 4 or 5 p.m. and were off that evening to be back on duty at 8 o'clock the following morning. I remember doing this for a staggering wage that I believe was $60/mo. as an intern and $125/mo. as a resident. But, we were given room, board, and uniforms! The exposure to patients of such varied illnesses and diseases really afforded marvelous experience." Because of the double duty – covering two services simultaneously- he found himself in the position of being on his regular rotation plus that of anesthesia. He states, "I came to like anesthesiology although my original desire was to do ophthalmology which I really enjoyed." During his internship he found himself doing ophthalmic examinations on the elderly who he states, "were only too happy to have a visitor and subject themselves to an examination of the eye." This was done at night after he had finished his regular work. His training in this discipline came from the rotation variety and self-teaching from a textbook. To further increase his clinical education after he finished residency, he was appointed Voluntary Assistant under the direction of the head of the Department of Anesthesiology from 1948 until 1951. He also continued thereafter to work as a junior attending physician there until 1969. He remained affiliated with the county hospital and COP&S in both a clinical and a teaching status, assistant professor in Anesthesiology, until his retirement in 1984.
Because Sey felt it was important to share the wealth of knowledge he had accumulated, he decided to make time to teach. At Los Angeles County General Hospital, he was a Clinical Instructor in Anesthesiology from 1951 to 1961 and the Assistant Clinical Professor in Anesthesiology from 1961 to 1969; at COP&S he was the Clinical Instructor in Anesthesiology from 1949 to 1961; at the California College of Medicine, he was the Assistant Clinical Professor of Anesthesiology from 1961 to 1967; at the University of California-Irvine, College of Medicine, he was Clinical Professor in Anesthesiology from 1967 to 1978.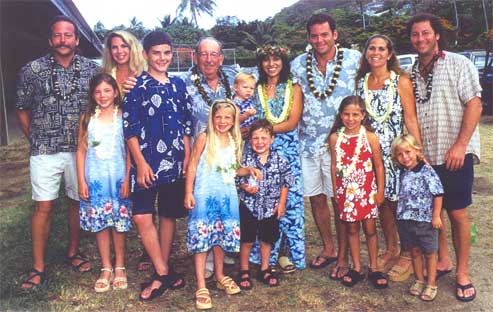 Ulansey family taken at a family reunion in Hawaii in June 2006.
In the 1950s Sey was instrumental in bring a group of doctors together, both D.O.s and M.D.s, who purchased the Hollywood Community Hospital, which was a small general hospital. He remembers that the staff mixture of D.O.s and M.D.s working together was not unusual in smaller hospitals, but was quite unusual in the larger hospitals. "In fact," he states, "it didn't exist in larger hospitals." This group of doctors went on to have externs at Hollywood Community Hospital and subsequently to gain approval from the American Osteopathic Association (AOA) for an internship and residency program. This allowed many students from the new College of Osteopathic Medicine of the Pacific to rotate through this hospital and benefit from the wealth of knowledge offered by those physicians. In 2002 Sey hosted a reunion at his home in Malibu for many of those former interns and residents who are now D.O.s and those Hollywood Community doctors who worked with them. Sey was the Chairman of the Anesthesiology Department and President of the Board of Directors at this hospital.
Sey's private practice was limited mainly to anesthesiology, and he worked primarily at Hollywood Community Hospital. He was board certified in anesthesiology by the AOA, certified by the California Board of Certification of the American Medical Association, belonged to the Los Angeles County Osteopathic Association and the Osteopathic Physicians and Surgeons of California, was a Fellow of the International Association of Anesthesiologists and the American Geriatrics Society and many other medically related organizations along with being active as a local educator in the osteopathic profession. He maintains active medical licenses in California, Pennsylvania, and New Jersey (by reciprocity). He also has a Basic Science license in Michigan which is not a license to practice. Sey states, "My medical career was very gratifying and satisfying." To this day he still keeps his hand in the medical professions by volunteering one day every other week at White Memorial Hospital where he is part of a group of other healthcare professionals exploring the cause and treatment of Temporo-Mandibular Joint (TMJ) pain and related medical issues. During his career he published several medical papers as well as lecturing at many medical conventions.
Sey talks very openly about his early years as an osteopathic physician in California and the difficulty D.O.s had in gaining access to educational and clinical experience in a predominantly M.D. environment – hence, his reference to himself as a "renegade." Sey remembers that they had to secure these opportunities, many times outside the osteopathic profession, using whatever means possible to gain exposure in medical institutions. He states, "D.O.s were ostracized. So, we formed little speaker groups and prevailed upon many friendly allopathic friends in the various specialties to come and address us. Postgraduate training was afforded to some of us by way of the backdoor through friends – it was difficult. We had no admission to UCLA or USC, and no admission or status in the major hospitals such as Cedar Sinai, Hollywood Presbyterian, and Good Samaritan to name a few. There was constant striving to gain admission to these various and sundry educational and medical institutions, but the doors were closed! Sometimes we were able to be invited incognito as a guest." He remembers that he was lucky to have a couple of M.D. anesthesiology friends, to whom he is forever indebted, who took him into the conventions of the American Society of Anesthesiology of which he is now a member!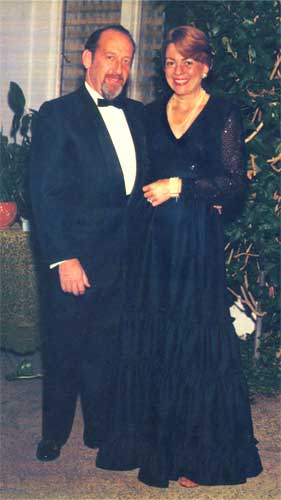 Dr. Seymour Ulansey and wife, Vicki, taken at a showing of her art work.
Sey states, "During this difficult time there was a group formed who secured a charter and became known as the Metropolitan University. This was really a non-status medical school, but they had the right to grant an M.D. degree that had no legal status for licensure to practice. To secure this degree, we had to attend lectures for one year, were given credit for our previous osteopathic education and our one year of graduate study. This was prior to the amalgamation (merger) and was purely to gain admittance to educational and clinical opportunities. All osteopathic physicians who participated in this program were members of the AOA, the California Osteopathic Association (COA), and the Los Angeles Osteopathic Association. The trustees of the COA became aware of this program and started discussions with the Metropolitan University in order to understand the reasoning behind this program and whether or not the participating D.O.s wanted to become M.D.s. The answer was simple. These D.O.s just wanted graduate study made available to them."
Sey remembers this being a very uncomfortable and tense period between many M.D.s and D.O.s. Exacerbating this tension were the actions of some D.O.s and M.D.s who would testify against each other as expert witnesses in medical malpractice lawsuits. Sey remembers that during the Korean War years, D.O.s were deferred by actions of General Hershey who was in charge of selective service of medical personnel and was aware of and sympathetic to the discrimination D.O.s were experiencing. Sey states, "The few D.O.s who were drafted before Hershey took over did not function as doctors or even corpsmen. This was such a waste of talent. This deferment resulted in their staying home and building substantial and lucrative practices while the M.D.s were drafted into the military. When the M.D.s did come home, it was to stiff competition from D.O.s which only further added to the animosity between the two. This is one of the reasons why we started talking about a merger. It was an attempt to standardize education, examination, and licensure in the issuance of one degree for the practice of medicine in California." Consequently, the trustees of COA opened discussions with the California Medical Association (CMA) to explore a possible merger. The AOA did not favor such a merger. In fact, Sey remembers they were told by the AOA, in a highhanded and arrogant manner, to cease talks with the CMA or else they would take away their board certifications. Sey remembers that Dr. Dorothy Marsh and Dr. Forest Grunigen were two COA Trustees who were incensed by this demand and therefore continued the discussions with the CMA to see what could be done toward securing some sort of peace between the two societies and to emphasis the common ground between the two. The AOA did, in fact, decertify the California Boarded D.O.s. After many years of negotiations and the actions of renegades such as Sey, the merger finally took place in 1962 allowing those D.O.s who wished to do so to become M.D.s. In Sey's opinion, "The D.O.s benefited nationally from this merger because it led to similar talks in other states that started the break down of barriers between the two disciplines and the acceptance of the D.O. physician. This led to an increase in the number of osteopathic graduate schools in the United States, and opened up clinical and medical educational opportunities to all practicing physicians."
Sey was married to the "very beautiful" Vicki in 1959. In addition to raising three wonderful sons, she was an accomplished sculptress who worked first in clay and then graduated to stone creating exceptional pieces that were part of many art shows. After her death, Sey re-purchased as much of her work as possible and those pieces, along with others that were never for sale, are on display throughout his home. Vicki was also an accomplished pianist along with having an exceptional talent for needlepoint, crochet, petit point and gourmet cooking. She was also an accomplished horsewoman and participated in many equestrian events. Because of her love of horses, the entire family became accomplished riders too. In fact, Sey was a member of the Los Angeles County Sheriff Mounted Posse for many years.
With the marriages of his sons, Sey's family has grown over the years and he now talks with great fondness about his nine grandchildren. His oldest grandson is attending Stanford University and majoring in computer science and he will shortly have another grandson entering the same institution. He also has two other grandchildren who are exhibiting some interest in following in his foot steps and becoming osteopathic physicians.
Sey loves to walk along the beach and collect pieces of driftwood that he turns into sometimes whimsical artwork or animals by the addition of other materials. When looking at one of his creations and telling him what you think it is, his response is, "It can be anything you want it to be!" He also enjoys gardening and visits from his grandchildren in the summer. His phone rings frequently with calls from long-time friends for quick conversations or medical advice or perhaps an invitation to the theater.
Sey continues to enjoy his many friends associated with his membership in the Navy League of the United States/Beverly Hills Chapter of which he is a past president. Another organization that he has supported for many, many years is the Jewish Welfare Fund and was a former chairman of its Osteopathic fundraising division. Sey was also a member and past National President of the Lambda Amicron Gama fraternity.
WesternU is proud to include Sey in its family of friends and in that list of doctors who helped found this institution. Is Sey a renegade? If so, we could use more like him!