The GCBS will train highly skilled, dedicated and caring biomedical researchers and future practitioners for entry into academia, industry or the medical professions. To that end, the GCBS strives to graduate humanistic professionals who will produce new biomedical knowledge and practice their healthcare professions with a deeper and broader understanding of the dynamic sciences underlying the treatment of patients.
Message from GCBS Dean Michel Baudry
Please join me in congratulating Ed Wagner, PhD, for his appointment as Director of the MSBS Program in the Graduate College of Biomedical Sciences at Western University of Health Sciences.
Since the beginning of the GCBS, Dr. Wagner has served in several roles within the college, including Director of several courses and advisor for many MSMS and MSBS students. Dr. Wagner was hired as full-time faculty in COMP in 2001 as an Assistant Professor and was promoted to Professor in 2014.  He has received several grants from the NIH, has published numerous papers in high impact journals and has mentored many students in his laboratory.
Dr. Wagner is an enthusiastic teacher, researcher and colleague who is a dedicated advocate for graduate education and research.  
GCBS Publications:
Associate Professor, Frank Dong, PhD, published a paper in collaboration with Arrowhead Regional Medical Center and COMP medical students. Their study focused on the evaluation of the Effect of Methamphetamine on Traumatic Injury Complications and Outcomes. Neeki MM, Dong F, Liang L, Toy J, Carrico N, Jabourian N, Sin A, Hussain F, Brown S, Safdari K, Borger R, Wong D. Evaluation of the Effect of Methamphetamine on Traumatic Injury Complications and Outcomes. Addiction Science & Clinical Practice (In Press).
Also, Professor Dong, in collaboration with Dr. Redmond (PI), had a paper accepted for publication. Their study aimed to use national data to study the association between food insecurity and pre-hypertension, pre-diabetes. The citation is as follows: Redmond, M.L., Dong, F., Twumasi-Ankrah, P., Hines, R.B., Jacobson, L.T., Ablah, E., Johnston, J. & Collins, T.C.  Food insecurity and pre-hypertension, pre-diabetes in adult women: Results from the 2007-2010 National Health and Nutrition Examination Survey.  Journal of Health Disparities Research and Practice (In Press). 
Professor, Q. Quinn Li, PhD, with his associate scientists, recently published a research paper in Scientific Reports (impact factor 4.2; 2018; 8:770) titled "Transcriptome profiling during mangrove viviparity in response to abscisic acid." In this article, the hormonal responses in development of a special group of plants were portraited in terms of their transcriptome dynamics.  The hormone was implicated to play a role, but this is the first direct evidence at the molecular level.  
On another publication, Dr. Li and his collaborators developed a bioinformatics pipeline to extract poly(A) information from massive free RNA-seq datasets. The protocol will enable interested researchers to gain additional information about transcriptome diversity and RNA processing information on their own datasets, or any RNA-seq from a depository.  This work, "APAtrap: identification and quantification of alternative polyadenylation sites from RNA-seq data" was published in Bioinformatics (impact factor 7.3; in press; DOI:10.1093/bioinformatics/bty029).
Dr. Li with his collaborators also recently published a research paper in The Plant Journal (in press; 2016 impact factor 5.9) titled "Alternative polyadenylation is involved in auxin-based plant growth and development." In this article, they extended the understanding of functions of alternative polyadenylation in terms of hormonal responses in relationship with growth and development. This is the first dissection of 3'-untranslated regions of all transcripts that responding to hormonal treatment in the model plant Arabidopsis.
STAT Madness 2018
WesternU is one of 64 teams selected to compete in STAT Madness 2018 and we need your support and votes. WesternU is represented by Graduate College of Biomedical Sciences Dean Michel Baudry, PhD, and his team, who are investigating the potential for a targeted calpain inhibitor to reduce the damaging effects of traumatic brain injury.
buff.ly/2EUphF2pic.twitter.com/QAAyc07xFT
#statmadness2018 #core64 #westernuway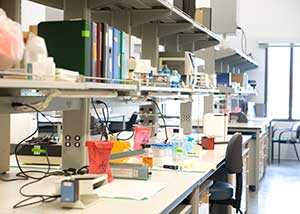 Two Master programs are offered:
Master of Science in Biomedical Sciences (MSBS)
Master of Sciences in Medical Sciences (MSMS)
The mission of the Western University of Health Sciences Graduate College of Biomedical Sciences is: "To provide fundamental principles and training in the development of highly skilled and caring biomedical researchers and practitioners." More…
Events

View the WesternU Events Calendar
Stay Connected
Keep up-to-date with the latest news and annoucements from WesternU!

Giving
For information about how to support the Graduate College of Biomedical Sciences, please contact the
Office of Annual Giving and Donor Relations: (909) 706-3476.