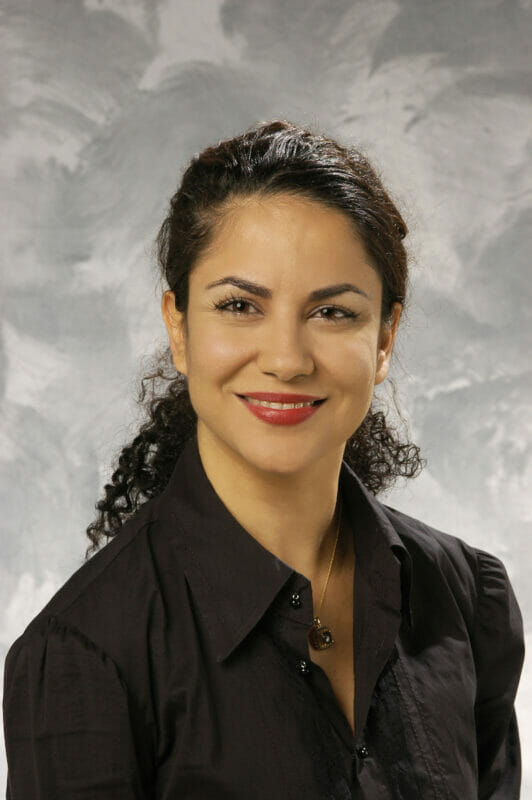 Arezoo Campbell, PhD
Associate Professor of Pharmaceutical Sciences
College of Pharmacy
E-Mail: acampbell@westernu.edu
Phone: 909-469-5240
Education
Ph.D. (Toxicology) 1999 University of California Irvine
BS Biological Sciences 1994 University of California Irvine
BA Philosophy 1994 University of California Irvine
Research Interest
The main focus of the laboratory is to determine how induction of aberrant innate immune responses and oxidative stress by environmental exposures may accelerate the pathogenesis of neurodegenerative disorders.
The neurohormone melatonin not only modulates the circadian rhythm, but also has the ability to delay the onset of several changes associated with aging. Another focus of the laboratory is to use a simplified, but biologically relevant, in vitro system to decipher the possible mechanisms underlying the ability of melatonin to reverse age-related changes in the brain.
Publications
Bondy SC., Campbell A. (2018) Mechanisms Underlying Tumor SuppressiveProperties of Melatonin. Int. J. Mol. Sci. 19(8). doi:10.3390/ijms19082205.
Bondy S.C. & Campbell A. (2017) Aluminum and Neurodegenerative Diseases In: Advances in Neurotoxicology, Vol. 1 (eds. Aschner M. & Costa L.G.) Academic Press, pp. 131-156.
Campbell A. (2017) Monoclonal antibody therapy in asthma. California Pharmacist. 64(2):44-49.
Bondy S.C. & Campbell A. (2017) Water quality and brain function. Int. J. Environ. Res. Public Health. 15(1) pii: E2. doi: 10.3390/ijerph15010002.
Bliss B., Tran K.I., Sioutas C., Campbell A. (2018) Ambient ultrafine particles activate human monocytes: Effect of dose, differentiation state and age of donors. Environ. Res. 161:314-320.
Heusinkveld H.J., Wahle T., Campbell A., Westerink R.H.S., Tran L., Johnston H., Stone V., Cassee F.R., Schins R.P.F. (2016) Neurodegenerative and neurological disorders by small inhaled particles. NeuroToxicology. 56:94-106.
Solaimani P., Saffari A., Sioutas C., Campbell A. (2016) Exposure to airborne ambient ultrafine particulate matter alters the expression of several noncoding RNAs and metallothioneins in primary human neurons. NeuroToxicology. 58:50-57.
Campbell A. & Solaimani P. 2016. Inflammation, Oxidative Stress & Age-Related Disease In: Inflammation, Aging, and Oxidative Stress (eds. Bondy S.C. & Campbell A.) Springer Nature, Humana Press, pp. 95-106.
Guerra R., Vera-Aguilar E., Uribe-Ramirez M., Gookin G., Camacho J., Osornio-Vargas A. R., Mugica-Alvarez V., Angulo-Olais R., Campbell A., Froines J., Kleinman T.M., De Vizcaya-Ruiz A. (2013) Exposure to inhaled particulate matter activates early markers of oxidative stress, inflammation and unfolded protein response in rat striatum. Toxicology Lett. 222:146-154.
Campbell A. (2014) Does Exposure to Air Pollution Contribute to Neurodegenerative Disease. Proceedings of the U.S.-Iran Symposium on Air Pollution in Megacities. Pg. 145-149: http://www.aaas.org/report/Iran-airpollution
Campbell A., Daher N., Solaimani P., Mendoza K., Sioutas C. (2014) Human Brain Derived Cells Respond in a Type-Specific Manner after Exposure to Urban Particulate Matter (PM). Toxicol. In Vitro. 28:1290-1295
Lung S., Cassee F.R., Gosens I., Campbell A. (2014) Brain Suppression of AP-1 by Inhaled Diesel Exhaust and Reversal by Cerium Oxide Nanoparticles. Inhalation Toxicol. 26:636-641.
Shaligram S., Campbell A. (2013) Toxicity of copper salts is dependent on solubility profile and cell type tested. Toxicology in Vitro. 27: 844-851.
Campbell A., Sharman E., Bondy S.C. (2013) Age-related differences in the response of the brain to chronic dietary melatonin. AGE. DOI: 10.1007/s11357-013-9542-y
Lung, S. Li, H. Bondy S.C., Campbell A. (2013) Low concentrations of copper in drinking water increases AP-1 binding in the brain. Toxicology and Industrial Health. DOI: 10.1177/0748233713491805
Cassee F.R., Campbell A., Boere A.J., McLean S.G., Duffin R., Krystek P., Gosens I., Miller M.R. (2012) The biological effects of subacute inhalation of diesel exhaust following addition of cerium oxide nanoparticles in atherosclerosis-prone mice. Environmental Research. 115:1-10.
Gerlofs-Nijland M., Berlo D., Cassee F., Schins R., Wang K., Campbell A. (2010) Effect of subchronic exposure to diesel engine exhaust on proinflammatory markers in different regions of the rat brain. Particle & Fibre Toxicology. 7:12.
Campbell A., Wang K. (2009) Carbon-based nanoparticles and immune responses in the brain. J. Nanoneurosci. 1:116-119.
Campbell A., Araujo J.A., Li H., Sioutas C. Kleinman M. (2009) Particulate matter induced enhancement of inflammatory markers in the brains of Apolipoprotein E knockout mice. J Nanoscience & Nanotechnology 9:5099-5104.
Gerlofs-Nijland ME., Campbell A., Miller MR., Newby DE., Cassee FR. (2009) Toxicity of inhaled traffic related particulate matter. Journal of Physics: Conference Series 151: 012049
Muhankumar S.M., Campbell A., Block M., Veronesi B. (2008) Particulate matter, oxidative stress, and neurotoxicity. NeuroToxicology. 29:479-488.