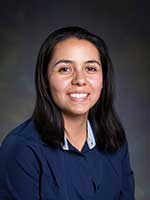 April Emiliana Garcia,
NMM/OMM Pre-Doctoral Teaching Fellow
College of Osteopathic Medicine of the Pacific
E-Mail: aegarcia@westernu.edu
Phone:
Join year: 2013
Education
B.S. from Loyola Marymount University in Los Angeles, CA. 2009. Major: Biology
Teaching Experience
Softball Coach: 2005-2014
Math tutor: 2005-present
Philosophy
I am the type of person that needs to know why. When I am teaching, I like to incorporate the physiology behind the dysfunction, in order to understand WHY we utilize certain treatments, and treatment positions. I am also able to adapt my way of teaching to fit the needs of the individual, which tends to make it easier for my students to learn.
Publications
Garcia, A., and G. Tisman. "Metformin, B12, and Enhanced Breast Cancer Response to Chemotherapy." Journal of Clinical Oncology (2009).
Glenn Tisman and April Garcia. "Control of prostate cancer associated with withdrawal of a supplement containing folic acid, L-methyltetrahydrofolate and vitamin B12: a case report." Journal of Medical Case Reports (2011).
Narrative
I am looking forward to the fellowship. I intend to improve my teaching skills, so I can be a better teacher to the students, and my future patients.