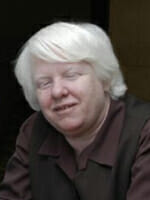 Brenda Premo, MBA
Director, Harris Family Center for Disability and Health Policy, Assistant Vice President of Government Issues
College of Health Sciences
E-Mail: bpremo@westernu.edu
Phone: 909-469-5385 | Fax: 909-469-5503
Education
Education
MBA, Pepperdine University
BA, California State University at Long Beach
Professional Experience
Brenda Premo came to Western University after four years as director of the California State Department of Rehabilitation during Governor Pete Wilson's administration. She was deputy director of the department's Independent Living Section from 1991 until Governor Wilson appointed her director in 1994.
Her advocacy work began in earnest when she was director of the Dayle McIntosh Center, the Independent Living Center in Orange County, California from 1977 to 1991.
Her work in civil and disability rights drew the attention of several prominent government leaders, including President Ronald Regan, who named her to serve on the National Council on Disability in 1986. As a Council member she helped develop language for legislation which evolved into the Americans with Disabilities Act (ADA), passed by Congress in 1990. She continued her ADA work while with the State Department of Rehabilitation, serving as a senior management lead in the public and private sectors on the ADA and its implications.
She has led several workshops and given several presentations for the Council since her term ended in 1991, including a presentation on "The Challenge for the 21st Century," at the National Disability Policy Summit, Achieving Independence in 1996.
Awards
Her awards and commendations are many. The California State Senate honored here as "Woman of the Year" in 1988 and in 1998 she received the National Rehabilitation Awareness Foundation's "Special Achievement Award."
Narrative
Brenda Premo, MBA, continues her work as a champion for disability rights as founding director of Western University's Harris Family Center for Disability and Health Policy.
In addition to work with the Harris Family Center for Disability and Health Policy, "Brenda is known across the country for her sense of humor, her experience and passion for the work she does," said Western University President Philip Pumerantz, PhD. "Her outstanding reputation will enhance the education of health professionals here and throughout the United States. We are honored to have her on our campus."