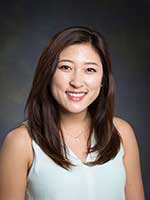 Julia Kim,
College of Osteopathic Medicine of the Pacific
E-Mail: kimj2@westernu.edu
Phone:
Join year: Joined PDTF- 2015
Education
Cornell University: B.S. Human Biology, Health and Society, 2012
Teaching Experience
WesternU: OPP I/II Teaching Assistant
WesternU: LEAD Tutor- Anatomy and Physiology, OPP I/II
Philosophy
Learn to see through the eyes of a student. You will not only teach, but also inspire.
Awards
Western University of Health Sciences, College of Biomedical Sciences: MSMS 2013 Dean's Scholarship
Organizations
Asian Pacific American Medical Student Association: Co-Sponsorship Chair, 2014 to present
Sigma Sigma Phi Honor Society
Narrative
Osteopathic medicine has taught me how to move slower. When I put my hands on a patient for OMT, time slows down. Like a raging river slowing to a peaceful drift when it meets a riverbed, you become more aware—your hands, the patient's body, your mind. Osteopathic medicine allows the walled confines of 'medical treatment' to come down and thus opens a route of treatment for all three components of a person: mind, body, spirit. It is a treatment modality that is not taught, but rather felt. As an OMM fellow, I can only hope to inspire those around me to take the time to appreciate and feel this pace. "When we honestly ask ourselves which person in our lives means the most to us, we often find that it is those who, instead of giving advice, solutions, or cures, have chosen rather to share our pain and touch our wounds with a warm and tender hand." –Henri Nouwen