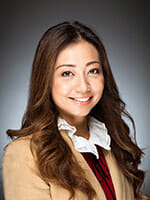 Megan Nguyen, BS, PharmD
Assistant Dean, Enrollment Management, Associate Professor, Pharmacy Practice and Administration
College of Pharmacy
E-Mail: megannguyen@westernu.edu
Phone: 909-469-5483
Education
Pharm.D. 2000 Western University of Health Sciences BS Biological Sciences 1995 University of California, Irvine
Education Experience
Residency
Infectious Diseases 2002 Huntington Memorial Hospital Pharmacy Practice 2001 Veterans Administration Palo Alto
Work Site
Los Angeles Biomedical Research Institute Harbor-UCLA Medical Center, Division of Infectious Diseases 1124 West Carson Street, Torrance, CA 90502
St. Mary Medical Center, Department of Pharmacy 1050 Linden Avenue, Long Beach, CA 90813
The clerkship provides students with working as a member of a healthcare team. Students will be expected to participate in daily rounds with the Infectious Diseases Service,attendgrand rounds, and provide drug information to other health care professionals. Students will assist with monitoring drug therapy with an emphasis on applying principles and practices of infectious disease pharmacotherapy.
Research Interest
Infectious diseases pharmacotherapy.
Publications
Eells SJ, Nguyen M, Jung J, Macias-Gil R, May L, Miller LG. Relationship between Adherence to Oral Antibiotics and Postdischarge Clinical Outcomes among Patients Hospitalized with Staphylococcus aureus Skin Infections. Antimicrob Agents Chemother. 2016 Apr 22;60(5):2941-8. doi: 10.1128/AAC.02626-15. Print 2016 May. PMID: 26926634
Grein JD, Kahn KL, Eells SJ, Choi SK, Go-Wheeler M, Hossain T, Riva MY, Nguyen MH, Rekha Murthy A, Miller LG. Treatment for Positive Urine Cultures in Hospitalized Adults: A Survey of Prevalence and Risk Factors in 3 Medical Centers. Infect Control Hosp Epidemiol. 2016 Mar;37(3):319-26. doi: 10.1017/ice.2015.281. Epub 2015 Nov 26. PMID: 26607408
Prabhu S, Chung E, Le QA, Nguyen M, Robinson D. Process and Performance Outcomes of a Nontraditional Postbaccalaureate PharmD Program Geared Toward Internationally Trained Pharmacists. Am J Pharm Educ. 2015 Oct 25;79(8):113. doi: 10.5688/ajpe798113. PMID: 26689176
Nguyen MH, Eells SJ, Tan J, Sheth CT, Omari B, Flores M, Wang J, Miller LG. Prospective open-label investigation of the pharmacokinetics of daptomycin during cardiopulmonary bypass surgery. Antimicrob Agents Chemother. 2011;55(6):2449-505
Hsu DI, Nguyen M, Nguyen L, Law A, Wong-Beringer A. A multicentre study to evaluate the impact of timing of caspofungin adminsitration on invasive candidasis in non-immunocompromised adult patients. J Antimicrob Chemother. 2010 Aug;65(8):1765-70.
Megan Nguyen, Donald Hsu. Pharmacy's Role in MRSA Prevention and Treatment. Pharmacy Purchasing and Products. May 2009;6(5):14-18.
Nguyen M, Chung EP. Telithromycin: the first ketolide antimicrobial. Clin Ther 2005;27(8):1144-63
Beringer P, Nguyen M, Hoem N, et al. Absolute bioavailability and pharmacokinetics of linezolid in hospitalized patients given enteral feedings. Antimicrob Agents Chemother 2005;49(9)3676-81.