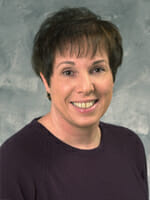 Marcia Luxenburg-Horowitz, DNP, RN, CNL
Director, Health Systems Leadership MSN Program, Assistant Professor
College of Graduate Nursing
Phone: 909-469-5334 | Fax: 909-469-5221
Professional Experience
She is the Assistant Director of the pre-licensure program and Coordinator for Leadership and Management and CNL Master's Track. Currently, she is teaching pediatrics and various leadership/management courses. Professional areas of interest include interprofessional education and developing leadership capacity of individuals and groups to improve the health and well-being of communities. She is also an active board member and Program Chair for Kids Come First, a local school-linked clinic for underserved children in Ontario.
Research Interest
Current research and projects are exploring the professional development and transition of MSN-E entering into practice, interprofessional education at Western University, culture and professional socialization and exploring the caring relationship between staff nurses and nurse managers.
Narrative
Marci Luxenburg-Horowitz, MSN, RN, PHN is an Associate Professor and Assistant Director of the MSN-E Program for the College of Graduate Nursing with over 25 years experience in a variety of settings, including pediatrics, pediatric critical care, women's health, and community health. She received her MSN in Nursing Administration/Nursing Leadership from California State University, Fullerton.