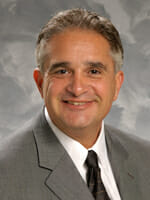 Rudolf Mireles,
Clinical Associate Professor and Director, Patient Care Center Pharmacy
College of Pharmacy
E-Mail: rmireles@westernu.edu
Phone: 909-469-5360
Education
PharmD 1986 University of Southern California
Dr. Rudolf Mireles received his Pharm. D. from the University of Southern California in 1986.
Professional Experience
Appointment:
Clinical Associate Professor University of California, San Francisco
Before joining the faculty at Western University, Dr. Mireles worked as the Pharmacist in Charge for Sav-on and then CVS Drug Stores. He later became a District Supervisor for CVS. His areas of expertise include diabetes patient care, community outreach, immunizations, quality assurance issues, and media relations
Teaching Experience
He has been involved in teaching as a preceptor for University of Washington, University of California San Francisco, Creighton University, and University of the Pacific.
In his role as Director of the Western University Pharmacy, Dr. Mireles will be managing all aspects of pharmacy operations, including patient care and counseling, prescription fulfillment, staff recruitment and development, and integration with other Patient Care Center health services. He will provide supervision to students, post-doctoral residents and fellows, and participate in community pharmacy practice projects and initiatives.