Introduction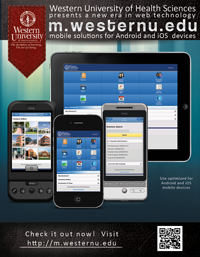 WesternU has released an initial set of Web services as phase one of its Mobile Web Initiative. These services are now available from your mobile device at https://m.westernu.edu. The services in this initial installment, which are optimized for Apple iOS and Android devices, are listed below:
Features
– Directory Search
– Links to Current Student areas
– A link to the Prospective Students area
– Access to WesternU Home Page videos
– Google Maps
– Access to Pumerantz Library Services
– A campus image gallery
– University and Curriculum Calendars
– University contact information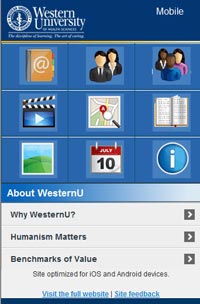 Scan the QR code on the right to automatically add the new URL to your mobile device.
Use our Site Feedback form at the bottom of the mobile home page to report any problems viewing or accessing Web services.
Blackboard Mobile Learn
Concurrent with its initial release of mobile Web services, WesternU has launched Blackboard Mobile Learn, a free mobile application that brings two-way teaching and learning to mobile devices and gives students full access to their course information directly from their smartphones. With intuitive applications designed specifically for each mobile platform, students can check grades and assignments, view documents, create threaded discussion posts and comment on blogs and journals, upload content and view documents, view course rosters and more. Instructors can also post announcements.
Select the following link to learn more about the Features of the Blackboard Mobile Learn App.
Select Demos to see how the mobile learn app works on various mobile devices.
To download the Blackboard Learn app:
Go to the appropriate download site for your device:

App Store on your iPhone®, iPad™, or iPod touch®
Android Marketplace™ on your Android device
BlackBerry App World® on your BlackBerry® smartphone device
Palm App Catalog on your HP webOS device

Search for "Blackboard Mobile Learn".
Install the app.
Search for Western University of Health Sciences.
Login to Mobile Learn with your normal Blackboard username and password.
  NOTE: If you experience any difficulties in downloading or using the Blackboard Mobile Learn App, consult the following FAQs for your device or use the Site Feedback form at the bottom of the mobile home page.
Receiving Email on Your Mobile Device
Information is available to help you configure your mobile devices for receiving WesternU email.  Visit techsupport.westernu.edu to learn how to configure your specific device.
Wireless Coverage
For an overview of wireless coverage on campus, consult our Campus Wireless Map. Note: You may temporarily lose your connection while moving from one building to another. However, if you are linked into the university network your device should re-establish the connection once you are in range of the the next available subnet.
Signal Strength
Mobile devices are more susceptible to variations in signal strength than laptop computers. Several factors contribute to the variability in cellular signals on campus, including a vendor's coverage, physical barriers, and technology issues. IT is working with cell phone vendors and with new technology to improve signal strength across campus.