Dental Prospective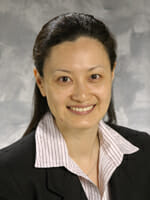 Yawen Peng, DMD
Diplomat, American Board of Pediatric Dentistry
Assistant Professor, College of Dental Medicine
Western University of Health Sciences
To view the dental perspective section of the recent episode "Autism Intersection", please click here.
Autism is one of the fastest growing health conditions in the United States. In May 2012, the CDC reported that 1 in 88 children are diagnosed with autism by age eight1. Many individuals with Autism Spectrum Disorder (ASD) find it difficult to practice good oral hygiene due to their unique challenges, such as extreme sensations to the taste and texture of the toothpaste and toothbrush. A recent study2 reported that over 60% of the parents with ASD children experienced difficulty in their children's oral care (tooth brushing) on a daily basis, significantly more than parents with typical developing children.
A routine visit at the dental office is even more challenging for individuals with Autism Spectrum Disorder. Thirty-seven percent of parents with children who have ASD reported that it is more difficult to find and access dental services for them when compared to their child(ren) without ASD2. When children with ASD finally arrive in a dental office, they often have difficulty with sensory stimuli (i.e., light and sound from the dental unit) as well as understanding expectations. These children were also very uncomfortable with the new environment at the dental office. When children with ASD are unable to effectively communicate their needs and wants, anxiety builds and in order to protect themselves, their behavior typically becomes uncooperative.
As a dental professional, my goal is to work with other healthcare professionals to discover different approaches to improve oral health in individuals with ASD. Many educational methods have been developed by other professions, such as Applied Behavior Analysis (ABA), TEACCH method, and Occupational therapy. We can apply the similar principles from these techniques and use them into our dental visits and procedures.
References:
CDC Health Reports, May 2012.
Stein, LI, Polido JC, et al. Oral care experiences and challenges in children with autism spectrum disorders. J Ped Dent Sep/Oct 2012;34(5): 387-91.


For patient care at the WesternU Dental Center, please contact us at: (909) 706-3910