Welcome from Stephanie Bowlin, EdD, PA
Dean, College of Health Sciences
---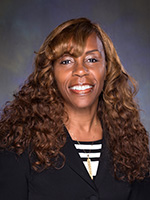 Welcome to the web site for Western University of Health Sciences College of Health Sciences. Whether you are interested in applying to our Health Sciences program, Physician Assistant program, or Physical Therapy program, this site will provide you with valuable information in gaining information on your chosen profession. Our College is dedicated to educating health professionals who provide competent, compassionate care within an integrated humanistic team approach.
Our faculty are dedicated to achieving effective student learning outcomes. They are experts in their fields, holding Masters of Science and doctoral degrees. Most practice clinically, thereby maintaining their clinical acumen, which adds to the classroom experience. Most faculty also conduct research in an interprofessional manner.
We provide our students with the classroom instruction and clinical experiences necessary to become effective members of the health care team. We also work to provide our students with a learning environment that fosters a respect for humanity in all its diversity. We incorporate the philosophy of humanism into our curricula, placing a strong classroom emphasis on communication skills and the development of a refined bedside manner. Our goal is to provide graduates who have an ability to achieve successful interactions with their colleagues, patients, and community.
Our students are trained in some of the most prestigious academic and clinical environments. The alumni of WesternU secure positions in all medical disciplines in various facilities, such as community clinics, hospitals, and educational facilities.
I hope you'll take the time to visit our department web pages thoroughly and learn more about the College of Health Sciences. Your interest is very much appreciated.
Sincerely,
Stephanie Bowlin, EdD, PA
Dean
Events

November 23, 2017
Thanksgiving Day
December 25, 2017
Christmas Day
January 1, 2018
New Year's
January 8, 2018              Classes Resume
January 15, 2018              Martin Luther King Holiday
March 19-25, 2018              Spring Break
March 26, 2018              Classes Resume 
May 23-25, 2018              Spring Commencement
Contact Us
E-Mail: College of Health Sciences
Western University of Health Sciences
College of Health Sciences
450 E. Second St.
Pomona, CA 91766
909.469.5390 (office)
---
Stay Connected
Keep up-to-date with the latest news and announcements from WesternU!