Message from the Department of Physical Therapy Education Chair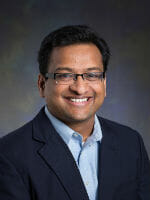 On behalf of the Administration, faculty and staff it is my pleasure to welcome you to the Western University of Health Sciences (WesternU), Department of Physical therapy Education (DPTE), located within the College of Health Sciences.
Whether you are seeking information regarding entry-level professional education, advanced standing (post-professional) physical therapy education or research and service collaborations, I encourage you to explore the website to recognize the multitude of opportunities that exist here at DPTE.
At DPTE our mission is, "To accept and educate a group of diverse students to graduate as Doctors of Physical Therapy, charged with enhancing and extending the quality of life in our community through clinical practice, service and research". We have a distinguished history of achieving our mission and serving the community over last 26 years.
Our faculty and staff are committed to providing outstanding educational experiences. Faculty are comprised of scholars, researchers, administrators, and clinicians from the professions of physical therapy, pharmacology and education. All faculty members are committed to the preparation of the DPT professional who will be well versed in all aspects of physical therapy as a generalist that are culturally competent, prepared to deliver humanistic patient-centered care.
The WesternU, DPTE provides an opportunity to obtain a Doctor of Physical Therapy (DPT) degree to two groups of students. Our Professional program is open to qualified candidates who are seeking their first professional degree in Physical Therapy. We also offer a post-professional DPT for students who are licensed physical therapists and hold a bachelor, certificate, or master's degree in physical therapy. These candidates enter the DPT program as students with advanced standing.
Students in both programs experience a variety of teaching methods including classroom lecture and discussion, laboratory experiences and online, web-based education. The professional program also includes clinical education experiences interspersed throughout the three-year curriculum and culminates in 24 weeks of clinical education experiences. All clinical experiences occur in a variety of clinical sites from coast to coast (including Hawaii). Students in the post professional program will integrate their learning with their current clinical experience/work setting.
Our outstanding faculty, opportunities for education, research and service, nationwide clinical experiences, and wonderful facilities located in Southern California will be an excellent place to start your health career and we look forward to taking this exciting journey with you.
If you are interested in our Doctor of Physical Therapy program, please check out our upcoming preview day. I hope to hear from you soon.
Thanks,
Harsha Deoghare PT PhD
Chair/Associate Professor
Department of Physical Therapy Education
College of Health Sciences
Western University of Health Sciences
hdeoghare@westernu.edu
---
Accreditation
The Professional Doctor of Physical Therapy program in the Department of Physical Therapy Education at Western University of Health Sciences, College of Health Sciences, is accredited by the Commission on Accreditation in Physical Therapy Education (CAPTE), 1111 North Fairfax Street, Alexandria, Virginia 22314; telephone: 703-706-3245; email: accreditation@apta.org; website: http://www.capteonline.org. If needing to contact the program/institution directly, please call Dr. H. Deoghare, PT, PhD, at 909-469-5437 or email hdeoghare@westernu.edu.  
CAPTE has a mechanism to consider formal complaints about physical therapy education programs that allege a program is not in compliance with one or more of CAPTE's Evaluative Criteria or has violated any of CAPTE's expectations related to academic integrity. (http://www.capteonline.org/Complaints/) In reviewing and acting on a complaint, CAPTE cannot and does not function as an arbiter between the complaint and the institution. Should CAPTE find that a complaint has merit and that the program is out of compliance with the Evaluative Criteria or the integrity statement(s), CAPTE can only require the program to come into compliance with the Evaluative Criteria. CAPTE cannot force a program into any specific resolution of the situation that resulted in the complaint. Students or other interested parties may file a formal complaint about a PT program with CAPTE at any time. To obtain the materials necessary for submitting a complaint, contact the APTA Accreditation Department at (703) 706-3245 or at accreditation@apta.org.
Professional DPT Student Outcomes
(Class of DPT 2017 & DPT 2018)
Graduation Rate :
2017-2018- 97%
Licensure Pass Rate:
2017-2018- 100%
Employment Rate:
2017-2018- 100%