Welcome from the Department of Health Sciences Chair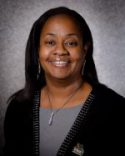 Dr. Gail Evans Grayson, Chair, Department of Health Sciences
Welcome to the website for The Department of Health Sciences Education! You have chosen wisely in considering the WesternU Master of Science in Health Sciences (MSHS) degree, and here are some of the reasons why!
The MSHS degree at Western University of Health Sciences
The MSHS degree was the first program added to the College of Osteopathic Medicine in 1986. Our mission has been to support the University and the health care needs of our world by attending to the need for top notch educators in the health professions. Responsible for generations of health care providers, our graduates have made substantial contributions to the well-being of our country. The Department of Health Sciences Education is poised to expand on the contributions that it will make to the health care needs of our people in the coming years. So, just what are some of the health care needs we must deal with in the coming years? Read on!
Our region and the world is plagued with many important health issues that are ammendable to change through the power of information and education. Every health discipline is in need of qualified practitioners and clinicians who will lead the changes that are desperately needed to address the needs of all people.
Everyone appreciates that we need high quality health care providers. Rarely do we consider how these providers come to be. Health professions training programs are bursting at the seams with applicants – while the faculty pool is dwindling. HPE track graduates excel in adult education, curriculum development, implementation and educational research. This is the perfect track of study for clinicians who wish to teach, who precept students in clinical environments, and for aspiring clinical practitioners who plan to teach as part of their career path.
Not a clinician? The HPE track of study also readies educators to teach effectively in classroom, practical and community environments.
Applicants to the CHE track should have a passion for creating changes that address societal issues, health trends, and empower communities to pursue positive change. Designated a critical need Public Health profession, an increase of not less than 37% CHE professionals is required to bridge the gap between the clinic and the community. CHE track graduates will do the job that no other health professional is able to accomplish to promote health, prevent disease, prolong life and improve the quality of life for the general population.
I look forward to meeting you and discussing plans for your future in the health care industry. Best wishes to you in your quest for a healthy, happy and productive future.
Sincerely,
Gail Evans Grayson, EdD
Department Chair
(909)706-3796
gevans@westernu.edu
Important dates
Application deadline: Ongoing
Fall term: Aug 17 – Dec 11, 2020
Spring term: Jan 4 – Apr 23, 2021
Summer term: Apr 26 – June 25, 2021
Tuition: $650/credit hr
---
Important Links
General Application Information
---
Contact Us
Department of Health Sciences
E-Mail: MSHS Department
Western University of Health Sciences
Department of Health Sciences
450 East Second Street
Pomona, CA 91766
909.469.5300 (office)
909.469.5407 (fax)
---
Stay Connected