Clinical experiences provide students with essential real-life, real-time opportunity to put into action everything learned in the classroom, research and simulation labs.
In our program, you'll complete 24-weeks of required Level II Fieldwork in an off-campus clinical setting. Clinical sites are located across the state and the country, and include a wide range of sites including hospitals, skilled nursing facilities, pediatric outpatient clinics, mental health settings, hand therapy clinics, substance abuse centers, and many more.
Students must be prepared to travel in order to complete their clinical experiences. For students who may be faced with an economic or family hardship due to travel, please contact the College for clinical site options.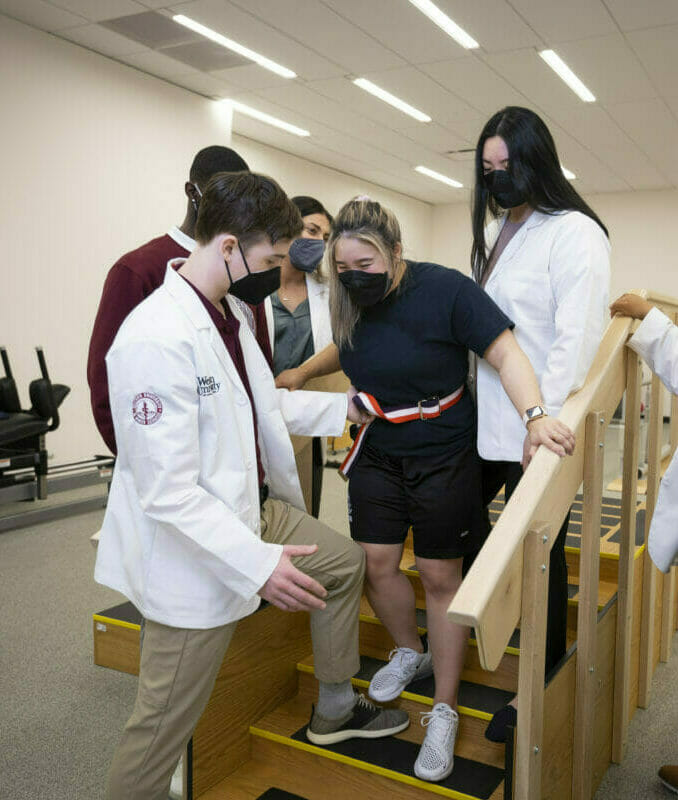 Graduation Requirements
To earn the entry-level Doctor of Occupational Therapy degree, all students must meet the following requirements:
Has satisfactorily completed a minimum of 2.7 years education in the OTD curriculum.
Is not on probation, has completed all prescribed academic and clinical requirements and has a cumulative grade point average of above 2.80 and has no outstanding grade of "I," "NCR" or "U".
Has demonstrated no serious deficiencies in ethical, professional, or personal conduct, as defined in Probation guidelines, which would make it inappropriate to award the degree of Doctor of Occupational Therapy.
Successfully meet or exceed professional development expectations.
Completion with a passing score of all Level II fieldwork, within 24 months of completion of didactic coursework.
Completion of competency exam.
Completion of Doctoral Capstone Experience and Capstone Project
Participation in the NBCOT preparation workshop.
Filing of all necessary graduation forms with the Registrar-Enrollment Services Office
Has complied with all the legal and financial requirements of the University as stated in the University Catalog.
Has attended in person and participated in the Commencement ceremony at which time the Occupational Therapy Doctorate degree is conferred. Unless special permission has been granted by the Dean, each student must participate in his or her respective commencement ceremony. If the Dean grants special permission for excusal from commencement, the graduate may be required to present himself or herself to the Dean or their designee at another specified date to take their profession's oath before their diploma will be released. Requests for excusal will only be granted for extenuating circumstances, such as a prior military commitment.