The White Coat Ceremony is a momentus event for entering College of Health Sciences students (Health Sciences, Physician Assistant, and Physical Therapy). Students are provided with the opportunity to gather in the presence of their families, friends, faculty and alumni members to "receive the cloak of their future profession – the white coat".
Through the support of dedicated local partners, students and their families, and generous alumni, the College of Health Sciences seeks to defray the cost of the White Coat for each of its students. We hope that you will take the opportunity to place an ad in the White Coat Ceremony Program to support our students or donate a white coat today. For more information, please see the links at the bottom of this page.
History of the White Coat Ceremony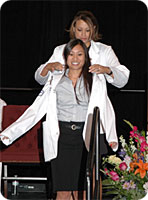 The White Coat Ceremony itself was started by Dr. Arnold P. Gold at Columbia University's College of Physicians And Surgeons in 1993 and has since been adopted at many Health Professional Schools across the Nation. By having a ceremony where entering students are "cloaked" with their very first white lab coat, we are calling particular attention to the individual's choice to become a Health Sciences Educator, Physician Assistant, or Physical Therapist, and of equal importance, bringing to focus the true meaning of that choice – that you must cure, but also care.
Ceremony Information
The 2015 CHS White Coat Ceremony will be held on August 8, 2015 at Pomona First Baptist Church, 586 N. Main Street, Pomona, CA 91768. Following the Western University of Health Sciences Convocation held at 8:30 am at the Pomona Fairplex, Building #4.
If you have any questions, please call Lorraine Halverson at (909) 469-5390 or e-mail lhalverson@westernu.edu.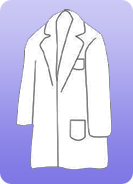 Contact
Pomona, CA Campus
309 E. Second St.
Pomona, CA 91766-1854
(909) 623-6116
Campus Security
(909) 706-3000
Events

November 23, 2017
Thanksgiving Day
December 25, 2017
Christmas Day
January 1, 2018
New Year's Day
January 8, 2018
Classes Resume
January 15, 2018
Martin Luther King Holiday
March 19, 2018
Spring Break
March 26, 2018
Classes Resume
March 23-25, 2018
Spring Commencement
Contact Us
E-Mail: College of Health Sciences
Western University of Health Sciences
College of Health Sciences
450 E. Second St.
Pomona, CA 91766
909.469.5390 (office)
---
Stay Connected
Keep up-to-date with the latest news and announcements from WesternU!