The facebook page has been doing very well with over 150 people following it.  Relevant studies and news is being posted every day since this summer!  It has good insights on what subjects people are discussing and we are using it to gauge how we can best direct them to resources and what projects would be useful to individuals and communities.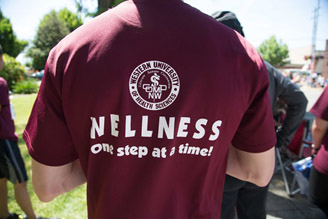 Lifestyle Medicine Longitudinal Track
The Lifestyle Medicine Longitudinal Track will provide osteopathic medical students with a comprehensive and in-depth overview of Lifestyle Medicine and its supporting science with a focus on results-based wellness and chronic disease intervention. Reversal tools for type 2 diabetes, cardiac rehabilitation protocols, heart disease prevention, and weight loss/maintenance strategies for obese patients will be taught.
Nutrition in Medicine Series
This is a student-led educational series highlighting the importance of Nutrition and Lifestyle Medicine in clinical practice. Students can attend up to 7 sessions running 2 hours each throughout the year and earn a certificate of completion. Topics range from Nutrition Research to Medical Nutrition Therapy. We have a great student turn-out which includes 40+ students per session.
Below you can access the recordings and accompanying documents for this series.
2014 NiM Lectures
2015 NiM Lectures
PowerPoint Slides
Community Engagement and Service Learning
We strive to serve our communities through medical student leadership and professionalism with our faculty, global and local community partners. www.westernu.edu/cesle
Fireside Chats with Medical Students
Student volunteers lead educational group discussions at the Lebanon Public Library 3-4 times per year. Topics include things such as Nutrition, Exercise, Stress Management, etc. These are interactive sessions that are open the entire community.
Cooking Demo's at the Lebanon Farmer's Market
Students volunteer at the Lebanon Farmers Market every other week from Mid-April – October of last year. Students cook a variety of healthy recipes on site and then give free samples to market attendees. Students use the time to educate the community about various nutrition topics, cooking skills, etc.
Planting Seeds of Change
Students volunteer their time throughout the year to teach children about a variety of topics including Nutrition, Exercise, Mindfulness, Hygiene, and growing your own food, just to name a few! Activities take place throughout the Lebanon School District and included students from Elementary through Secondary Education.
Healthy Living and Wellness Initiative
Students take a large part in the creation and development of the Healthy Living and Wellness Initiative. This is an amazing opportunity to collaborate to learn and create solutions.
---
National Leadership in Lifestyle Medicine Medical School Curriculum – LMEd
We are on the core leadership team of the LMEd national lifestyle medicine medical school curriculum consortium for all MD and DO medical schools. We are advancing lifestyle medicine curriculum nationally along with many leading partners. This is quite exciting to collaboratively advance health care. Learn more about LMEd at www.lifestylemedicineeducation.org