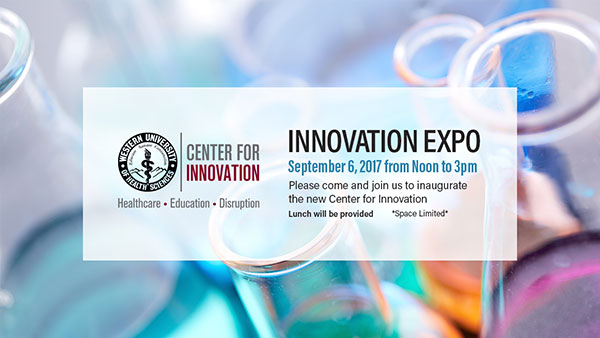 https://innovation.westernu.edu/
Western University of Health Sciences will host a special symposium and exhibition about future trends in health and education to launch the University's new Center for Innovation on Wednesday, September 6, 2017.
The symposium will be from noon to 1 p.m. in WesternU Health Education Center Lecture Hall 1, followed by a technology exhibition from 1 to 3 p.m. showcasing virtual reality education technology, high speed 3-D printing and scanning exhibits, augmented reality stations, the Microsoft Mixed-Reality platform – Hololens, and a gamification booth showing how game-based learning transforms passive learning into dynamic and engaging experiences.
The symposium and expo will be led by Center for Innovation Director Nicholas Webb, one of the world's top innovation strategists and futurists. Nick works with Fortune 500 companies throughout the world to help them lead their industries in innovation, strategy and customer experience (CX) design. As a technologist, he has been awarded more than 45 patents for breakthrough technologies ranging from one of the world's smallest medical implants to a variety of industrial and consumer products. Nick Webb also is a bestselling author whose most recent book, What Customers Crave, is used by top brands to design their CX and innovation strategies.
All students, faculty and staff are welcome to attend the symposium. No RSVP is required, but space is limited. Lunch will be provided on a first-come, first-served basis.
Nick Webb will also be keynote speaker during the ninth annual Philip Pumerantz Distinguished Lectureship at 7 p.m. Thursday, September 7 in Health Education Center Lecture Hall 1. His talk will expand on the innovation and technology subjects showcased during the Center for Innovation launch and exhibition, and will include Nick's thoughts on how health professionals can embrace the intersection of patient care and evolving technologies.
The symposium program on September 6 includes:
"Vision" by WesternU President Daniel R. Wilson, MD, PhD.
"The Center and its Essence" by Nicholas Webb, Center for Innovation Director.
"Engagement and Outcomes" by Miary Andriamiarisoa, Director of Education Technologies and Innovation at WesternU.
"Faculty and Innovation" by Steven Friedrichsen, DDS, Dean, College of Dental Medicine.
"College and Innovation" by Paula Crone, DO '92, Dean, College of Osteopathic Medicine of the Pacific.
"The Center's Journey" by Nicholas Webb.
"The Center for Innovation is committed to driving collaboration and innovation across the University and throughout the entire health care ecosystem," Webb said. "We are excited to launch the Center for Innovation to expand on WesternU's rich legacy as an innovative University."