Program Overview
At the very core of interprofessional education (IPE) are students learning with, from, and about each other as a means of fostering collaborative healthcare practices. IPE provides the opportunity for learning about the unique roles and responsibilities of the health professions as they relate to collaborative, patient-centered care. This course presents a dynamic opportunity for learners from various health professions to engage and interact, while actively exploring the ways collaborative health care teams operate.
WesternU's IPE program is currently taught in two program phases. Phase I is delivered to all first-year students and Phase 2 is delivered to the majority of second-year students. The courses share five competency domains, as adapted from the IPEC core competency domains for interprofessional education:
Communication
Collaboration
Teams and teamwork in health care
Scope of practice
One Health
Because of the variety and breadth of health professions represented in the program, the case-based curriculum in both phases is focused on five chronic diseases- diabetes/obesity, cardiopulmonary disease, degenerative neurological disease requiring long-term rehabilitation, developmental neurological disease, and cancer – because of their prevalence, the ongoing challenges they present to health care professions and society, and because they are examples of diseases where collaborative care is essential.
By completing the curriculum designed around these five disease topics, it is expected that our students will graduate with skills that promote patient-centered care and collaboration.
Phase 1
FROM THE WESTERNU CATALOG:
THIS COURSE PREPARES STUDENTS TO PRACTICE HEALTH CARE SERVICES THROUGH A TEAM APPROACH. WORKING IN SMALL INTERPROFESSIONAL TEAMS, STUDENTS WILL EXPLORE CASES REPRESENTING CONDITIONS ACROSS THE LIFE SPAN. THE CASES WILL INTEGRATE ELEMENTS COMMON TO ALL PROFESSIONALS SUCH AS ETHICAL, BEHAVIORAL, SOCIAL AND PSYCHOLOGICAL ISSUES. THIS COURSE IS A GRADUATE REQUIREMENT FOR ALL HEALTH PROFESSIONAL PROGRAMS.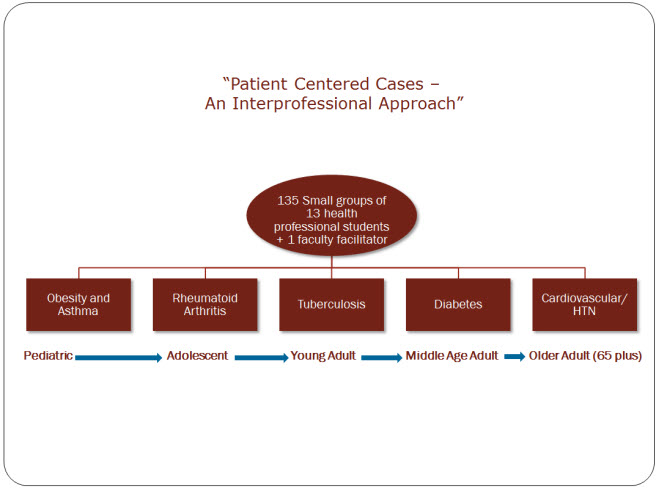 THE COURSES ARE DESIGNED TO DEVELOP WITHIN LEARNERS THE KNOWLEDGE, SKILLS, AND BEHAVIORS NECESSARY TO BECOME COLLABORATIVE HEALTHCARE PRACTITIONERS AWARE OF THE BROAD SCOPE OF GLOBAL HEALTH. INSTRUCTIONAL CONTENT IS DELIVERED USING A PROBLEM-BASED LEARNING (PBL) APPROACH AND FACULTY FROM ACROSS THE UNIVERSITY SERVE AS FACILITATORS AND INSTRUCTORS.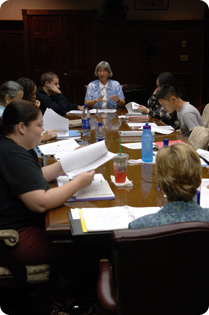 The phase one course, "Patient Centered Cases – An Interprofessional Approach" started in January the 2009-2010 academic year. The overall goal is for our students to develop an understanding of and appreciation for other health professionals. This course lays the foundation for future collaborative and coordinated care of patients.
This course is required for our entry level first-year students from our nine (9) health professional programs: osteopathic medicine, optometry, dental medicine, podiatric medicine, veterinary medicine, physical therapy, physician assistant, nursing, pharmacy. Students from four additional health care disciplines: public health, occupational therapy assistant, medical assistant, and diagnostic imaging participate from Oregon State University (OSU) and Linn Benton Community College (LBCC), our IPE partners in Oregon. WesternU, OSU and LBCC faculty serve as the case facilitators. The original course design is based on a pilot case study conducted in spring 2008 (see case pilot study link for study details).
A total of five, three-week long cases comprise the two-semester course. The first week starts with a "uniprofessional" session, where students are introduced to the case topic from the scope of their own profession. The second and third week, students meet in interprofessional small-groups for two hours on Wednesday afternoons.
The cases are a vehicle for students to learn about and appreciate the contribution each profession makes in the delivery of health care. Learners will study both patient-centered and population-centered cases, and will explore these topics, actively participating as a team of learners, identifying the issues involved and working toward solutions for some of contemporary health care's most pressing problems.
Phase 2
FROM THE WESTERNU CATALOG:
IPE 6100 IS THE SECOND OF TWO SEMESTER-LONG COURSES REQUIRED FOR MOST SECOND-YEAR HEALTH PROFESSIONAL STUDENTS ENROLLED AT WESTERNU (INCLUDING BOTH POMONA AND LEBANON CAMPUSES.)  IT BUILDS UPON THE KNOWLEDGE, SKILLS, AND BEHAVIORS DEVELOPED IN IPE 5000, IPE 5100, AND IPE 6000 AND EMPHASIZES COLLABORATION IN AN ASYNCHRONOUS AND MOSTLY WRITTEN FORMAT. ALL COURSE WORK IS COMPLETED ONLINE, BESIDES ONE SMALL TEAM FACE-TO-FACE CAPSTONE ACTIVITY TOWARD THE END OF THE SEMESTER.
In Phase 2 of the IPE program at WesternU, students use the professional consultation process to examine how to organize, deliver, and ensure safe and high quality care through written communications among health professionals.
This course is required for second-year students from eight of our health professional programs: osteopathic medicine (Lebanon and Pomona campuses), optometry, dental medicine, podiatric medicine, veterinary medicine, physical therapy, nursing, pharmacy. In this course each of the five chronic disease topics is comprised of 8 separate cases. These cases are often delivered in written, audio, and video format.
Students receive a case written for their scope of practice by a clinician from their program, in which the patient's needs require the consultation expertise of 2 – 4 other health professionals. Then they write a letter to the health professional of their choice, using team-based communication tools such as SBAR (TeamStepps).
After students have submitted their letters, they participate in peer review on letters written by students of a different profession (who received a different case). They will evaluate the letter on its clarity, conciseness and effectiveness in communication. Lastly, students complete a self-reflection on their experiences in the case and correspondence.
By the end of the academic year, students will acquire skills at writing and responding to written consultation requests across the health professions, and practice giving and receiving peer feedback, which are invaluable skills in the medical field.
People
WHILE MOST COURSES AT WESTERNU ARE HOUSED WITHIN A SPECIFIC COLLEGE, THE IPE PROGRAM IS UNIQUE AS IT IS THE ONLY UNIVERSITY-WIDE COURSE. FOR THIS REASON THE DIRECTORS COME FROM VARIOUS PROFESSIONS AND BACKGROUNDS, AND WORK TOGETHER WITH FACULTY FROM ALL EIGHT COLLEGES IN DYNAMIC TEAMS AND COMMITTEES, MAKING IT A TRULY INTERPROFESSIONAL EXPERIENCE FOR STUDENTS AND FACULTY ALIKE.
THE IPE PROGRAM IS UNDER THE LEADERSHIP OF VICE PROVOST SHEREE ASTON, OD, MA, PHD, AND OTHER CORE MEMBERS OF THE IPE TEAM ARE LISTED BELOW WITH THEIR CONTACT INFORMATION. CLICK HERE TO SEE THE CURRENT IMPLEMENTATION COMMITTEE AND DESIGN TEAM MEMBERS.