Message from the Director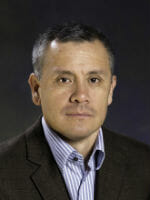 Welcome to the Office of Institutional Research and Effectiveness. Our unit is committed to providing data that supports decision making and planning at Western University of Health Sciences. The information we collect, analyze, and report assists campus assessment and accreditation activities, helps the university meet external reporting requirements, and reinforces the use of data for continuous quality improvement.
The Office of Institutional Research and Effectiveness is staffed by a talented group of individuals who use their varied skills to supply our audience with information that is timely, relevant, and easy to understand. We hope that you take the time to explore our website. Thank you very much for visiting.
Sincerely,
Juan Ramirez, Ph.D., Director
---
Newsletter
Descriptives, published semiannually by the office of Institutional Research & Effectiveness (IRE), is aimed at highlighting our staff and our work, as well as providing updates on WesternU and accreditation. We hope that you find this newsletter informative and helpful.