Harriet K. Pumerantz, MS, LHD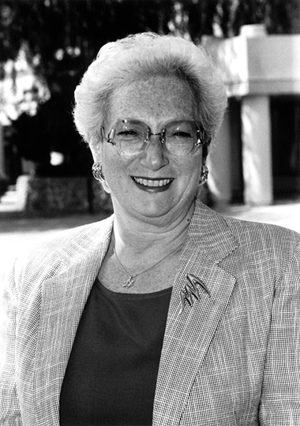 Harriet K. Pumerantz is the First Lady of Western University of Health Sciences and wife of Founding President Philip Pumerantz. Mrs. Pumerantz was born in 1938 in New London, Conn. the daughter of Mrs. Krinsky and Dr. Charles Krinsky, MD, a neurologist/psychiatrist. Mrs. Pumerantz was quoted in the 1987 issue of, The DO stating that being a physician's daughter was "valuable training ground for life" where she learned from her parent's self-reliance and compassion for others.
Mrs. Pumerantz was noted as a community leader and educator by the College of Osteopathic Medicine of the Pacific student body and staff in the 1989 yearbook "Neocortex," which was dedicated in her name. In 1994, she received a Special Recognition Award for her work on behalf of the osteopathic profession from the Osteopathic Physicians and Surgeons of California.