Commitment to the Community 
The College of Graduate Nursing collaborates with many organizations and institutions  to improve access to coordinated care locally and globally. CGN is committed to creating efficient pipelines to increase the number of healthcare professionals in underserved areas, increase the diversity in nursing profession and expand clinical partnerships in RN shortage areas. Faculty, students and Alumni make it a priority to be agents of change and to promote a culture of health through community engagement.
Community Outreach
STEA2M Fair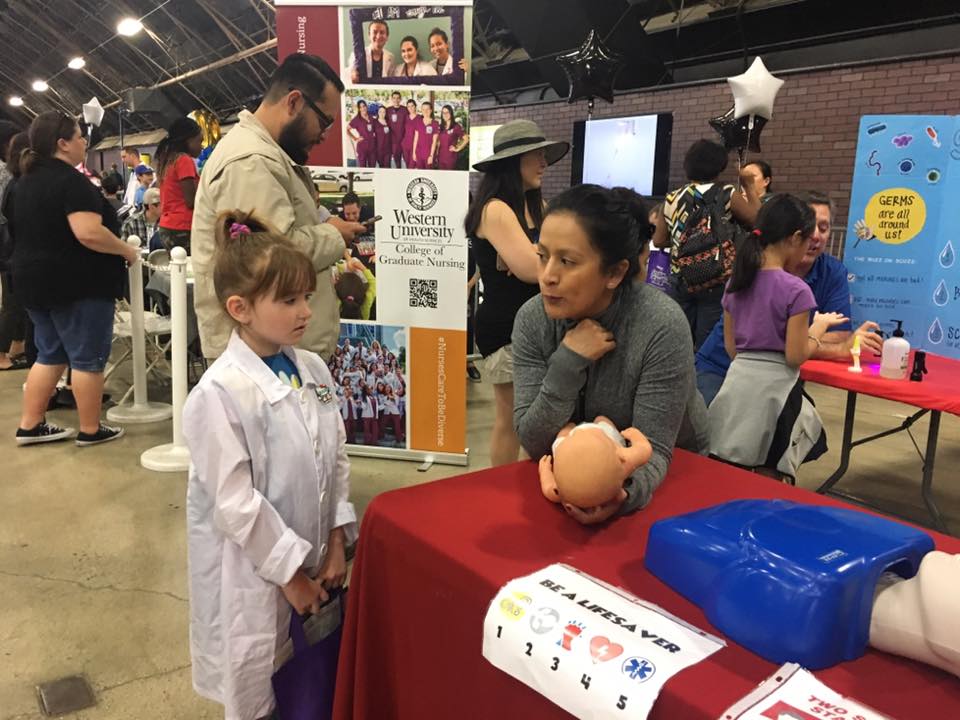 The 2019 STEA2M inspired students from grades K-12 to explore and pursue careers in the areas of STEA2M.  Students from the College of Graduate Nursing provided hand-on training in CPR, wound care and hand washing… 
Health Sciences Day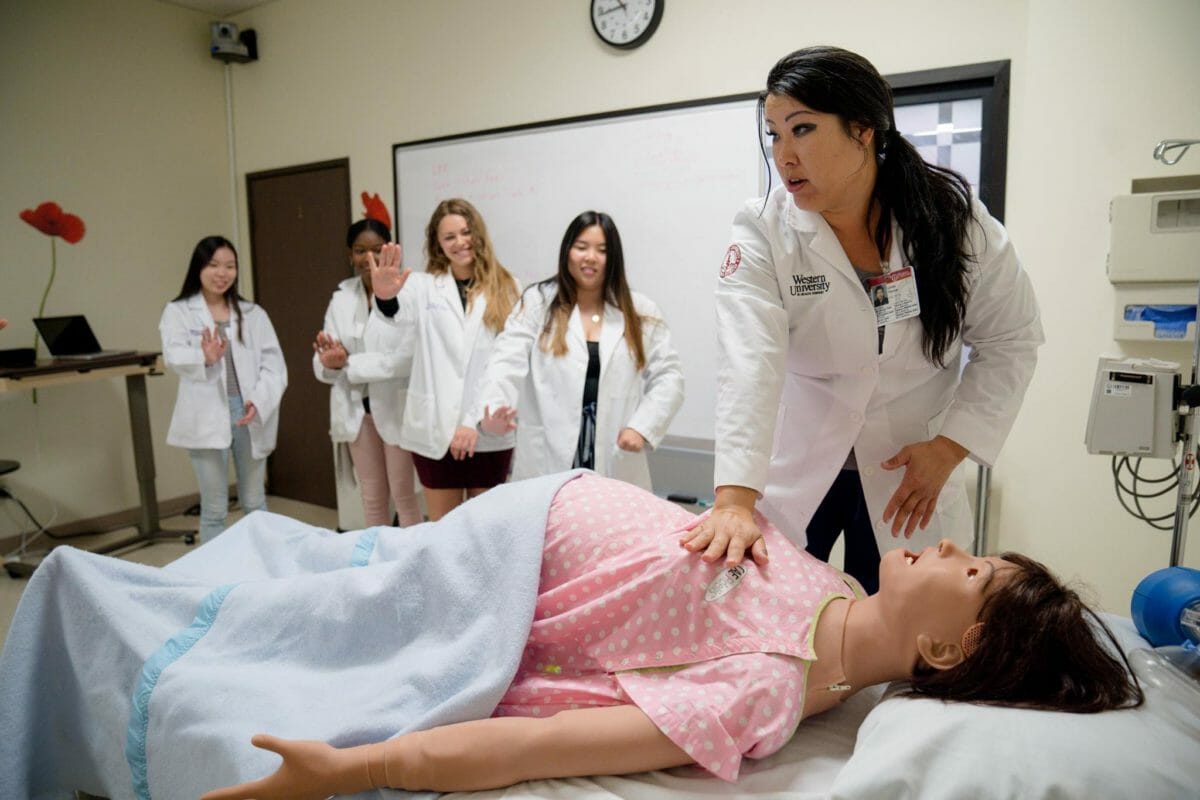 Western University of Health Sciences in collaboration with Reach Out, an organization dedicated to strengthening community engagement, hosted 130 students on campus in April 2019. Student nurses put together a series of workshops ( CPR and PPE-escape room style) to introduce…
Sigma Theta Tau Phi Alpha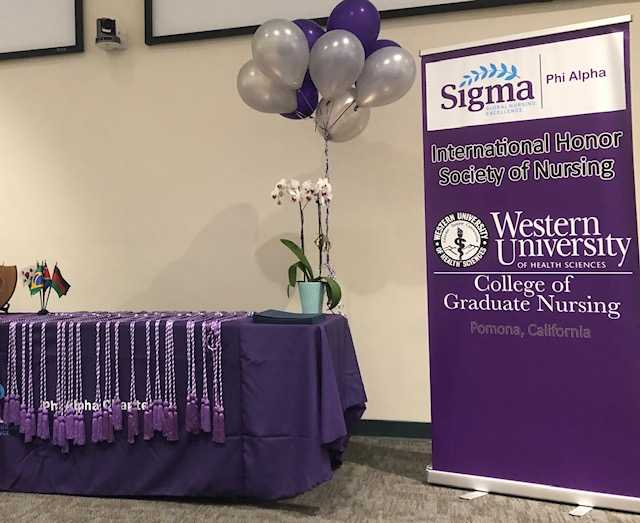 CGNs Sigma Theta Tau Phi Alpha Chapter held an Induction Ceremony on March 23, 2019. Sigma is proud to announce they have 53 new members from CGN…
NPs Leading the way!
Inessa Artsrunyan, ACNP, a DNP students, and Prof.  Donna Emanuele are shaping & advancing practice in the care of the undeserved and most vulnerable of populations by… 
Calendar of Events and Volunteer Opportunities 
[calendar id="3114″]
Honor Society & Students Organizations
National Student Nurses' Association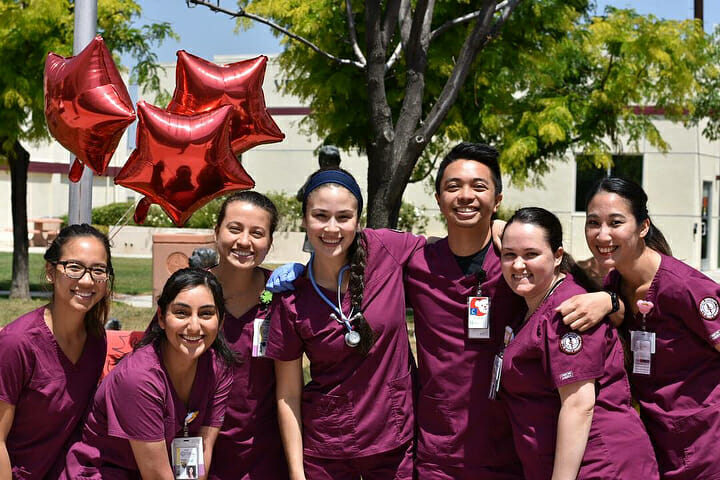 National Student Nurses' Association's (NSNA) mission is to mentor students preparing for initial licensure as registered nurses, and to convey the standards, ethics, and skills that students will need as responsible and accountable leaders and members of the profession. At Western University, we carry this out through collaboration with College of Graduate Nursing faculty and students from other professions, community service, and more. We provide volunteer opportunities to participate in various events, speaker events to gain more information, and community outreach to promote the nursing profession.
For further information, please contact NSNA's President,Natalie Hernandez at natalie.hernandez@westernu.edu
Follow us on Instagram and Facebook ! Stay up to date with the latest news and upcoming events: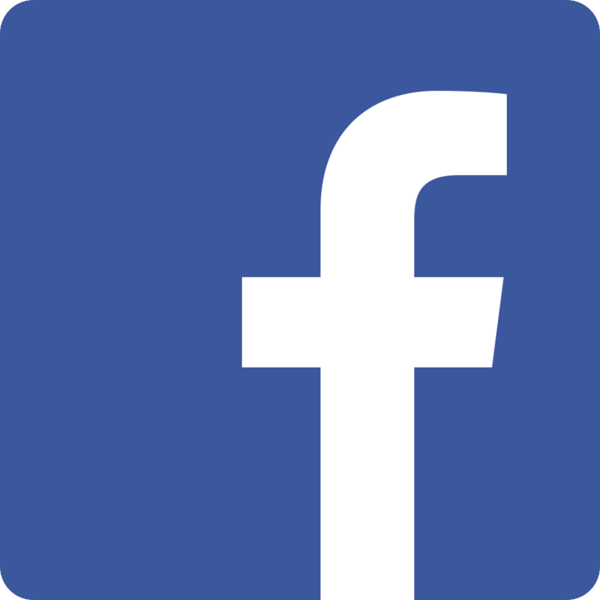 @WesternUNSNA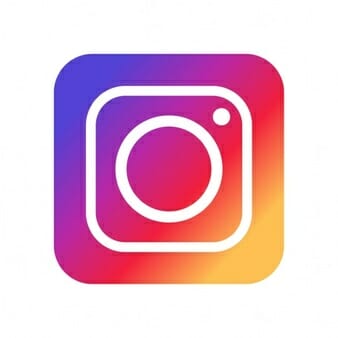 westernu_nsna
Men in Nursing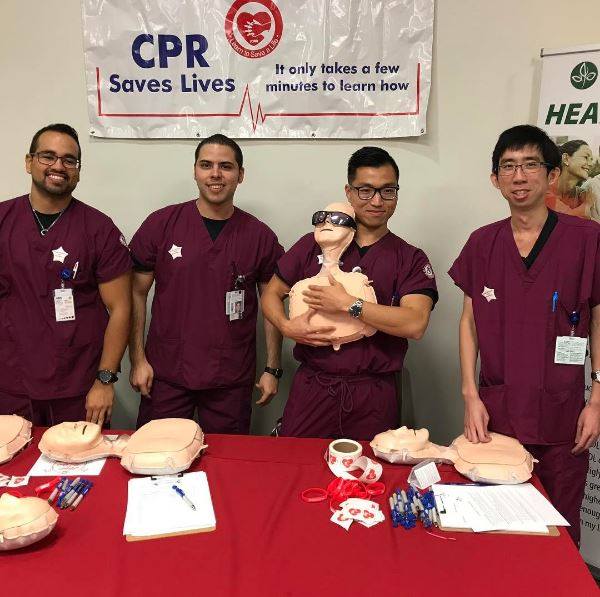 Men In Nursing (MIN) is a nationwide organization dedicated to raising awareness of the nursing profession and male nurse's impact in nursing as a whole. One of our missions is to educate communities about men's health and the importance for men to achieve the healthiest life style possible. Western University's chapter of MIN is currently working towards community outreach to spread knowledge of men's health in the Pomona district through avenues such as visiting senior day cares, raising mental health awareness and participating in health screenings.
Our board consists of four MSN-E students all committed to make MIN's mission possible; for further information, please contact Stephen Figueroa (President) at stephen.figueroa@westernu.edu.
Follow us on Instagram! Stay up to date with the latest news and upcoming events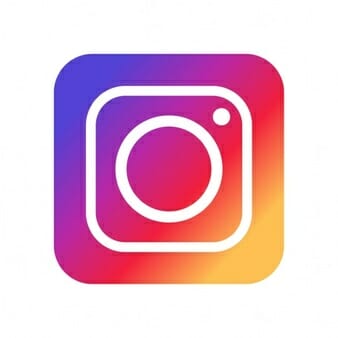 @ westernuaamn
Sigma Theta Tau Phi Alpha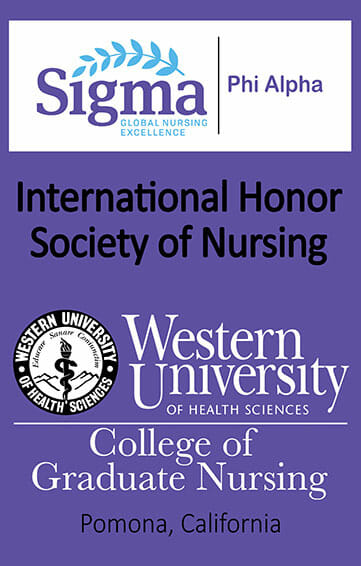 Sigma Theta Tau Phi Alpha is Western University College of Graduate Nursing's Chapter of the Sigma Theta Tau Nursing Honor Society. Formed on May 15, 2009, Phi Alpha Chapter is the 479th chapter established at Sigma Theta Tau International Honor Society of Nursing.
Meetings are quarterly at the Nursing Science Center. Please join us and see how you can be a part of STTI Phi Alpha.
The current president of Phi Alpha Chapter is Gwendelyn Orozco. For further information, contact her at gorozco@westernu.edu
Follow us on Facebook to stay up to date with the latest news and upcoming events
DOctor of nursing practice association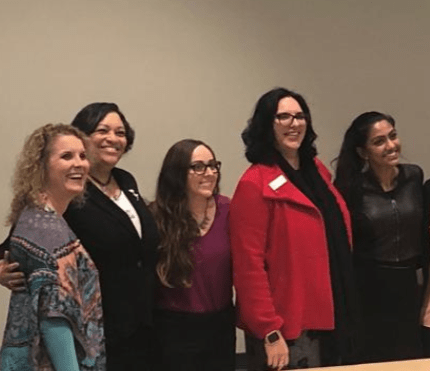 The DNPA is a club that represents the DNP students here at WesternU.  The club participates in many community service activities, giving back to the community.  The DNPA is a voice for the students to work with faculty and strives for continuous improvement in the curriculum.  All DNP students are encouraged to join the club and participate in events.
The Board is elected through a vote and changes in January of each year.
The current president of DNPA is Robert Spano. For further information, contact him at rspano@westernu.edu