Meet the MSN-E Administration & Support Staff
MSN-E Program Director Patti Shakhshir, PhD, CNS, RN-BC and
Assistant Program Director Gwendolyn Orozco, MSN, RNC-OB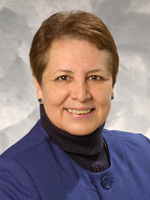 Welcome MSNE students from Dr. Patti Shakhshir, MSN-E Program Director (pictured left), and Assist Program Director Gwendolyn Orozco (not pictured). You are embarking on a wonderful adventure into a career of which there is no other. As the Director and Assistant Director of the MSN-E program, we will be the first professors you will get to know. You will be introduced to the world of nursing in Nursing Fundamentals in the first semester. In the simulation lab, you will learn communication and skills such as providing hygiene, taking vital signs, administration of medications, injections and so on. Formally, we will serve as advisors to some of you, and informally to many of you. Once again welcome. You will love it here.
MSN-E Program Assistant, Alexandria Escobedo, MBA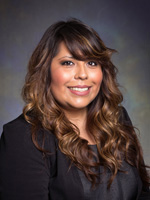 Alexandria (Alex) Escobedo is the staff member providing administrative support to the MSN-E program. She works with faculty and students within the pre-licensure portion of the MSN-E program on campus and distance students during Seminar Weekends. Her main responsibilities include: coordinating special events for the College of Graduate Nursing, assisting the Director of the MSN-E program, arranging and proctoring computer based testing for MSN-E courses, providing and collecting paperwork for clinical rotations. For MSN-E program-specific question, you can contact me at aescobedo@westernu.edu.
MSN-E Program Specific Orientation on August 9th
As a new MSN-E student, you will obtain pertinent information about your program on Thursday, August 9th from 8:00a.m. to 5:00p.m. You will receive information about the program curriculum, clinical hours, and much more. You will also have an opportunity to meet the program director, faculty, and support staff. MSN-E students will report to AMP I (Prem Reddy) classroom on the first floor of the Health Professions Center (HPC) building.The address for the HPC building is listed below:
Health Professions Center (HPC)
Room: AMP I (Prem Reddy), First Floor
521 E. Third Street
Pomona, CA 91766
Become familiar with the WesternU Campus and take the virtual tour before Orientation/Welcome Week.
Directions & Parking Info for August 9th Program Orientation Day
You can obtain driving/parking directions to the WesternU campus from the California Campus – Welcome Week Orientation home page. The Directions to Campus page provides driving directions from the 10, 210, 60, and 71 freeways to Third Street. The WesternU campus is on the north side of Third Street.
The following are specific driving directions from Third Street to parking near the Health Professions Center (HPC) building. There are a few options:
Student Parking Lots 23 & 25 are directly south of the campus off of Third St. and Palomares St. Please visit the Student Parking Map for further information. From these parking lots, you will head north on Palomares St. and turn right on Second St. onto the campus esplanade walking path. The Health Professions Building (HPC) is on the corner of Second & Palomares St. and the entrance is on the north side of the building facing Second St.
The University Parking Structure is on the corner of Towne Ave. & Second St. Turn west on Second St. from from Towne Ave. and make an immediate right into the parking structure. Students may park on the 3rd through 7th floors only. Please visit the Student Parking Map for further information.  From the parking structure, head west on Second St. which turns into the campus esplanade walking path.The Health Professions Center Building (HPC) will be on your left-hand side after the Daumier student housing building.
Additional student parking will be in lots 15, 20 and 26 as shown on the Student Parking Map. If all parking lots are full, there is public metered parking in lot 12 on the north-west corner of First & Gibbs Street. The daily fee for all day (7a.m. to 7p.m.) is $3.00. Pay at the gray kiosks (dollars, coins, and credit cards accepted).
NOTE: Please park ONLY in designated WesternU student parking lots. Do not park in employee lots or guest parking spaces. If you park in a public metered parking space, you will need to pay at the gray kiosks. Please arrive early as student parking lots fill up quickly.
A student parking permit is required to park in WesternU student parking lots; however, the university will be lenient the week of orientation and should not issue any parking violation warnings or tickets. If you happen to receive a ticket for parking in a WesternU student parking lot, please notify Eva Badouin or Mitzi McKay. If you purchased a student parking permit you will receive it in your orientation packet when you check-in on Wednesday, August 9th. You can then place it in your vehicle that day.
Fall 2018 Textbook List
Below is the link to the Fall 2018 MSN-E First Year Textbook List. The list is organized by course number/name in numerical order. If you have any questions about the textbook list, please email Alex Escobedo at aescobedo@westernu.edu. There is a designated time during Orientation/Welcome where students can purchase their textbooks in the University Bookstore.
MSN-E First Year Fall 2018 Textbook List
 MSN-E FAQs
Will I be expected to keep my CPR current?
Yes, your BLS CPR  is not just to get you into the program but will be needed throughout the program and into your nursing career.
I noticed that there is a long list of textbooks required for fall semester. Will every semester be like that?
No, you will soon discover that many of the textbooks that are required for your first semester are used more than once in the program. Before you resell or get rid of any of your textbooks each semester you may want to talk to your faculty about which ones may be used again in a later semester.
Can I choose what hospital my clinicals will be scheduled in each semester of the pre-licensure portion of the MSNE program?
Generally speaking, no. The college has certain hospital partners lined up for each semester based on the patient population that each hospital serves, to coincides with the patient types needed for each semesters program of study. If the semester covers pediatric nursing then the hospital partners for that semester would be those hospitals that have pediatric patients and that also have available clinical slots open for our school. Students are put into groups by the faculty and each semester you will very likely be in a different hospital, with different group members and varied clinical faculty. During the first four semesters of the program, while you are learning the role of a nurse, the goal of clinical scheduling will revolve around creating varied and unique experiences for you and your classmates. Although some attention may be given to student preferences, the overall goal is to give a well-rounded and diverse experience. It is important to work within different hospital organizations, so that when the time comes to find your first RN job you will have a connection to and an understanding of more than one organization.
Is there an extended/part time version of the MSNE program curriculum?
An extended version of the curriculum is not available for the pre-licensure portion of the MSNE program. Once you move into the post-licensure portion of the program it is possible to be moved into an extended version of the curriculum.
If you still have additional questions, please email Eva Badouin at ebadouin@westernu.edu.