Founder's Day
Founder's Day is held each year during the Fall semester recognizing students, faculty and other pioneers in the field of optometry. 
2016 Founder's Day Award Honorees
Lou & Jan Shone
October 2, 2016
In appreciation of their many contributions and support on the vision, mission, and values of the College.
---
Honors Day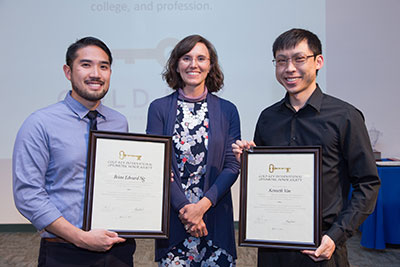 Honors Day is held each year in the Spring semester and is a day dedicated to our students in recognition of their year-long accomplishments. First, second, and third year students are recognized with 30 different awards, certificates, recognitions, and scholarships totaling over $65,000. A few honors are listed below.
The Core Values Award is given in recognition of one student from each House who has performed extraordinary service and exemplified WesternU Core Values of Caring, Humanism and Scientific Excellence.
Who's Who Among Students in American Universities & Colleges in recognition of those second, third, and fourth year students who have demonstrated academic excellence, service to the community, involvement in  extracurricular activities, and leadership.
The Dean's Award in recognition of students who have demonstrated outstanding achievement in academic excellence by earning the highest GPA in their class. scholarship awarded
The East West Scholarship was established by Western University of Health Sciences, this scholarship is awarded to a student based on academic excellence, community service, and financial need. scholarship awarded
Drs. Gandhi/Silani Annual Scholarship for Clinical Excellence and Leadership which was established in 2014 by Drs. Vipal Gandhi and Kambiz Silani, alumni from the inaugural class, this scholarship is awarded to a third year student in good academic standing who demonstrated leadership skills and top clinical skills in patient care.

scholarship awarded
Dr. Jason Drobeck Annual Scholarship was established in 2017 by an alumnus from the Class of 2015, Dr. Jason Drobeck. This annual scholarship is awarded to a student who has demonstrated academic excellence and shared his or her future vison of services or innovations that he or she plans to provide to the community and/or profession of optometry. scholarship awarded
Dr. Harout Khanjian Annual Scholarship was established in 2017 by an alumnus from the inaugural Class of 2013, Dr. Harout Khanjian. This annual scholarship is awarded to a student who has demonstrated academic excellence as well as managed both personal and/or professional commitments. scholarship awarded
Dr. John Sang Hak Lee Memorial Award was established in 2017 in honor of inaugural Class of 2013 alumnus, Dr. John Sang Hak Lee. This award recognizes a third-year student who, like Dr. Lee, demonstrates the highest degree of chairside manner that enriches our profession. scholarship awarded
The President's Society Award was established in 1994 by Western University of Health Sciences, the  President's Society recognizes an outstanding student for academic excellence and service to the University. scholarship awarded